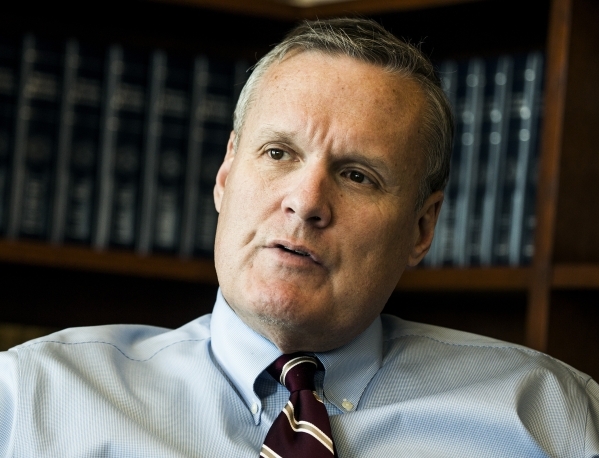 The Clark County guardianship court is getting a much needed and long overdue software upgrade that it hopes will help better protect the infirm and elderly from neglect and financial abuse.
The new software comes by way of a grant from the National Center for State Courts, a Williamsburg, Va. based nonprofit think tank for court reform and improvement.
An out-of-date and inefficient tracking system has plagued the county's guardianship system for years, often allowing guardians to go years without filing the annual accountings required by law. The Review-Journal, in a three-part series in April, highlighted several such cases where people under guardianship had lost over $400,000 to guardianship and attorneys fees in just a few years.
According to District Court Chief Judge David Barker, the new software — the monetary value of the grant wasn't immediately available — will be a huge boost to the court's oversight of the 4,700 active guardianship cases by improving several facets of the filing system, including standardizing inventories and accounting reports, and automatically flagging delinquent filings.
"This software brings the court much closer to meeting our goal of achieving national best practices for guardianship cases," Barker said in a press release Friday.
The plan is for Clark County District Court to become the first court to use the new system, and roll it out to the rest of the state later on, according to the letter announcing the grant.
Figuring out how to best implement the new system throughout the rest of the state will fall to the state's Supreme Court Commission to Study the Administration of Guardianships, which was formed in May. The panel is expected to report its findings to the state Legislature in the summer.
Supreme Court Justice James Hardesty, who requested the formation of and chairs the commission, expressed both excitement and validation for the award.
"I am extremely pleased that the National Center for State Courts selected Nevada as one of only five states to be awarded this important grant," Hardesty said in the release. "The work of the Guardianship Commission, the Eighth Judicial District Court, and other district courts around the state provided convincing evidence to the NCSC of Nevada's progress in making many needed reforms to our system."
Contact Colton Lochhead at clochhead@reviewjournal.com or 702-383-4638. Find him on Twitter: @ColtonLochhead