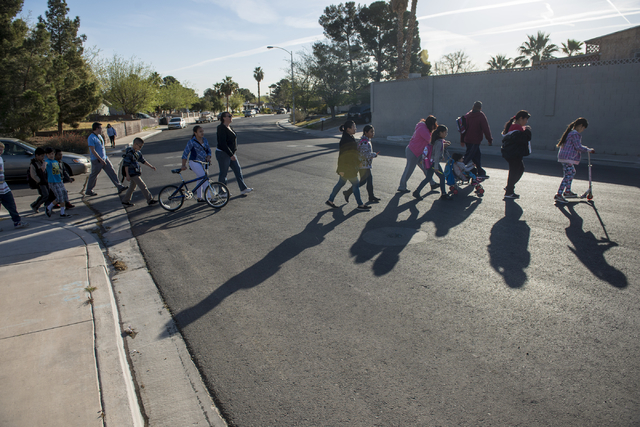 The cries of children mourning their friend's death interrupted a planned 30 seconds of silence outside Guinn Middle School early Wednesday.
About 20 students shared hugs and shed tears as they honored their former classmate, 12-year-old Maxine Starmarie Zepeda Lopez, who died Feb. 9 at University Medical Center.
Maxine's official cause and manner of death remain a mystery more than a month later.
The seventh-grader had experienced flu-like symptoms for a few days and reported pain in her neck and thighs before she was hospitalized, her mother, Christina Lopez, said.
Less than 24 hours after being taken to the hospital, Maxine was dead, her mother said.
"I'm so lost right now," Christina said. "I don't know how to act anymore."
She said it's been difficult not knowing what killed her previously healthy and lively daughter.
The 12-year-old, who took acting classes and was exceling in art class at school, was checked into Spring Valley Hospital, where she was treated for dehydration and underwent medical tests, but she was discharged within about three hours, Christina said.
When they arrived home, Christina said she offered her daughter Children's Advil and ran her a bath.
When Maxine's pain persisted, she was taken by ambulance to UMC, where doctors suggested she might have had a virus.
After several hours, Christina said she left Maxine with her mother-in-law to go home briefly. She had barely reached the driveway when she got the call.
"When I came in, I was like, 'Oh my God. No, this isn't happening,'" she said.
Determining a person's death generally takes six to eight weeks when toxicology or other tests are required, according to the Clark County coroner's office.
Depending on the cause of death and the number of tests that must be run, the determination can take months, Clark County Coroner John Fudenberg said.
Maxine's mom said she has questions about the quality of care her daughter received and the behavior of some staff members at UMC, who she says broke into tears and couldn't keep their composure as her daughter was dying.
Because of privacy laws, UMC and Spring Valley declined to comment on the case's specifics.
Spring Valley extended its sympathies to the Lopez family. In a statement, UMC responded that its staff members "put their heart and soul into the care they deliver."
Guinn Middle School, which has more than 900 students, has a nurse on campus two days a week and has a full-time first aid assistant on campus during the day, according to the district. Spokeswoman Michelle Booth said the district is monitoring the situation and will issue a letter if it feels the health of other Guinn students is threatened.
As Maxine's friends released balloons Wednesday and watched them float off into the distance, students from Dondero Elementary School walked from Guinn to their school, less than a mile away, as part of the sixth annual Nevada Moves Day.
Christina's younger daughter, Jordan, attends Dondero. She and her friends on the dance team made signs and walked in Maxine's honor.
"We think about you all the time," one sign read, adorned by a picture of Maxine grinning.
Contact Pashtana Usufzy at pusufzy@reviewjournal.com or 702-380-4563. Follow @Pashtana_U on Twitter.