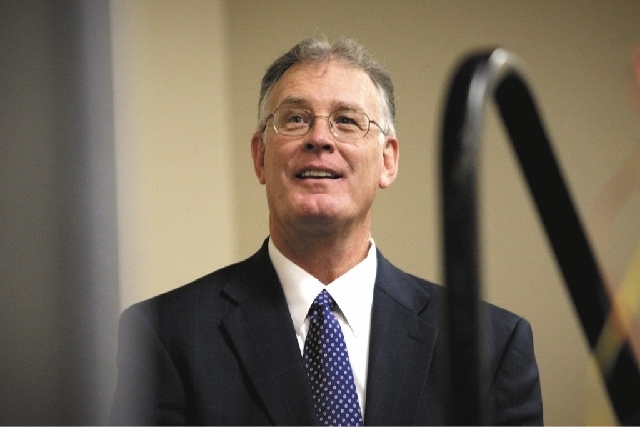 Henderson Mayor Andy Hafen set out to defeat all six of his primary election challengers, and his wish came true Tuesday night.
Hafen needed 50 percent of the vote to avoid a June 4 general election race. He took 55 percent. Rick Workman was a distant second.
Though heading for a win, the incumbent declined comment when contacted by telephone Tuesday night. He also barred a Review-Journal photographer from his party at the Henderson Convention Center.
"I'm not talking to the Review-Journal," he told a reporter. "I'm just done with the editorial board."
The editorial board endorsed Workman in the nonpartisan race.
Reached at his home, Workman acknowledged defeat, saying: "It's not looking good — nowhere near what we expected."
Hafen, 58, pounded his opponents in the race for campaign contributions. He raised more than $248,000 and had spent about $160,000 by the end of last week.
Workman, 56, reported the most of any challenger at $14,650, most of it his own money.
Hafen joined the Henderson City Council in 1987 and became mayor in 2009, defeating former Councilman Steve Kirk by 45 votes in the general election.
Other mayoral candidates were Kyler Robinson, Jerry Sakura, Eddie "In Liberty" Hamilton, Joe Scala and Clayton Simmons.
The mayor serves a four-year term and is paid $54,632 per year.
Councilman John Marz, 68, retained his Ward 3 seat and will avoid a general election race.
He attributed the results to a positive message, dedicated campaign volunteers and his fiscal conservatism. He was challenged by Erin Lale, Milt Doyle and Bruce Cutler.
Marz, a marketing consultant and former Planning Commission member, was appointed to the seat in January after Kathleen Vermillion resigned.
The seat has a four-year term with an annual salary of $44,288.
Department 1 Municipal Judge Mark Stevens, 50, and challenger Sandy DiGiacomo will advance to the June 4 ballot.
DiGiacomo, 44, is a chief deputy in the Clark County district attorney's office.
Others seeking the office were attorneys Terry Jones Zach and Gary Thompson.
Municipal Court judges serve six years and are paid $137,867 per year.
A total of 17,638 people, or 12.35 percent of active registered voters, cast primary ballots, down from 12.79 percent in 2009.
Contact reporter Carri Geer Thevenot at cgeer@reviewjournal.com or 702-384-8710.