Handcuffs and Heroes brings together cops, families of DUI victims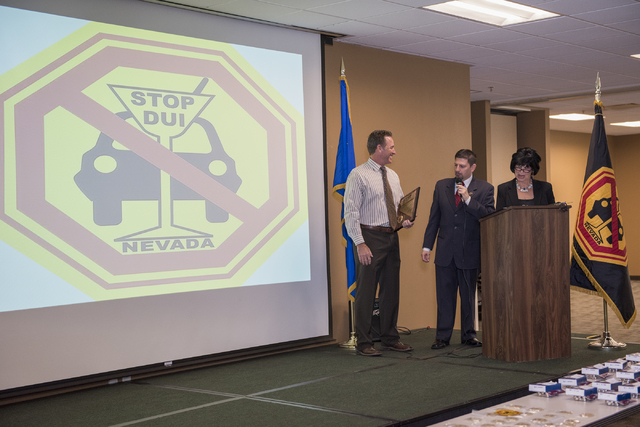 Stop DUI Nevada held its Handcuffs and Heroes award ceremony Sunday to celebrate efforts to reduce senseless deaths in crashes caused by intoxicated drivers.
The ceremony, in its second year, brought together people who lost loved ones and the officers who work to stop drunken driving. Each family member presented a set of handcuffs engraved with a victim's name to an officer with an outstanding number of DUI-related arrests. Stop DUI Nevada co-founder Sandy Heverley said there were more than 400 DUI arrests in Nevada last year.
Police from multiple jurisdictions were included for their work at DUI checkpoints, pulling over drivers who seem intoxicated and holding outreach events such as the Every 15 Minutes program, which raises awareness among high school students about the dangers of driving under the influence.
More than a dozen sets of handcuffs were given out. Pamela Walker traveled from Utah to present a couple of North Las Vegas police officers with handcuffs engraved with the names of her sons, Brandon and Jeffrey, who were 13 and 7 years old when they were killed in a crash.
Gary and Verona Fleming gave Henderson police officer Stephen Bryan handcuffs bearing the name of their son, Rodney, who was killed while preparing for a triathlon on his bicycle.
The event also highlighted legislative efforts to increase the penalty for leaving the scene of an accident and honored victim advocates and volunteers.
State Sen. Mark Manendo, D-Las Vegas, emceed the event with Heverly. Both hosts stressed the importance of Senate Bill 245, which would make the punishment for leaving the scene of an accident with an injury or death the same as it is for felony DUI.
Manendo said the state is seeing more and more hit-and-runs, and current statutes provide a loophole for intoxicated drivers.
"The penalties are less than if you stay," he said of the current hit-and-run law.
The bill only has a couple of days to meet the deadline for passage in the Senate, he said.
Heverly called hit-and-run drivers "cowardly impersonators of humanity."
Victim advocates were awarded with plaques, as were attorneys with the Clark County district attorney office's Vehicular Crimes Unit, which Heverly said was among the best in the nation for prosecuting DUI crimes.
The event also paid tribute to the people who share stories about their lost loved ones at one of Stop DUI Nevada's Victim Impact Panels. Heverly said low-level DUI offenders have to go to an impact panel to see pictures and hear the effects of DUI driving from someone such as Michael Kotchounian, who lost his father in a gruesome DUI crash.
"Sometimes it's a relief," he said of sharing his story, "But sometimes you don't want to talk." Even after all of these years, Kotchounian said he's not 100 percent healed.
"I take it day by day," he said.
The handcuffs were part of the donations made in the name of Manendo's late mother, Marie Manendo. His mother was active in multiple community organizations, but Stop DUI Nevada was dear to her, he said.
Another DUI-related bill would replace the word "accident" in Nevada statutes with the word "crash." The bill wouldn't change any penalties for DUI, but using "accident" does a disservice to those who lost their lives as a result of someone's dangerous driving behavior, Manendo said.
Contact Wesley Juhl at wjuhl@reviewjournal.com and 702-383-0391. Find him on Twitter: @WesJuhl.