Hardesty named state Supreme Court chief justice
December 30, 2014 - 9:54 pm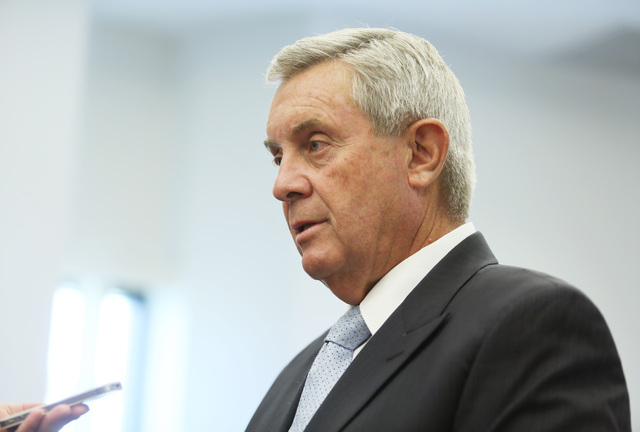 The Nevada Supreme Court announced Tuesday that Justice James W. Hardesty will take over when Chief Justice Mark Gibbons finishes his term in the state's highest court next week.
Hardesty will become the administrative head of the state's legal system — speaking publicly for the court and representing Nevada's judiciary nationally — on Jan. 5, according to a release from the court.
The chief justice presides when the state Supreme Court sits as the full court and chairs the Commission on Judicial Selection, which nominates candidates for judicial appointment, and the Judicial Council of the State of Nevada.
Under the Nevada Constitution, only justices in the last two years of their current 6-year term of office are eligible to be chief justice.
Gibbons and Hardesty worked together with court colleagues to advocate for the new Court of Appeals, which was approved by Nevada voters in November. Establishing the new court will likely be one of Hardesty's first tasks.
"The beginning of the Court of Appeals marks a historic moment in the history of Nevada's judicial system and will be one of the most important projects of the Supreme Court in the new year," Hardesty said in the release. "I anticipate assigning our three new appellate judges their first 163 cases the first week of January."
Hardesty was born and raised in Reno, where he graduated from the University of Nevada. He practiced law in Reno from 1975 through 1998, when he was elected to the District Court bench in Washoe County.
Hardesty was elected to the Nevada Supreme Court in 2004 and previously served as chief justice in 2009, the release said. Hardesty will give the State of the Judiciary address to lawmakers early in the session.
Contact Wesley Juhl at wjuhl@reviewjournal.com and 702-383-0391. Find him on Twitter: @WesJuhl.