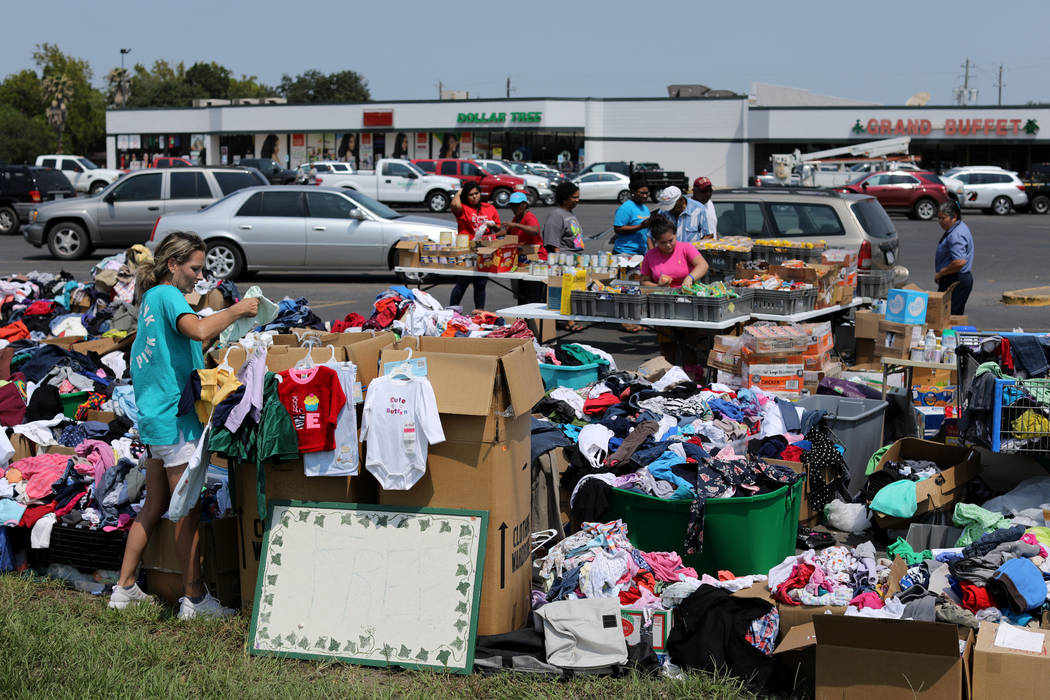 Luisa Blue has seen firsthand the effects of natural disasters.
In the Philippines, she witnessed the aftermath of a typhoon. Her colleagues displaced by Hurricane Katrina moved to Houston to start a new life.
"Now they are going through another catastrophe," Blue said during a press conference Wednesday at the Asian Community Development Council of Nevada on Jones Boulevard.
Blue, executive vice president of the Service Employees International Union, was a speaker at the press conference, held to highlight efforts to help victims of Hurricane Harvey.
Among the other speakers were representatives from U.S. Sen. Dean Heller, R-Nev., and U.S. Rep. Dina Titus, D-Nev., offices. Nevada Assemblyman William McCurdy, representing District 6, and Assemblyman Chris Brooks, representing District 10, also spoke.
"It really does take a village," Blue said of relief efforts. "Absolutely make sure that you are donating to the right organization that is going to get that money to the people."
Houston has a significant population of Asian and Pacific Islanders in the United States, Blue said. The Asian Community Development Council created a link on its website to donate specifically for Asian American and Pacific Islander families through its Houston affiliate, OCA-Greater Houston.
"The community is not a model minority, and often forgotten about," said Karl Catarata, civic engagement fellow at the Nevada council. "People think we are rich, or smart, and don't necessarily need the resources."
Luis Vega, regional representative at Heller's office, said Hurricane Harvey has been tragic.
"Every loss of life is precious," he said. "But we've seen a 'rally around the flag effect,' a rally of helping each other out during this time of need."
Vega said Heller will vote in the Senate at the end of the week to approve the almost $8 billion in relief funds passed by the House of Representatives on Wednesday.
"That is the number one priority for the Senate, and for the president, all the way down the line, to get emergency funding to Houston and those families that need it," he said. "Just imagine losing everything. All your belongings. In one day."
Brooks said he hopes the Asian council will serve as a hub to rally support for storm victims.
"We're seeing people all over the country helping each other out," he said. "It makes me proud to be a neighbor to them, and a fellow Nevadan and fellow American."
McCurdy said Americans are stronger when they come together around a cause.
His office is looking to gather food and clean water, as well as baby food and clothes. He commended the Nevada responders who went to Houston to help out.
"You're not alone," he said. "This is going to take a community effort to help our brothers and sisters in Texas."
Contact Briana Erickson at berickson@reviewjournal.com or 702-387-5244. Follow @brianarerick on Twitter.
Other relief efforts for Harvey:
— Fat Choy at Eureka Casino: Bring in cleaning supplies for Harvey relief, get 10 percent off through Sunday.
— Through the end of October, Coral Academy of Science Las Vegas will hold a gift card drive over the next few months to support Houston-area schools. The gift cards, in any monetary amount, should be from businesses that sell school items.
— Through Friday, Zappos for Good, is accepting donations to benefit victims of Hurricane Harvey. For each item donated, Zappos makes $1 donation (up to $100,000) to the Salvation Army. Those unable to visit the donation site can schedule a Lyft using code ZAPPOSFORGOOD17 and have their donation items picked up in the Las Vegas area and dropped off to one of the pickup locations.
— Congregation Ner Tamid in Henderson is also accepting any donations, from nonperishable foods to baby and infant supplies to cleaning materials.
— Moon Doggies Bar & Grill and Naked City Pizza has boxes for donations.
— Violette's Vegan Organic Cafe & Juice Bar is running a lunch for a cause through Thursday and donating 15 percent of all proceeds from lunch service (noon – 4 p.m.) to the Houston SPCA.
— The Church LV, 3051 W. Horizon Ridge Parkway in Henderson, is accepting donations of nonperishable food, diapers and new school supplies through Sept. 16. Drop-off times are 9 a.m. to 4:30 p.m. Monday through Thursday, 4 p.m. to 8 p.m. on Saturday and 8 a.m. to 1 p.m. on Sunday.
— On Saturday, Lee's Sandwiches will donate 100 percent of its proceeds, up to $100,000, from its $1 Lee's Coffee Fundraiser to the Hurricane Harvey Relief Fund.
The following schools are holding donation drives until Friday for Hurricane Harvey victims:
Coronado High School; Del Webb Middle School; Bob Miller Middle School; Elise L. Wolff Elementary School; Glen Taylor Elementary School; Shirley and Bill Walin Elementary School; Frank J. Lamping Elementary School; Kesterson Elementary School.
*Schools are collecting clothing, basic toiletries, blankets, nonperishable food, flashlights, water.
— Veterans Tribute Career & Technical Academy and their neighboring school, Advanced Technologies Academy, are both holding a "money in a minute" event where they will be collecting loose change and monetary donations Friday morning. Donations will be given to the American Red Cross.
— Best Friends is deploying to Texas to rescue stranded animals, deliver supplies and transport displaced shelter pets.