'Heat kills': What to do about kids, pets in hot cars
Updated June 2, 2023 - 8:31 pm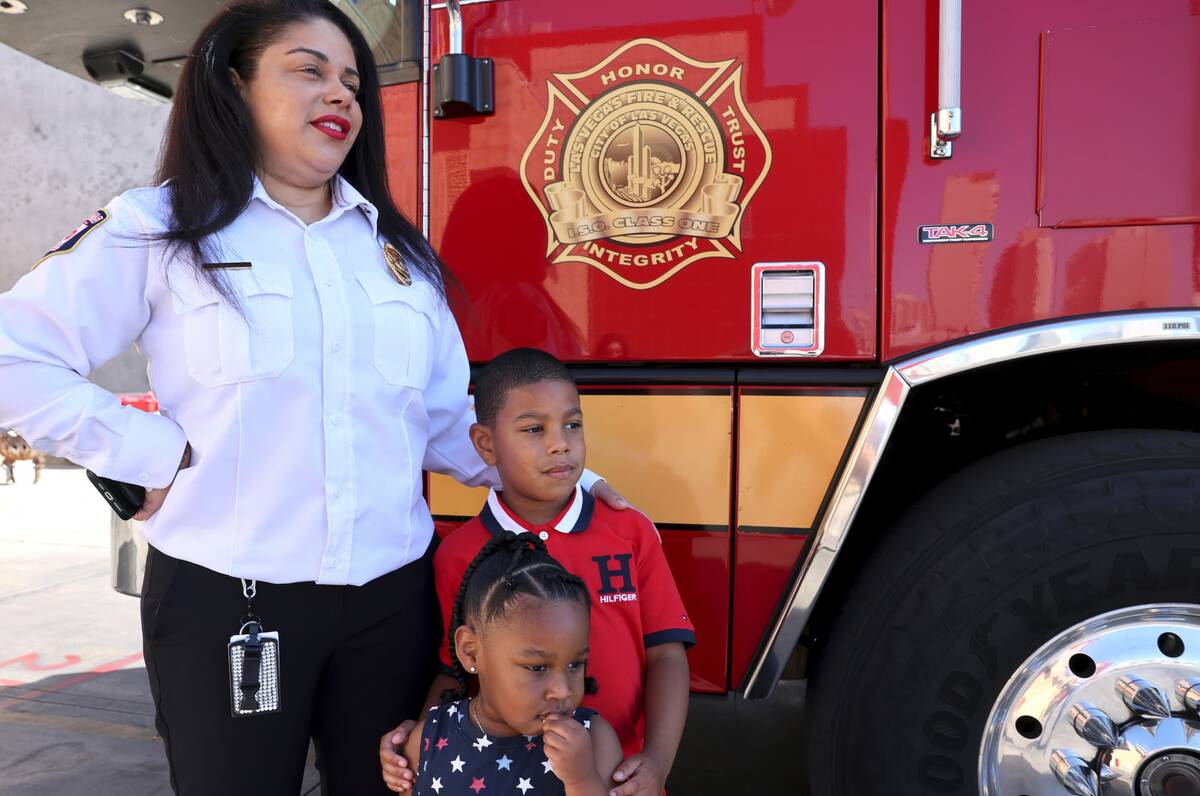 As temperatures rise, so do concerns about kids and pets left accidentally or otherwise in hot cars.
Thirty-three children in the U.S. last year died from being left in a hot car, according to the National Safety Council. So far this year, four deaths have been reported.
In both 2018 and 2019, a record 54 children in the U.S. died after being left in a hot vehicle.
"Heat kills, and heat can kill very quickly," said Detective Robert Sigal, who is with the Metropolitan Police Department's special victims unit.
Fourteen child hot car deaths have occurred in Nevada since 1998, the most recent one in 2020, according to the council's data. The Nevada children ranged in age from 7 months to 5 years old.
The outside temperatures in the Nevada deaths ranged from 84 degrees to 114 degrees. The deaths weren't just in the summer months; they occurred from May through October.
In 2022, there were 393 emergency calls in Clark County for children locked in cars, said Las Vegas Assistant Fire Chief Ashanti Gray.
How long can you safely leave a young child in a car?
That's a trick question. "You really can never leave them alone in a car," said Jeanne Marsala, executive director of Safe Kids Clark County, a coalition led by Sunrise Children's Hospital.
The temperature inside a car on a hot day becomes life-threatening within minutes, Marsala said. The hotter the day, the quicker the temperature rises. The smaller the child, the faster their body temperature rises.
Heatstroke begins when the core body temperature reaches about 104 degrees, according to the National Highway Traffic Safety Administration. A child can die when body temperature reaches 107 degrees.
There's danger of heat stroke even on milder days. According to a study published by the American Academy of Pediatrics, even with outdoor temperatures a moderate 72 degrees, on clear, sunny days, temperatures within a vehicle rose to 117 degrees within an hour, with most of the increase coming within 15 to 30 minutes.
Cracking a window did not significantly slow the increase.
"Just because it's not an incredibly hot day doesn't mean your animal or child may not suffer significant injury or death," Sigal said.
Children playing alone in a car may compound the problem by turning on the heat. They also can put the car into gear, Sigal said.
A car left with the motor running is a target for car thieves, who may not realize there's a child in the back seat, he said.
How do child hot car deaths happen?
In more than half of the deaths nationwide, a child was forgotten in the car by a parent or caregiver, according to information on the safety council's website.
A study of deaths from 1998 to 2018 showed that in 54 percent of deaths, the children were accidentally left in the car, Gray said.
In many of these deaths, "there was a change in routine that day," Marsala said, such as a different parent taking the child to day care. Sleep deprivation can make new parents more susceptible to forgetting a baby asleep in the back seat, she said.
In 26 percent of the deaths, the children got into the vehicles themselves and then couldn't get out.
In 19 percent, the children were knowingly left in a vehicle. For example, a parent intended to dash into a store, without realizing how quickly the vehicle could heat up or how long the errand might take, Gray said.
How can these deaths be prevented?
When a young child is in the back seat, Marsala recommends putting something essential in the back seat that the driver will need when leaving the car, such as a purse, briefcase or cellphone.
"Take one shoe off and put it in the back seat," she advises.
Sigal suggests also putting an alarm on your cellphone to check the back seat, especially when there's any deviation from the routine.
Gray is teaching her own young children not to play in or around a vehicle, and advises parents to accompany their children if they want to get something from the car.
Lock your vehicles, Gray recommends, and keep the keys out of reach.
What can a bystander do who sees a young child or pet alone in a vehicle?
A bystander should assess the situation for signs that the child or pet needs help and whether a parent or owner is nearby, Sigal said.
"There is certainly a big difference between summer temperatures here, spring temperatures here, and say a fall or winter day, about how warm that car is going to be," he said. "But certainly once you realize there's a situation, you're going to want to call 9-1-1."
The emergency dispatcher will send emergency personnel and provide guidance to the caller.
When a child is in a hot car, the law allows a bystander to break a window to get the child out. First check to see whether the car is locked. Break the window away from the child.
Nevada law permits a bystander to "use any reasonable means necessary to protect the child" by getting them out of a hot car, without incurring a civil penalty.
The Good Samaritan provision doesn't apply to bystanders rescuing pets from hot cars. Nevada law states that a peace officer, animal control officer, government officer, fire department employee or volunteer may use reasonable means to remove a pet without incurring civil liability.
What else does the law say?
Nevada law prohibits intentionally leaving a child under age 8 in a vehicle if "the conditions present a significant risk to the health and safety of the child."
Nevada law also states, "a person shall not allow a pet to remain unattended in a parked or standing motor vehicle if conditions, including, without limitation, extreme heat or cold, present a significant risk to the health and safety of the pet."
Both of these are misdemeanors punishable by up to six months in jail and a fine of as much as $1,000.
Under certain circumstances, the person who leaves a pet or child in a hot car may be charged with a felony.
"If significant harm or death has occurred, we can prosecute them under the felony provisions for both animal cruelty and child abuse," Sigal said.
But he noted, "The guilt is going to be far, far worse than any legal repercussion for that."
Contact Mary Hynes at mhynes@reviewjournal.com or 702-383-0336. Follow @MaryHynes1 on Twitter.