Heat-related deaths in Las Vegas spiked in 2017, says report
Updated July 5, 2018 - 6:47 pm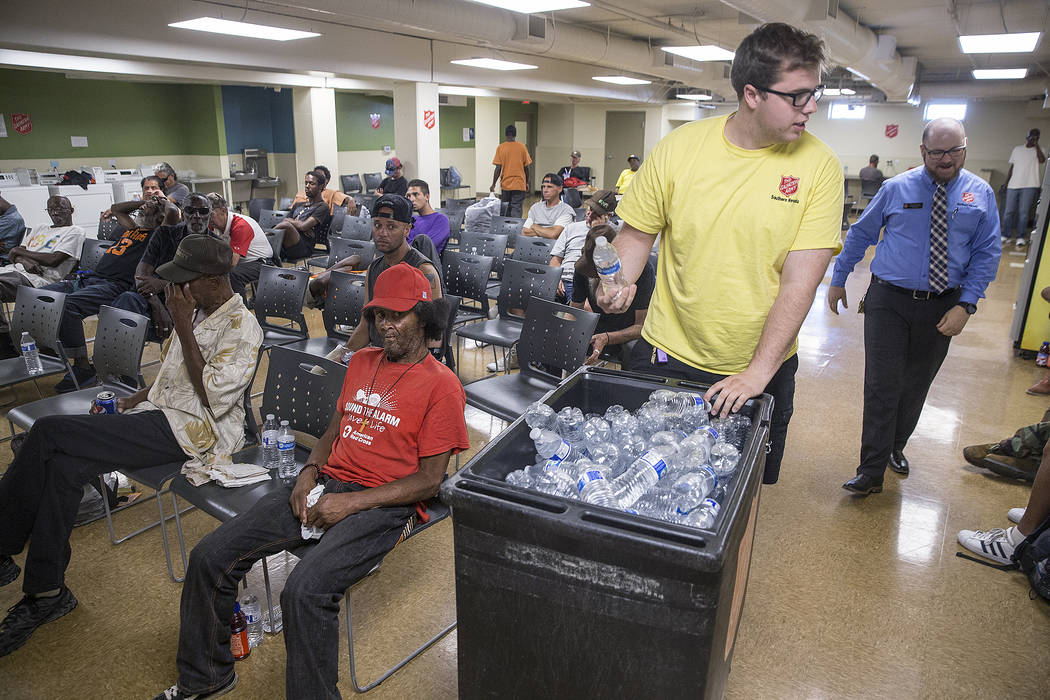 The number of heat-related deaths in Southern Nevada soared nearly 58 percent in 2017 over the previous year, according to data released Thursday Thursday, prompting public health officials to renew warnings that "heat is dangerous."
Staying indoors during the hottest parts of the day and remaining hydrated are the best precautions to avoid becoming a victim of the heat. That is especially true now that July — notorious for producing the highest number of heat-related deaths annually — has arrived, Southern Nevada Health District officials say.
"Air conditioning really is the No. 1 way to prevent heat-related death or illness," said Kathryn Barker, an epidemiologst with the district. "We don't know one specific reason why we had that increase, but we do want people to be more aware that this heat is dangerous."
The health district reported 123 heat-related deaths in 2017, up from 78 in 2016. Both figures were slightly lower than the 135 deaths last year and the 83 in 2016 reported by the Clark County's coroner's office, which includes deaths in which heat was determined to be a secondary cause of death, Coroner John Fudenberg said.
18 deaths this year
In 2018, the coroner's office has logged 18 confirmed heat-related deaths, Fudenberg said, but he assumes there are "many more" among the dead whose autopsies have not yet been completed.
Still, it seems 2017 was an outlier year, Fudenberg said.
"I think it's safe to say that. Anecdotally we're back to pre-2017 numbers," he said.
When the body overheats and can't cool itself down, people can face a series of symptoms, from sunburn and headaches to muscle spasms, dizziness, nausea and vomiting.
In serious cases, that can trigger heat exhaustion or strokes that could result in death.
"Anybody can be affected, but we do know certain groups are at risk," Barker said.
Those older than 65 and younger children are among those at increased risk, as are people who exercise or work outside, the homeless, people with chronic medical conditions like heart disease and mental illness, and substance abusers taking prescription pills, alcohol and illicit drugs.
Risky living conditions
Members of low-income households lacking air conditioning also are vulnerable, Barker said.
Clark County provides daytime shelters at Catholic Charities, 1511 N. Las Vegas Blvd., for men, the Salvation Army, 35 W. Owens Ave, for adults of all genders, and The Shade Tree, 1 W. Owens Ave., for women and children.
When temperatures are high, as is anticipated Friday through Sunday of this week, additional cooling stations are available across the Las Vegas Valley and in Laughlin. More information is posted online by the county and health district.
Fudenberg said that people living in hot climes like Las Vegas can stay safe by taking just a few precautions, including wearing sunscreen, drinking water and staying cool but should also think about others who might not be aware of the danger.
"Stay hydrated, stay in cool places, stay inside, and most importantly, for the fragile population that may not watch TV or read the newspaper, it's important for those of us that are aware to check on them," Fudenberg said.
Contact Jessie Bekker at jbekker@reviewjournal.com or 702-380-4563. Follow @jessiebekks on Twitter.