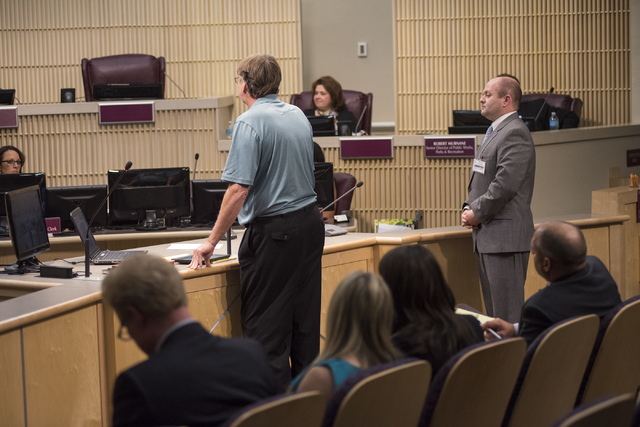 Despite residents' concerns over safety and a pending lawsuit, the Henderson City Council approved a Blue Bell ice cream distribution center Tuesday night.
The facility would include a 10,000-gallon above-ground diesel storage tank used to refuel delivery trucks. Many of the 11 residents who spoke against the project mentioned the possibility of the fuel tank — only a few hundred feet from homes — leading to an explosion or other catastrophe.
The meeting in Henderson came a day after Blue Bell announced a nationwide recall of all its products because of possible Listeria contamination, which is believed to be linked to three deaths. A few residents made a connection between the two issues, saying Blue Bell can't be trusted to keep its Henderson facility safe.
One, Michael Wetterauer, said the city's approval seems to rest on the belief the company can be trusted to follow the rules when dealing with safety hazards.
"And Blue Bell has shown quite dramatically that they can't," Wetterauer said after the meeting.
Earlier, some in the audience laughed when Mark Hawkins, a lawyer for the ice cream maker, said, "To my knowledge, at least, Blue Bell has never had a catastrophic event." He added that he was referring to problems with fuel tanks.
Brenham, Texas-based Blue Bell wants to build a 14,700-square-foot facility in east Henderson, including offices and a cold-storage warehouse. The company says 18 to 22 trucks a day would pick up products there, starting about 4:30 a.m.
The property is zoned as an industrial park, so the project was only before the council because of the diesel tank, which requires special approval called a conditional use permit.
The council voted 3-1 to approve the plan with some added conditions, including a three-sided wall around the diesel tank. Councilman Sam Bateman, the lone no vote, said the project is not compatible with two nearby residential communities, Calico Ridge and Tuscany.
Mayor Andy Hafen, Councilman John Marz and Councilwoman Gerri Schroder voted yes, with Councilwoman Debra March absent. Marz said it was not an easy call but that he tried to balance Blue Bell's right to build on its property with residents' concerns.
Schroder and Marz said their safety concerns were addressed. Lynn Nielson, a city fire protection engineer, told the council the proposed tank still requires a separate fire permit and that the company must prove it is safe before installing it.
Marz said he spoke with city Fire Department officials, who told him an explosion or fire is "extremely" unlikely because the tank is not pressurized.
One resident, Howard Howe, told the council he understood such an event is unlikely — "just like nobody would think that someone would die from eating a cup of ice cream. So stuff happens. Don't tell me it doesn't."
In a presentation given at a neighborhood meeting last week, Blue Bell said it wants to be a "good neighbor." It agreed to eliminate backup beeping on its trucks, which an acoustics expert hired by Blue Bell said would be the biggest noise problem.
The company has called residents' safety concerns misunderstandings, saying it plans to use a double-walled, bullet- and impact-resistant tank that's the best on the market.
The Planning Commission approved the project in February, and five residents appealed the issue to the City Council.
One of the five, Howe, also has filed a lawsuit in Clark County District Court seeking to block the project. Howe's complaint asks a judge to bar construction because the diesel tank would violate covenants on the property.
The company filed a motion to dismiss the case, and a court hearing is set for May 12. Jim Anderson, one of the five who appealed the case to the council, said the city could now be added as a defendant in Howe's lawsuit.
"So it's not over," said Anderson, who's also president of the Calico Ridge homeowners association.
Contact Eric Hartley at ehartley@reviewjournal.com or 702-550-9229. Find him on Twitter: @ethartley.