Henderson boy suffered 'mysterious' bruises days before death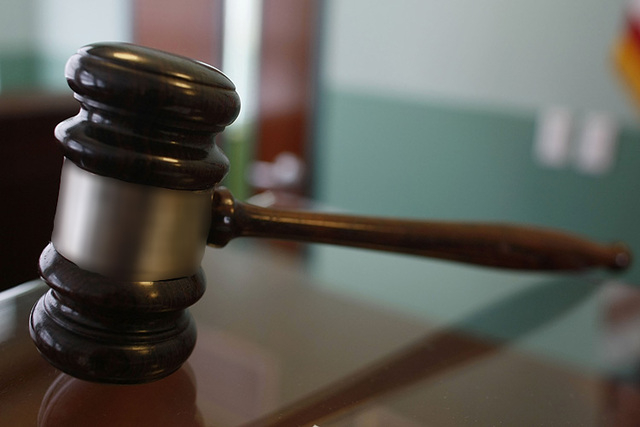 In the days leading up to his death, 2-year-old Brodie Aschenbrenner would "throw tantrums" and "freak out" whenever he saw his mother's live-in boyfriend, Michael Alan Lee, a prosecutor told a Clark County jury Tuesday.
Brodie's mother, Arica Foster, first started to notice that the boy would bruise "mysteriously" in April 2011 after he was left alone with Lee, said prosecutor John Giordani, as attorneys offered opening statements in Lee's trial on murder and child abuse charges.
Foster became concerned but "couldn't quite figure out what was going on," Giordani said. She had known Lee for years, and they had been dating for several months, but he did not look after the child in the early stages of their relationship.
In May of that year, Foster noticed that "a strange jealousy dynamic started to develop" between Lee and the boy.
A month later, Brodie died, and a medical examiner ruled the death a homicide resulting from severe injuries to his head and body.
Lee was arrested at his Henderson home five months after Brodie's death.
Defense attorneys said the death was an accident. They pointed to injuries Brodie suffered days before he died.
Defense attorney Nadia von Magdenko said that Brodie was a "full-speed-ahead, rambunctious boy" and that he had been given nicknames like "Bamm Bamm" and "The Bruiser," and he was "constantly falling."
Foster regularly relied on family and friends to help care for Brodie.
Prosecutors acknowledged the "Bamm Bamm" injuries, but Giordani called them "a couple scrapes and bumps, nothing significant." Foster did not notice any unusual bruises or scrapes when she gave Brodie a bath a couple days before he died.
One of the contributors to Brodie's death was a transected duodenum, which connects the stomach to the small intestines, a result of blunt force trauma suffered hours before he died, Giordani said.
Brodie showed symptoms of internal injuries several days before he died, the defense attorney said. He was vomiting; he lost his appetite; and he had the inability to control his bowels.
The boy had also hit his head during a fall from an all terrain vehicle a few days before his death and complained about the pain.
"If Brodie was able to say his head hurt, wouldn't he have been able to say, 'Michael just hit me'?" von Magdenko asked the jury. "Why would Arica leave her son with a man she thought was abusing her child?"
Lee didn't want Foster to take the boy out in public with bruises on his face, afraid that people would think the couple beat him, Giordani said.
Lee was alone in the couple's apartment with Brodie the night of June 14, after Foster had fallen asleep.
She whoke up in the early morning hours, and Lee told her the boy was vomiting in the bathroom. She cleaned the boy up, laid him on the couch and returned to bed.
A few hours later, Lee had wrapped the boy in a towel and placed him in bed with Foster.
"The next thing that happened," Giordani said, "she woke up, touched Brodie's back, and he was ice cold."
Contact reporter David Ferrara at 702-380-1039 or dferrara@reviewjournal.com. Find him on Twitter: @randompoker.