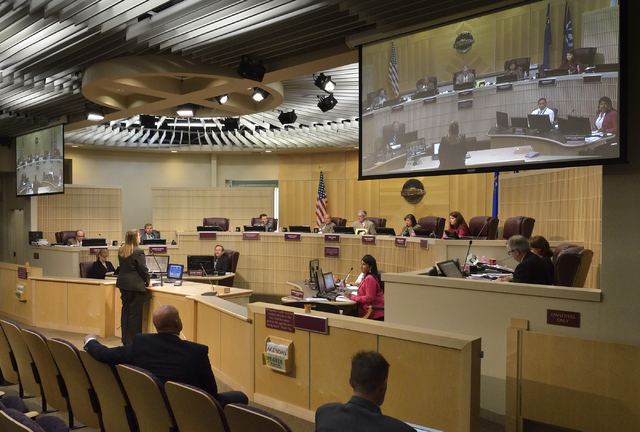 When a city's population grows faster than its budget, it's time for some "belt-tightening," Henderson's financial boss said.
That's exactly what Henderson is facing in the coming year, Chief Financial Officer Richard Derrick said.
During Tuesday night's meeting, the Henderson City Council approved a $509 million budget for fiscal year 2017, which starts July 1. The number represents an increase of less than 1 percent from the previous year's budget, but also marks the fourth straight year of growth for the city after years of post-Great Recession decline.
However, the city's population is expected to grow about 3 percent to about 296,000 residents by the end of the next fiscal year, according to the budget.
That discrepancy means less money from the city's general fund will be able to go to the police department, which is requesting more officers. Or to the fire department, which is trying to staff a new fire station in Inspirada, a newer master-planned community on the city's western side. Henderson will be able to provide only enough funding for a new paramedic rescue and its crew, Derrick said. But the fire engine and its crew won't come until at least 2018, he added.
Like most governments in Nevada, Henderson is expecting less revenue than initially anticipated because of caps that the state Legislature placed on property tax raises more than a decade ago. The secondary math that controls the cap number is limiting the raise to just 0.2 percent across the state, meaning homeowners will pay only 0.2 percent more in property taxes even if the value increased by a larger clip.
Henderson's property tax rate, set at 71 cents per $100 of assessed value, is still the lowest in Southern Nevada. Although the temptation to raise that rate up to increase revenue might exist, Derrick said the City Council is determined to keep the tax rate where it has been for more than two decades.
Contact reporter Colton Lochhead at clochhead@reviewjournal.com or 702-383-4638. Follow @ColtonLochhead on Twitter.