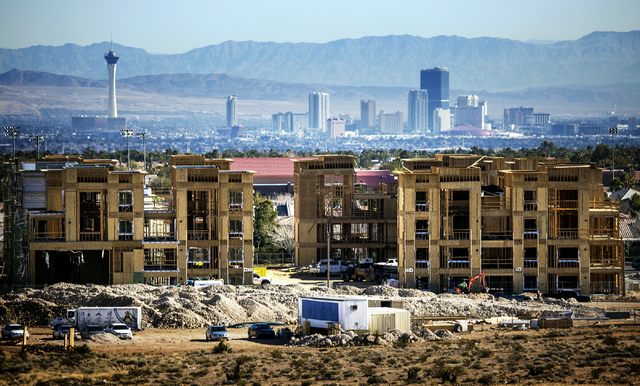 The city of Henderson continues to support transportation and public safety projects thanks to funding from fuel revenue indexing, an ordinance that collects revenue each time a motorist fuels their vehicle.
About 45 Henderson road projects are set to be designed and constructed through 2015, according to city engineer Ed McGuire.
"Fuel revenue indexing is a huge help to use for funding road maintenance," McGuire said. "Most of our projects are funded by it."
A few projects are set to be completed by the end of year, including Eastern Avenue and phase 1 of Warm Springs Road, according to McGuire.
The Eastern Avenue project is set to run from St. Rose Parkway to Silverado Ranch Boulevard and cost a little more than $1 million. Workers are scheduled to remove and replace asphalt, create bicycle lanes and construct sidewalk ramps compliant with the Americans with Disabilities Act.
Construction on Warm Springs Road is set to be divided into two phases. Phase 1 is planned from Arroyo Grande Boulevard to Stephanie Street and is set to include bicycle lane restriping and asphalt and sidewalk ramp replacements.
"Warm Springs has already been torn up for quite some time now," McGuire said. "The gas company had to replace a gas main, and they promised to have it done by Christmas last year. Now they're trying to coordinate it with our street maintenance, so it'll be completed all at once."
Phase 2 of Warm Springs is scheduled to begin in January 2015 and reach from Stephanie Street to Boulder Highway. Both phases are set to cost about $1.3 million and create about 17 jobs.
Henderson resident Damien Thornsby said he isn't bothered by the construction despite living off Warm Springs.
"The road has been torn up for a long time. You sort of get used to it," he said, "but it's nice to see the city improving streets, because these ones get used a lot."
Stephanie Street from Galleria Drive to Russell Road is also set to receive a $20 million upgrade, according to McGuire. The project is scheduled to widen the bridge over U.S. Highway 95 to four lanes, create bike lanes and improve the drain that passes under the freeway.
"It is our single largest project," McGuire said. "Residents will see construction in the area by the end of the year."
Additional projects include reconfiguring the Horizon Drive and U.S. 95 intersection into a diverging diamond, which temporarily shifts traffic to the left side of a street using traffic signals and physical barriers.
The $2.3 million project is set to help alleviate traffic in the area by facilitating twice the amount of left turns of a conventional intersection.
"It's a new concept to us because it's the first one in Southern Nevada and only the second in the state," McGuire said. "We're still going to maintain traffic throughout the bulk of construction, and nearly 100 percent of it will be night work. I wouldn't say to avoid the area, but drivers should be conscious and patient."
For more information, visit rtcsnv.com/fri/projects.
Contact Henderson View reporter Caitlyn Belcher at cbelcher@viewnews.com or 702-383-0403.