Henderson Hospital hiring to fill hundreds of vacant positions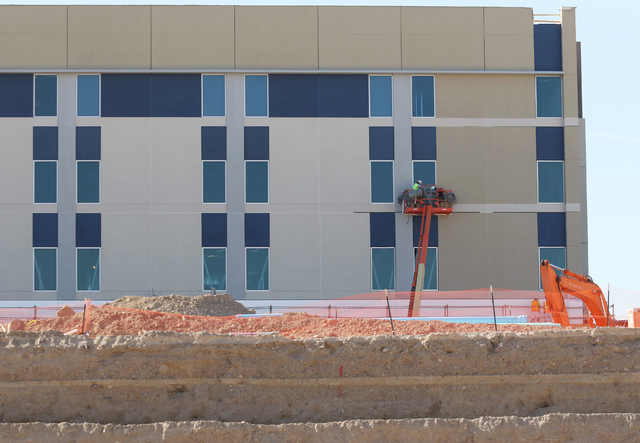 Henderson Hospital is hiring this month to fill hundreds of vacant positions as it prepares for its planned fall debut.
The hospital has posted 240 open positions and is expected to add more, Valley Health System spokeswoman Gretchen Papez said.
The 142-bed Valley Health System property is to debut on or near Oct. 31 in Union Village, a developing health, recreational and residential complex at Galleria Drive and U.S. Highway 95.
Henderson Hospital, which has filled about 40 positions so far, is seeking nurses for departments including surgical services, women's services and the emergency department at job fairs this month, according to a news release.
It's also soliciting applications for respiratory therapists and dietary needs workers, which includes cooks and cashiers.
Future fairs will target potential pharmacy and radiology employees and workers for nonclinical positions.
Interested job seekers should complete applications online at jobs.valleyhealthsystemlv.com and bring résumés to the fairs, where qualified applicants can expect to undergo testing and interviews.
Job fairs will be held at the hospital's temporary Henderson headquarters at 1291 Galleria Drive, Suite 220.
Scheduled fairs:
July 8, 8 to 10 a.m.
Seeking nurses for positions in surgical services and women's services, which includes labor and delivery, postpartum care and the newborn nursery.
July 12, 9 a.m. to noon
Job fair for respiratory therapists, nurses seeking positions related to adult health and dietary needs workers.
July 14, 1 to 3 p.m.
Job fair for nurses to work in the emergency department, intensive care unit and intermediate care unit.