Henderson judge's death ruled accidental
April 27, 2016 - 11:15 am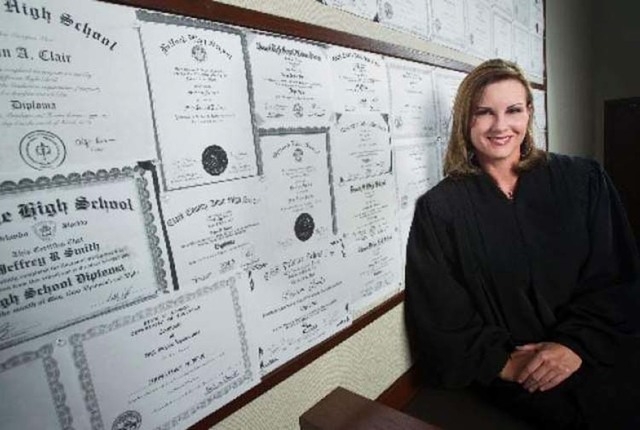 The March death of Henderson Municipal Judge Diana Hampton was caused by an infection in her lower right arm, but the Clark County coroner's office said Monday that a toxic level of a synthetic opioid pain reliever was a contributing factor.
Her death was ruled accidental.
Officially, Hampton died from "sepsis due to necrotizing cellulitis of the lower right arm," according to a statement from Clark County spokesman Dan Kulin. Clark County Coroner Jon Fudenburg said his office was unable to determine the cause of the infection.
But the coroner's office found two additional factors that contributed to the judge's death: granulomatous lung disease and toxic levels of the drug fentanyl in her system.
Fentanyl is a synthetic opioid used as a pain reliever. The drug is considered 50 to 100 times more potent than morphine, according to the Centers for Disease Control and Prevention. Granulomatous lung disease is inflammation of the lungs, often caused by an infection or the injection of a foreign substance.
Deaths caused by infection are typically ruled natural, Fudenburg said.
"What made this an accident was the fentanyl intoxication," he said. "Absent the fentanyl, it would have been ruled natural."
Fudenburg said he could not elaborate. No other information about Hampton's cause of death is expected to be released from the coroner's office. Coroner's reports are not considered public records in Nevada.
Hampton, 50, was found dead in her Henderson home on March 13.
Henderson police spokeswoman Kathleen Richards said the investigation into Hampton's death has not been closed and that she could not discuss any details of the case, such as whether the judge had a prescription for fentanyl.
The judge was married to Scott Hampton, now a Henderson police lieutenant, for more than a decade before the two split up in 2014.
Officials for both the state Board of Pharmacy and Board of Medical Examiners said they could not comment on whether there was an active investigation stemming from the drug found in Hampton's body at the time of her death.
Hampton became Henderson's first female judge when she was elected to the then-new Municipal Court Department 3 seat. She was re-elected in 2011. Her current term was set to expire in June 2017.
As a municipal judge, Hampton heard misdemeanor cases such as DUI and battery. The Henderson City Council recently appointed sitting Henderson Justice of the Peace Rodney Burr to fill Hampton's vacant judicial seat.
Burr said he expects to leave his current post in a few weeks and begin hearing cases in the Municipal Court by mid-May.
Contact Colton Lochhead at clochhead@reviewjournal.com or 702-383-4638. Follow @ColtonLochhead on Twitter.