Henderson opens 2 new parks Saturday
October 3, 2014 - 9:54 pm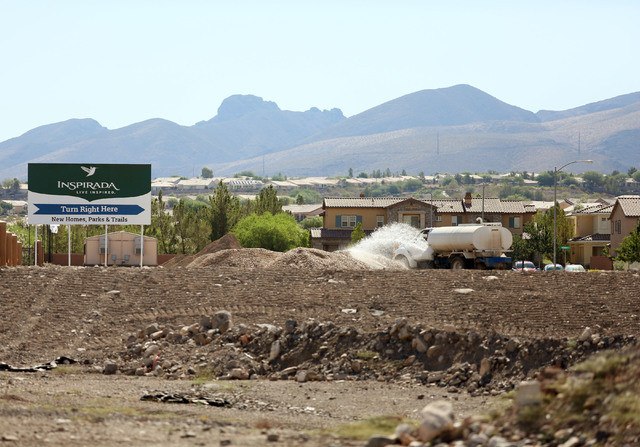 Henderson will celebrate the opening of two new parks today.
Capriola and Potenza parks were developed by Inspirada Builders and constructed by Martin Harris through the city's turnkey park program. Under the program, a developer builds a park then dedicates it to the city for public use, city spokeswoman Kathy Blaha said.
Future maintenance will be paid for by the city, Blaha said. The cost for regular maintenance will come from the city's $1.2 million annual parks operating budget, which covers 61 parks and 105 miles of trails. It's estimated that it will cost the city nearly $20,000 per year to maintain each park.
The park openings come after the City Council's May approval of nearly $2.02 million in budget cuts and dis­cussion of a possible property tax increase to bridge a large budget shortfall.
The cuts include decreasing hours at the Heritage Park Senior Facility and other recreation centers, eliminating a weekend food program at senior centers and increasing some fees.
The council discussed in September a potential ballot question to raise the city property tax 20 cents per $100 of assessed value. A decision will not be made until the Legislature adjusts or repeals a state property tax cap next year.
Councilman John Marz said in August that he favored such a ballot question.
"I support a modest property tax increase to fund those things," Marz said. "The reason I support that is because we have a city we need to be proud of, and we have a city we need to maintain."
Mayor Andy Hafen praised Inspirada for its "investment in our community."
"We have a goal in Henderson to provide a park within a half-mile of every residence," he said in a prepared statement. "We are now closer to that goal for this neighborhood thanks to the public/private partnership with the developer."
Capriola Park, 2155 Via Firenze, opens at 9 a.m. today with the opening of Potenza Park, 2355 Via Firenze, to follow.
Contact Kimberly De La Cruz at kdelacruz@reviewjournal.com, 702-383-0381. Find her on Twitter: @KimberlyinLV.