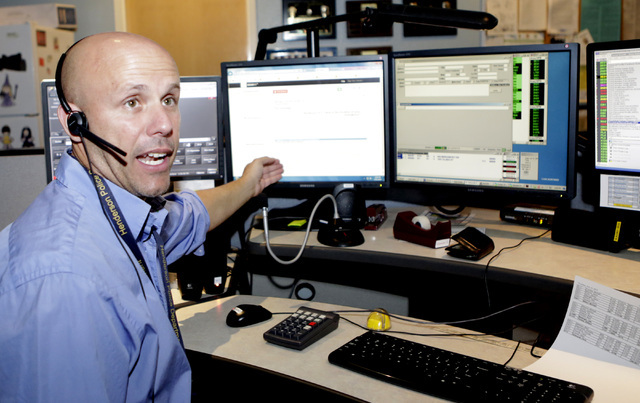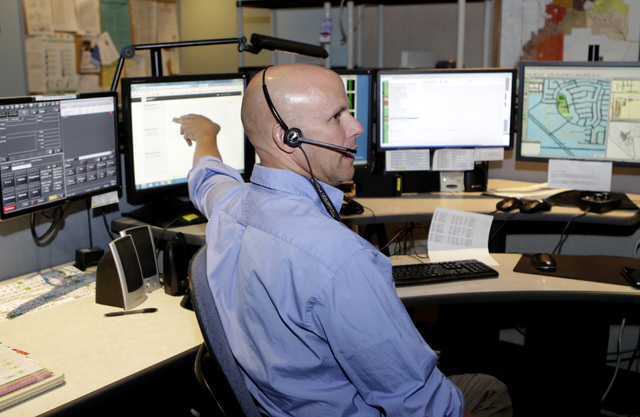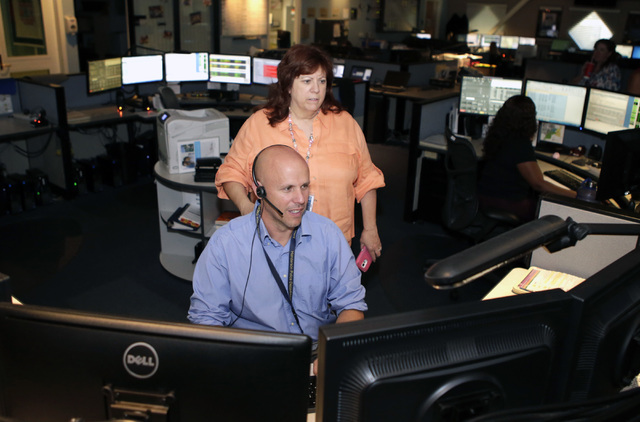 Life and death can be a matter of seconds, or silence. Henderson's text-to-911 system offers a quiet, discreet way to alert police to danger.
On June 2, 2015, shortly after the Henderson Police Department's program launched, a woman silently texted police to alert them that her friend was threatening self-harm. It was one of the first texts received.
In the year since, 166 texts to 911 have been made, police said. By contrast, on average, the Henderson call center receives about 450,000 911 phone calls annually.
The Henderson Police Department was the first Nevada agency to offer 911 texting, and remains the only one.
Melinda Henke, a shift supervisor at the Henderson police call center for seven years, said text-to-911 offers an important new communications channel. She pointed to the recent shooting at an Orlando, Florida, nightclub that left 49 dead and 53 injured as an incident when 911 texting might have saved lives.
"I think, if you look at Orlando, and some of the people that were either held hostage or barricaded themselves if they didn't want to be found or didn't want somebody to know that they were there, they could at least text and get the information out," Henke said. "And it probably provides a different perspective from where they were, as opposed to somebody else in maybe a different area could provide."
Data suggest such systems are relatively rare. According to an online database the Federal Communications Commission maintains and updates monthly, about 650 public safety access points — a type of public safety call center — offer the text-to-911 service, out of about 6,500 access points nationwide.
William Anderson, acting assistant director of public safety communications in California, said the first text-to-911 systems there were deployed in December. Anderson said about 90 access points in California are working to adapt the technology, with eight set to deploy in August and about 50 by year's end.
The Associated Press noted Indiana has made text-to-911 a statewide initiative. Indiana Statewide 911 Board Executive Director Barry Ritter told the AP Indiana has the largest deployment of the service in the country, using it in 88 of the state's 92 counties.
The FCC said the most recent systems were implemented in Colorado, Florida and Illinois.
Henderson Police Chief Patrick Moers called his city's text-to-911 system "a great success."
Barbara Brabenec, the Henderson Police Department's communications center administrator for 13 years, said the program hasn't increased costs and didn't require hiring specialists, adding new equipment or extensive training for dispatchers.
Henderson's system works with a third-party website that receives the messages and relays them to the department's 36 dispatchers. Communication center workers receive the texts on their computer monitors, and can type responses that are transmitted as text messages.
Sixty-four texts came between June and January; 102 from January to July. Brabenec said the increase in texts shows the program is gaining traction.
Brabenec said that the FCC has allowed agencies such as police departments to write "letters of demand" to mobile carriers asking them to connect customers to the police program. The FCC website maintains a monthly list of departments that use the technology.
Since 2009, University of Nevada, Las Vegas students and faculty have been automatically registered into an emergency notification system that lets them receive emails from police, and if they choose, texts and voicemails, UNLV Police spokesman Hobreigh Fischer said. But so far, the campus police can send texts but not receive them.
"We don't have the infrastructure to implement (text-to-911) at the moment, but it is something that we're interested in for the future," Fischer said.
North Las Vegas Police Department spokeswoman Ann Cavaricci said her agency hasn't developed a texting program, but might do so. The Metropolitan Police Department, the valley's largest police force, has been exploring the technology.
"As with any new technology, analysis must be done to determine the impact it will have on our agency and the community we serve," Metro spokesman Michael Rodriguez said. "When we are ready to implement text-to-911, we want it to work as designed so as to provide quality and reliable service to the community."
Jason Gacek, a communications operator with the Henderson police for nearly 14 years, praised the program's discretion.
"You're not even having to make the bad guy aware that you're calling us," he said.
"That's usually the scariest part for someone to call us, is that the bad guy is going to know. They're going to hear. And I can respond to them without them (the bad guys) even knowing at all."
Contact Christian Bertolaccini at cbertolaccini@reviewjournal.com and 702-383-0381. Follow @bertolaccinic on Twitter.