Henderson post office has to hand out mail after car crashes into lobby
December 3, 2014 - 11:07 am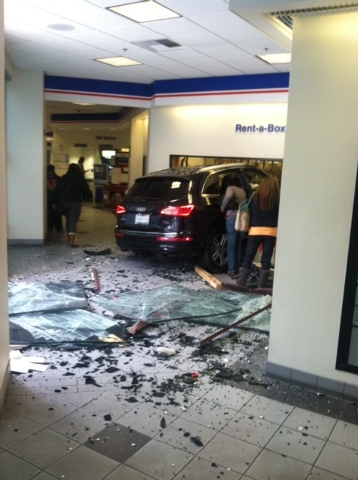 The U.S. Postal Service has to hand out mail to more than 200 Henderson customers after their boxes were damaged Tuesday when a car crashed into the lobby.
Police responded to the Seven Hills post office, on St. Rose Parkway near Eastern Avenue, about 1 p.m. Tuesday where a man in his 60s drove his car over the curb and into the building, according to Henderson spokeswoman Kathleen Richards.
A female passenger was taken to the hospital with chest pains, Richards said, but they didn't appear to be related to the crash.
No one was hurt, but the crash damaged 220 of the building's 944 mail boxes, according to Postal Service spokesman David Rupert.
All of the mail was recovered and undamaged, Rupert said, but until the boxes can be repaired, mail will be handed out from a dutch door separating the lobby from the back room.
Getting mail from an employee shouldn't be any slower than retrieving it from boxes, Rupert said. Customers can approach the door with their ID and a post office worker will be waiting to retrieve their mail from sorted bundles in the back room.
Retail and delivery services were unaffected and all entrances to the post office are open.
Rupert said engineers and safety analysts are inspecting the building and will assess the damage to the building and the next steps for repair.
The postal service doesn't track car-into-post-office crashes, but due to the nature of the business — which requires people to pull up to the business and leave their cars for a short time — they happen several times a year across the country, Rupert said.
Contact Kimber Laux at klaux@reviewjournal.com or 702-383-0381. Find her on Twitter: @lauxkimber.