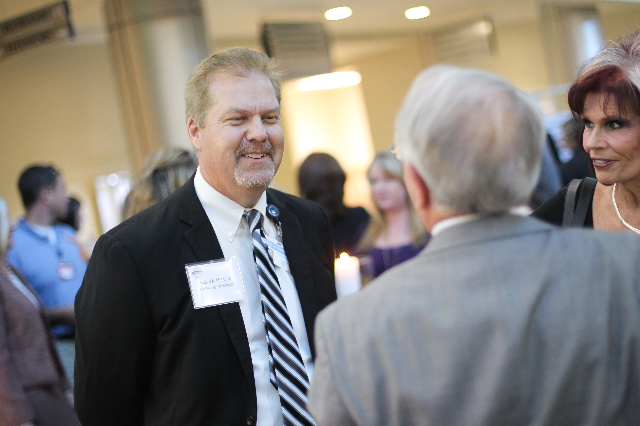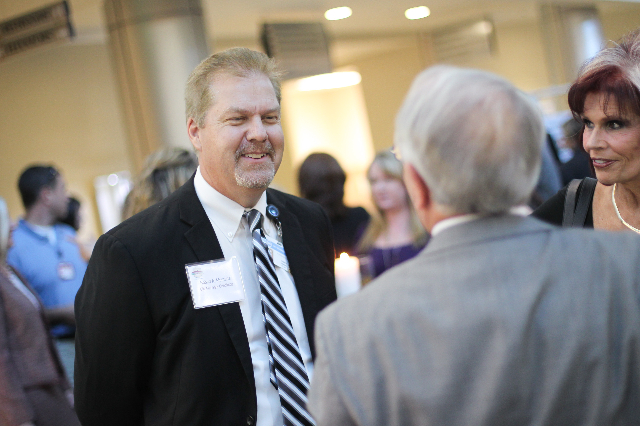 Henderson'€™s new city manager will be a familiar face: the city'€™s public works and parks director, Robert Murnane, who has worked for Henderson for nearly 20 years.
The City Council voted unanimously Monday evening to hire Murnane over four other candidates, including Henderson's fire chief. The council will have to approve a contract with Murnane before he takes office.
Council members said they were impressed by candidates from outside the city, but decided an internal pick was best.
"This is a time in our city'€™s history where we need to get somebody in that can hit the ground running, rather than wait a period of time to learn the process and maybe get it — and maybe not," Councilman John Marz said during a public debate before the vote.
The city manager, who reports to the council, functions as the CEO of Henderson government. He hires department heads and runs day-to-day operations. Murnane will replace Jacob Snow, who resigned in April after three years in the job.
Bristol Ellington, an assistant city manager, has been filling in since Snow left but did not apply for the permanent job.
Murnane has been senior director of public works, parks and recreation since last year, when parks and rec services were merged into public works. He has been the public works director since 2001 and joined the city in 1996 as an engineer.
In public presentations last week, Murnane said he is proud of overseeing the parks and rec-public works merger, as well as having worked on major transportation projects earlier in his career, including pushing for better noise mitigation on U.S. Highway 95 to protect residents.
Last time it chose a new city manager, Henderson looked outside: Snow came to the city from the Regional Transportation Commission, where he was general manager. But Councilman Sam Bateman said that wasn'€™t necessary now, in part because Henderson does not need an "overhaul."€
The council praised the outside finalists, especially Steven Sarkozy, who has been a city manager in Minnesota, Washington state and California. But they said none outshone the internal candidates.
Council members said Murnane was a better choice than Fire Chief Steve Goble because Murnane oversees multiple departments and has regular contact with the council, giving him a better overview of the city's operations.
Monday'€™s meeting was disrupted briefly when a city firefighter tried to speak, telling the council his wife was discouraged from applying to be city manager because of his position with the city. Mayor Andy Hafen repeatedly told him to sit down because the time for public comment had passed.
Robert Craddock, a 26-year veteran of the Fire Department, left the council chambers after a police officer and security guard approached and motioned him to leave. He later apologized for his behavior.
Outside City Hall, Craddock said he got up to speak in frustration after Councilwoman Debra March mentioned hearing that an applicant had withdrawn because of a connection with a city employee. Craddock and his wife, Brenda Fischer, said that was not true.
Fischer, who was not at the meeting, said she worked for Henderson in human resources and public information from 1995 to 2001. She said she then moved to California, where she served as a deputy city manager in Glendora, and later Arizona, where she was city manager in Maricopa and Glendale. She moved back to Henderson after being asked to resign early this year from Glendale because of political issues, she said.
Henderson paid a search firm, Ralph Andersen & Associates, about $30,000 to vet applicants and pick finalists. March said she was told 80 people applied, 55 of whom were deemed to meet the qualifications.
Just four of the 55 — and none of the six finalists –€" were women, March said. Two finalists are deputy city managers in Las Vegas, and the two from outside Nevada have been city managers in multiple states.
One of the six finalists, Ronald Olson, participated in several days of public interviews and tours last week, but sent a letter to the council Sunday withdrawing his candidacy. He said he had decided his current job as city manager of Corpus Christi, Texas, was a better fit.
Fischer said she applied and was excited to compete for the job. She got a call from the search firm in late May, she said, and was repeatedly encouraged to withdraw her application, in part because of her husband's job as a firefighter.
Fischer said she refused and never heard another word about her application.
She hinted she might run for City Council: "Don'€™t be surprised if you see me on a ballot coming up."€
Contact Eric Hartley at ehartley@reviewjournal.com or 702-550-9229. Find him on Twitter: @ethartley.