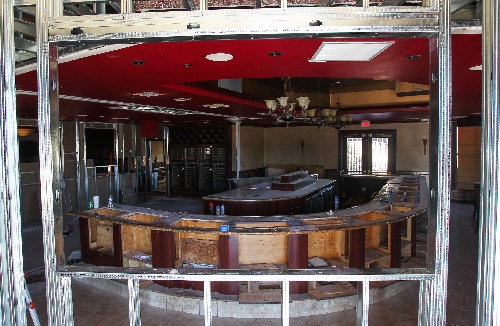 A divided Henderson City Council rejected a staff request Tuesday for a 90-day moratorium on the issuance of new tavern permits and licenses.
The moratorium was requested to give the council and staff time to review related regulations in the municipal code.
"We just have some gray areas," Henderson spokeswoman Kathy Blaha said.
Councilmen Sam Bateman and John Marz voted for the request, but Mayor Andy Hafen and Councilwoman Gerri Schroder voted against it. The tie vote meant the resolution failed. Councilwoman Debra March was absent.
Blaha said the city attorney's office is reviewing the entire municipal code, and the tavern issue is one of the first to come before the council because of that study.
"We need to tighten up the code," she said.
The Clark County Commission rewrote county regulations for taverns and slot halls in 2011 amid complaints that Nevada Restaurant Services, which does business as Dotty's, was creating a system of mini-casinos, rather than having more traditional taverns with a few slot machines.
Nevada Restaurant Services in turn filed a federal lawsuit, which contended the commission overstepped its bounds in changing the terms of the licenses and not staging a fair hearing.
Senior U.S. District Judge Kent Dawson dismissed the lawsuit in September.
Blaha said Henderson has 39 licensed taverns. Three applications, including two for Dotty's taverns, are pending with the city.
The Henderson Municipal Code defines a tavern as "a place where the primary business is the service or sale of alcoholic liquors."
"Right now we don't have any objective way to identify primary use versus secondary use," said Michael Tassi, the city's planning manager.
According to the resolution for the moratorium, "The city has received several applications for establishments to operate within the city as taverns which do no appear to conform to state regulations requiring that gaming not be conducted as a primary business."
The moratorium would have applied to all new applications for conditional use permits and business licenses for taverns. It would not have affected applications that were in the city's license and permit review process as of Tuesday.
In a related matter, The Giuseppe Group is appealing the Henderson Planning Commission's decision to deny its request to operate a tavern at 2630 W. Horizon Ridge Parkway, near Eastern Avenue.
Stephanie Garcia-Vause, director of community development, told the business owners in a December letter that the Planning Commission had denied the conditional use request.
The Giuseppe Group's request includes reductions to separation requirements from three other taverns, two churches and a school.
"Separation requirements are in place to protect the general health, safety, morals, and welfare of the residents of the city and to prevent a proliferation of intense uses," Garcia-Vause wrote.
Blaha said the business is awaiting approval to operate as a restaurant with a bar. Henderson currently has 62 such licensed businesses, which must close between 2 and 6 a.m.
Joe Slyman said the owners are renovating the property and hope to open Giuseppe's Italian Grille in about three weeks. The business will have sports betting and 15 slot machines.
Slyman, one of the owners, said they asked to operate as a tavern because they want to remain open 24 hours a day.
"We need everything we can to be successful, because the guy before us was unsuccessful, and he was open 24 hours," Slyman said, noting the new business will employ 35 people.
According to city records, a supper club and restaurant business at that location closed in September 2009. Vox Wine Lounge operated there most recently.
Slyman said The Giuseppe Group bought the property from Nevada State Bank last year. Because the business had been closed more than 180 days, city officials said, the new business could not be grandfathered in under old regulations that would have allowed it to operate 24 hours a day.
The new business will be operated by the DelSangro family, which also operates Giuseppe's Bar & Grille at 6065 S. Durango Drive in Las Vegas.
Slyman said the new business has a dining room that seats more than 100 people and will be "more upscale."
To Slyman, tavern means "more bar and less food." He said the main feature of the new business will be fine Italian dining with moderate pricing.
Contact reporter Carri Geer Thevenot at cgeer@reviewjournal.com or 702-384-8710.