Henderson's Heritage Park complex about to get better
January 20, 2016 - 12:55 pm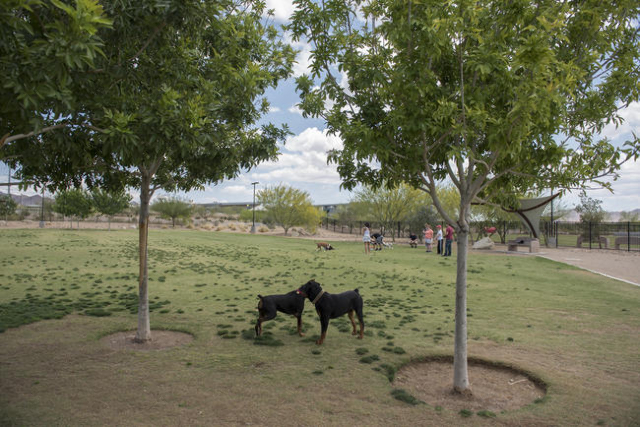 When the Heritage Park recreational complex in Henderson opened in 2009, Nevada was in the midst of the Great Recession and the city debuted a great facility with limited access.
That's about to change.
City officials broke ground Wednesday on a series of street improvement projects centered around Heritage Park and Racetrack Road.
The $7.3 million project is expected to be completed by December and provide 44 jobs under contractor Las Vegas Paving and several subcontractors.
Project subcontractors include MC4 Construction, American Pavement Preservation, Highway Striping & Signs, Fencing Specialists and Dynascapes.
"It's a beautiful facility," Henderson Councilwoman Debra March said of Heritage Park's 160 acres of lighted multipurpose fields, ballfields, picnic tables, splash pads, an aquatic complex and a senior center.
"The road improvements were planned, but we weren't able to do all of them when the recession hit," she said.
The project will include replacing or resurfacing Racetrack Road from Boulder Highway to Athens Avenue, developing four lanes of traffic from Boulder Highway to Burkholder Boulevard and Burkholder to Athens, adding or improving bicycle lanes, installing a traffic signal at Blue Lantern Lane, adding a traffic roundabout at Newport Drive and the construction of a vehicular bridge over a flood channel on Newport to provide new access to the park complex.
The project also includes $775,000 in flood control improvements funded by the Clark County Regional Flood Control District and about $125,000 in developer contributions.
Nearly half of the project — $3.1 million — is being paid for through bonds backed by fuel revenue indexing, a three-year program that ends this year and assesses up to an additional 10-cents-a-gallon tax on fuel.
Since the beginning of the fuel-revenue-indexing program in 2013, 138 design and construction contracts have been awarded, including 72 to local small businesses, totaling $328 million. Those projects resulted in 4,231 new jobs.
"I always tell people that those orange cones represent a new job," March said. "When you look out across the valley, look at how many new jobs have been created by this program."
Fuel revenue indexing was initiated by the state Legislature and the Clark County Commission, but a 10-year extension to the program will be taken to a vote of the people in November.
Contact Richard N. Velotta at rvelotta@reviewjournal.com or 702-477-3893. Find him on Twitter: @RickVelotta