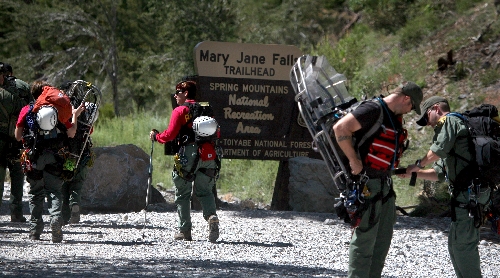 Rescue teams responded to Mount Charleston on Thursday after a hiker died in a falling accident.
The identity of the dead man was not released.
Las Vegas police spokesman officer Bill Cassell said police were called just before 11 a.m. Thursday.
The man fell an estimated 60 feet near Big Falls. The estimate came from a witness to the fall, not from police.
Police first reported the man was unconscious but later confirmed he died.
In early June, Aleksandra Karbowniczek of Las Vegas suffered serious injuries after a rock fell on top of her on Mount Charleston in the Mary Jane Falls area.
On June 5, Karbowniczek was just 20 feet from the falls when three rocks fell from an overhang. The largest, the size of a pineapple, struck her right on the head.
Mary Jane Falls is at the end of a heavily walked trail off of state Route 157.
Karbowniczek fractured her head. Her condition was unknown Thursday.
Review-Journal reporter Antonio Planas contributed to this report. Contact reporter Mike Blasky at mblasky@reviewjournal.com or 702-383-0283.