Historic Huntridge plan taps hopes and fears downtown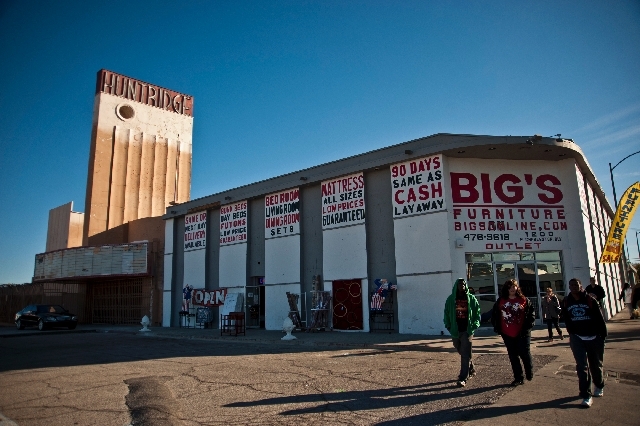 For nearly seven decades the symbol of the Huntridge Performing Arts Theatre in downtown Las Vegas was the sleek, Streamline Moderne-style tower rising above the marquee.
Now the Huntridge itself has become a symbol in the struggle to revive an area of the city that's deteriorated along with the troubled theater.
The potential price tag of $10 million or more to acquire and refurbish the property represents the difficulty of breathing new life into blighted, historic buildings.
And the discussion about how best to raise the cash has come to symbolize a broader debate about changes washing over downtown Las Vegas as it redevelops.
Much of the larger discussion involves uneasiness in some corners with the re­development efforts of the Downtown Project, a $350 million urban renewal effort backed by Zappos CEO Tony Hsieh.
The Downtown Project isn't part of the latest effort to revive the Huntridge. But the people seeking to take on the job — entrepreneur Michael Cornthwaite, First Friday operator Joey Vanas and Life is Beautiful festival creator Rehan Choudhry — have close business and personal ties to Hsieh.
By taking on the challenge of reviving a theater that for many symbolizes happier times, they've tapped into fears that renewal will sand away so many rough edges that downtown Las Vegas would become unrecognizable to people who remember the good days and survived the bad.
"The people who have been asking questions and are suspicious about the motives are transferring those feelings over to these guys," Las Vegas writer Joshua Ellis said.
Ellis said a social media flame war that erupted last week in the wake of the Huntridge proposal was the result of pent-up anxiety about the Downtown Project being dumped at the feet of the group trying to restore the theater.
"I think what they are doing is great but they have to understand why it is they are getting this negative feedback," he said.
Ellis himself wrote a lengthy critique of the downtown scene that referred to legions of similarly dressed Zappos workers pouring into downtown bars as creepy and cult-like.
It's a characterization that Hsieh, who as CEO helped build Zappos from a startup, online shoe-selling website to a $1 billion Amazon acquisition target, describes as unfair.
"We encourage people to come take a tour of our offices … and/or actually talk to five random Zappos employees before making any judgments," Hsieh said via email.
The matching T-shirt experience was likely part of a Corporate Challenge event in which companies in Las Vegas compete in myriad sporting events, he said.
As for the Huntridge revival project, Cornthwaite, Vanas and Choudhry appear to be working hard to distinguish their plan as an attempt to improve the neighborhood by bringing to life a venue associated with generations of fond memories.
Baby boomers associate Las Vegas' first integrated theater as a place of affordable Saturday matinees and first kisses. Generation Xers have vivid memories of the theater's revival in the 1990s and early 2000s as a venue for touring acts such as the Smashing Pumpkins, Beck and Green Day.
That unique blend of quality entertain­ment and community spirit is what Cornthwaite says the group wants to bring back to the area.
"There is only one plan that we have and that is to bring it back to life," Cornthwaite said at a recent community meeting about the project.
In addition to the meeting -— which drew a friendly crowd of about 150 people -— the trio launched an online crowdfunding drive on the website Indiegogo to raise $150,000.
They say money from Huntridge enthusiasts would show potential investors there is an audience willing to share more than gauzy memories if the theater were to reopen as a performing arts venue.
In addition to the crowdfunding request, they've posted an account of how much they've spent so far to secure an agreement with the family that owns the property.
It shows the three men have spent $60,000 of their own money on a non-refundable deposit and need about $100,000 more for research and feasibility studies.
If that funding comes through, they have until the end of the year to find investors willing to put up $4 million to acquire the property. Renovations could be another $10 million.
"This is not an easy project, I think some of the criticism is unfair," said Bob Stoldal, a member of the city's Historic Preservation Commission. "This is a lot of work for these people and it may not work."
Ginger Bruner, a musician and artist who was raised in the Huntridge neighborhood and still owns a house there, said the revival group could assuage lingering concerns by filing for nonprofit status for the project.
Such a move would bolster community spirit and mean tax breaks for people who contribute to the cause, said Bruner, who has extensive nonprofit experience in public and community radio.
"Nonprofits don't mean you don't make money or make a living or do a good job, it just means you don't hand out a whole bunch of money at the end of the year to stockholders," she said.
Cornthwaite said the group isn't opposed to a nonprofit arrangement. But by creating an LLC they were able to move more quickly, which is important given the time constraints. The current owners are obligated to maintain the historic elements of the property until 2017. After that they're free to do with it as they like, including demolish it.
"I just want to keep every possibility, every avenue open," he said. "To me right now the priority is … bringing it back to life."
Stoldal concurred with the approach, saying the most likely path to success involves creating a project that is economically viable for the long term.
"The right project will be the one that makes good business sense," he said. "So I think these guys are doing it the right way."
Contact reporter Benjamin Spillman at
bspillman@reviewjournal.com or 702-383-0285 .