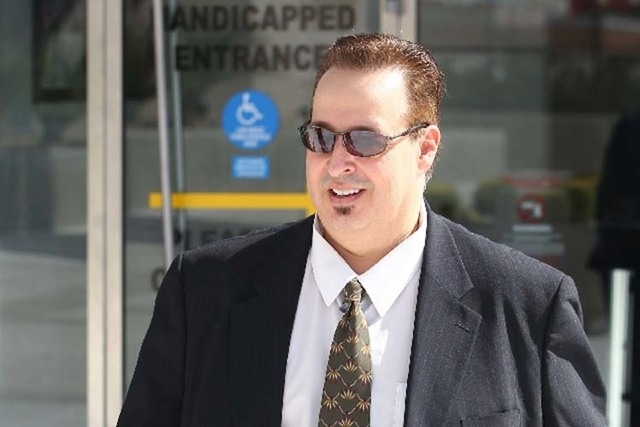 A federal judge Tuesday once more delayed the federal trial of former construction company boss Leon Benzer and five others in a massive scheme to take over Las Vegas-area homeowners associations.
Following a 50-minute hearing, a reluctant U.S. District Judge James Mahan set a new trial date in February at the request of defense lawyers who argued they needed more time to review thousands of pages of new documents provided by prosecutors. The high-profile case had been set for an Oct. 14 trial.
Benzer, who has denied wrongdoing, and the other defendants face conspiracy and fraud charges in the takeover scheme, which occurred between 2003 and 2009. One of the co-defendants, attorney Keith Gregory, is seeking to be tried separately.
The trial delay pushes back the January sentencings of nearly three-dozen cooperating co-conspirators who pleaded guilty, some more than three years ago. Those defendants can't be sentenced until they testify for the government at the trial.
Mahan initially told the lawyers he did not want to put off the trial out of concern for the cooperating defendants "sitting in limbo."
But prosecutors did not object to the delay, the fourth since Benzer's January 2013 federal indictment.
The late construction defect lawyer Nancy Quon launched the HOA takeover scheme with Benzer, according to recent court papers filed by prosecutors. At the time, Benzer and Quon were romantically involved.
"Through this network of conspirators, Benzer was able to compromise the integrity of at least 10 Las Vegas HOAs," prosecutors wrote. "This was accomplished through a pattern of bribery, intimidation, rigged elections, secret meetings and payoffs."
Benzer planned to pack HOA boards and award construction defect litigation contracts to Quon's firm. Once a legal judgment or settlement occurred, the Benzer-controlled boards would hire his company, Silver Lining Construction, to do the repairs. Quon, who committed suicide in 2012 and was not charged, agreed to give Benzer 10 percent of her fees for steering the legal contracts to her.
Prosecutors allege the scheme went the furthest at the Vistana condominium complex in southwest Las Vegas, where Benzer controlled three of the five HOA board members. The corrupted board approved a $7 million contract for Benzer to do construction defect work that was either poorly done or not done at all.
Contact reporter Jeff German at jgerman@reviewjournal.com or 702-380-8135. Follow him on Twitter @JGermanRJ.