Holiday season continues to inspire people to help charities, even in hard times
November 28, 2010 - 12:00 am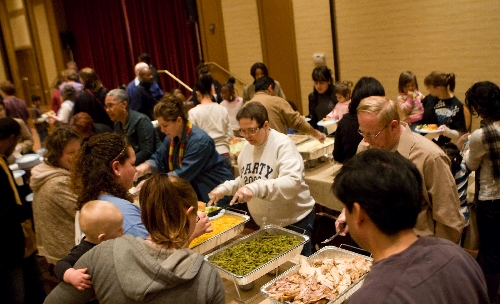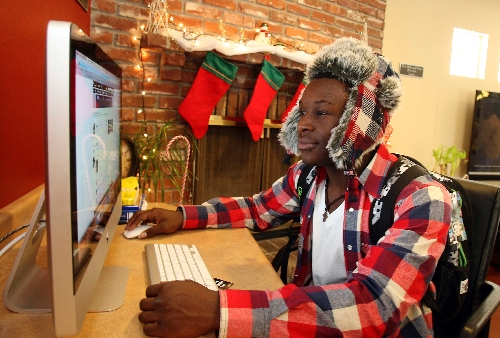 During the recession, nonprofits saw monetary donations and grants decrease as demand for their services took a dramatic upswing.
But local charities have a reason to be thankful this holiday season. Although the hard times continue, nonprofit representatives expect to see a "holiday bump" during the next few weeks, as people imbued with a desire to give do just that. And if recent donation and volunteer history is any indication, this season will be a good one for their pantries and coffers.
"Donations tend to increase about 80 percent during the holidays," says Kathleen Boutin, director of the Nevada Partnership for Homeless Youth. The 10-year-old organization provides a variety of services to homeless kids. "We collect enough food, gift cards, clothes and other goods during the holidays to feed and clothe our entire population through the whole year."
Representatives from several local charities say that, while many of their bigger donors decreased contributions in recent years, more people started giving. The checks are smaller, but the additional donors make up for any shortfall, they say.
During the past few months, Boutin says unrestricted cash contributions to the nonprofit have increased about 20 percent, so she expects a strong holiday giving season. So far, several groups have contacted her about helping with fundraising.
The holidays are a good time of year to update people on an organization's activities and ask for help, says Karen Layne, spokeswoman for the Las Vegas Valley Humane Society. The group relies on year-end giving to get it off to a strong start in a new year, she says.
"We always put out a Christmas letter, and we usually get a fairly good return on it," Layne says. "We get $100,000 in donations every year, with 5 (percent) to 10 percent of that coming in over the holidays."
Not all nonprofits use holiday fundraising to fund their budgets. Positively Kids, a nonprofit that helps medically fragile children, raises only a small amount of money during the holiday season through events such as breakfast with Santa Claus, says Fred Schultz, founder and director of the organization. It's too hard to stand out among all the other nonprofits trying to raise money at this time of year, he says.
But people do seem to want to do — and give — more, especially during the holidays, he adds.
Boutin says it's because of Americans' cultural and religious beliefs that they become more giving at this time of year.
Whether it's for the tax write-off, a holiday tradition or the belief that it is, indeed, better to give than receive, charitable giving and volunteering increases between Thanksgiving and New Year's Day.
Members of United Way of Southern Nevada report an increase in families volunteering during the holidays, says Robin Kelley, director of United Way's volunteer center.
"It's just that special time," Kelley says. "It's just a phenomenon, people give more of their time, especially families. They want their kids to learn that it's better to give than receive."
Even with the holiday bump, local nonprofits still have needs. Following is a wish list for several local nonprofit organizations. Visit United Way's volunteer center website at volunteercentersn.org for other volunteering and donating opportunities.
The Caring Place, 4425 S. Jones Blvd., Suite 1: Opened more than two years ago, the organization provides art classes, massage therapy, jewelry-making classes, support groups and other programs for those who have been affected by cancer. The services are free of charge. The organization's greatest need is financial donations to help keep the doors open, says Pati Kearns, healing arts director.
The Caring Place also can use practical items for its programs, including beads, canvases, prepackaged snacks and boxes of tea, yarn, massage tables, office supplies and other items that defray its costs. To give, call 871-7333 or visit the website, www. thecaringplacenv.org. Tours also are available.
Family Promise of Las Vegas, 320 S. Ninth St.: The group's mission is to end homelessness for families, one at a time, says Executive Director Terry Lindemann. The organization started 15 years ago. Currently, it serves about 250 people a month through a network of churches and houses of worship that provide shelter to the homeless families. The organization's greatest need is money, Lindemann says. It also needs AeroBed air beds; coats and jackets for men, women and children; and funding for bus passes. To make donations or volunteer, call 638-8806 or e-mail director@ familypromiselv.com.
Helping Hands of Vegas Valley: The agency, in its 11th year, provides services to senior citizens, including a food bank, transportation to medical appointments, help running errands and visits at home, among other services. The food bank serves about 200 low-income seniors a month and has a waiting list of the same size, says Executive Director Dana Serrata. The group needs financial donations and volunteers as well as donations of food and pet food. Many seniors have pets, Serrata says, but not the money to feed them.
Currently, Helping Hands offers an Adopt a Senior program for holiday meals, but may expand that program throughout the year, Serrata says. Bogart's Bone Appetit, 10660 Southern Highlands Parkway, will host a pet food drive from 2 to 4 p.m. Saturday and Dec. 5 for Helping Hands. For more information, visit the website at hhovv.org or call 633-7264.
Las Vegas Valley Humane Society: Founded in 1991, the agency advocates for the welfare of animals. The society captures stray cats and dogs and adopts them out through adoption clinics. The organization relies almost entirely on volunteers, who run adoption clinics, foster the animals until they are adopted and perform other duties. The society always can use more foster families, says spokeswoman Karen Layne. Cash donations help with pet food and other supplies such as cat litter. Other items needed include medium-sized pet carriers, cat and dog beds, and other pet supplies. To volunteer or donate, visit the website, www.lvvhumane.org, or call 434-2009.
Nevada Partnership for Homeless Youth, 4981 Shirley St.: Founded in 2000 by Kathleen Boutin, who was a "couch surfer" as a teen, the organization provides services to homeless kids 18 and younger.
"We basically do everything for these kids that their parents would do," says Boutin, director of the nonprofit.
The agency serves about 3,500 unduplicated youths each year, a conservative estimate, Boutin says. The focus is on "unaccompanied minors who are throwaway kids and couch surfers." Most of them have left abusive or neglectful homes.
The drop-in shelter gives young people a place to clean up, relax in a safe environment, eat a real meal, pick up clothing and receive other services.
The organization needs donations of prepaid cell phones; $10 gift cards to Target that can be used for things such as socks, aspirin and toiletries; small first aid kits for the kids who live on the streets; pocket warmers; gloves and knit caps; jackets. People also can visit the website, nevadahomelessyouth.org, and adopt a holiday wish list for the kids. Donations can be dropped off at the drop-in center, 4981 Shirley St., between 9 a.m. and 6 p.m. Mondays through Fridays. Tours can be given to those who want to see firsthand where their donations go.
Positively Kids, 3555 W. Reno Ave., Suite F: The organization serves medically fragile children ages birth to 18 and their families.
Founded in 1999, Positively Kids serves 300 to 350 children each day, providing a variety of programs, including home health care, pediatric medical day care and respite care. Its budget is funded through grants, Medicaid, private donations and fundraisers.
The group's needs are mostly administrative items such as printers, computers, paper, ink cartridges and other office supplies. Some volunteer opportunities are available. For information on how you can help, contact Andrea Woods, 262-0037. People also can stop by the office for a tour.
Contact reporter Sonya Padgett at spadgett@reviewjournal.com or 702-380-4564.