Homeowners battle to preserve what they bargained for at purchase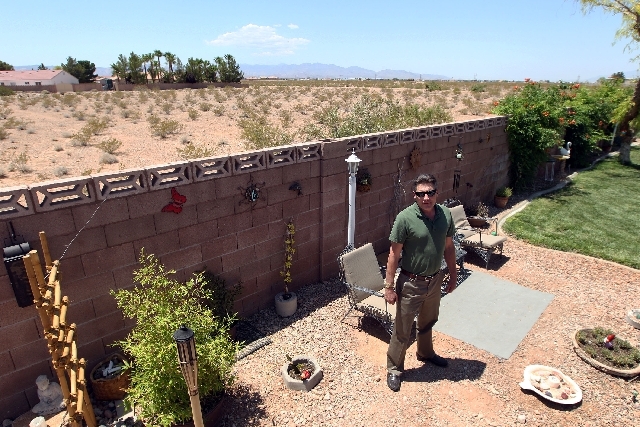 Jeff Hein looks beyond the block wall around the backyard of his southwest Las Vegas home and sees mountains.
That's how it's been since he and his wife, Anne, bought the home and its half-acre lot 13 years ago. The place is one of just eight homes on four acres near Dean Martin Drive and Silverado Ranch Boulevard.
Vast tracts of empty land surround the enclave, and with neighboring dirt also zoned for two homes per acre, the Heins thought their peace and quiet would last. But it may slip away: Lewis Homes wants to rezone parcels next door and across the street to build 80 one- and two-story homes at densities of five to eight homes per acre. If the change is approved, the development would block the Heins' mountain views and blight their rural lifestyle, Jeff Hein said.
"It's disconcerting that someone wants to rezone it and change the way of life for people who have been out here for years," Hein said.
If Hein's neighborhood is any indication, Southern Nevada could see more disconcerted homeowners in coming months and years. An epic housing recession has given way to booming new-home sales.
Builders who took a five-year break from buying property and opening new communities are once again on the hunt for land. But developable property is hard to find: Builders are lucky to scrounge up 5-acre parcels, where once they grabbed 40 acres at a time.
What's more, local land prices soared to an average of $183,813 an acre in the first quarter, up more than 15 percent from $158,927 a year earlier, and nearly double the $102,500 average in fourth-quarter 2011, according to research firm Applied Analysis.
As construction ramps back up and builders get desperate for affordable land, locals are beginning to see some surprises next door. Zoning battles, routine during the boom and nonexistent in the downturn, are making a comeback in lockstep with the market's revival.
"There just is not developable land available," said local land-use lawyer Chris Kaempfer, who doesn't personally work with Lewis Homes, but whose firm, Kaempfer Crowell, represents the company. "But as long as there are people who want only new homes, there will be homebuilders who have to provide them."
Kaempfer said he's seen a substantial increase in the past six to nine months in the number of homebuilders scoping out parcels. Still, that doesn't make zoning fights inevitable. If builders, residents and municipalities do some due diligence and master planning, that will limit unpleasant surprises and help everyone get along, observers say.
RESPECTING WHAT'S ALREADY DONE
For now, Doug Sorvik is less interested in getting along and keen on saving his lifestyle.
Sorvik, Hein's neighbor one block over, bought his half-acre estate 16 years ago for its lot size, views and limited number of neighbors.
The area couldn't handle a suburban subdivision next door, said Sorvik, the retired director of corporate IT for Station Casinos. There would be too much traffic for current infrastructure, and more homes could aggravate flooding problems. Plus, Sorvik and his neighbors, who use well water, might be on the hook for about $25,000 in city sewer connection fees.
Sorvik and others say they don't expect the property to stay vacant. They just want additions to keep with the neighborhood's current two homes per acre.
"We want to make it clear we're in favor of development and growth, and this seems like a good target area for that to occur," Sorvik said. "But we want it to happen with respect to what's already been done here."
Officials with Lewis Homes declined comment on the zoning issue.
But Kaempfer said it's not feasible now to build at such low density. Say a company buys at $200,000 an acre. That would mean $100,000 per home just in land costs, and that's before you add expenses to put in streets, grade lots, run sewers and power lines and buy materials and hire workers to build the homes. At a new-home median of $238,194 in April, according to research firm SalesTraq, it would be impossible to make the numbers work, Kaempfer said.
Say you have five homes per acre, which Lewis is proposing on one of its parcels. Remove just one of those houses, and that would mean a 20 percent price increase for the remaining four buyers, Kaempfer added. Suddenly, a $250,000 home is going for $300,000, and pricing people out of the market.
Then there's demand. The trend in building today is toward smaller, lower-maintenance properties, Kaempfer said. Builders would be hard-pressed to sell homes on big sites because it costs so much for water and maintenance.
Still, Kaempfer said he understands where Hein and Sorvik are coming from.
"We never want to punish an existing homeowner by insisting that something be built next to him or her that otherwise doesn't fit. We have to take into consideration the people who are there now and make sure what we do is compatible with what's there," he said. "A lot of people out there love that (rural) lifestyle, and their lifestyle has to be protected. I can't emphasize that enough. But the reality is, we can't impose that lifestyle on those who will live on land nearby."
To minimize impositions on either side, buyers, builders and municipalities can do a few simple things.
ZONING OR PLANNED USE
If you're a homeowner or buyer, the most important thing you can do is understand the difference between zoning and planned use, and figure out how those empty lots nearby might be built out.
Zoning states the intended use of a parcel, but some zoning classifications are merely placeholders, and not final rulings on what someone can build on the site, Kaempfer said. That's especially the case with the rural estates-residential designation, which calls for two homes per acre.
City and county officials years ago slapped that label on huge swaths of land rather than leave it unzoned, Kaempfer said.
Instead of zoning, look at planned use. It could tell you if a shopping center is destined for that rural estates-zoned parcel next door.
Clark County, via gisgate.co.clark.nv.us/openweb/, lets you see both zoning classification and planned use on any parcel. (The site confirms the property around Sorvik and Hein has a planned use of low-density residential.)
Sorvik recommends that homeowners also pay attention to policymaking.
"My wife and I didn't notice those little postcards (the county) sent in 2009 when they were doing the master plan here (in Enterprise), and we didn't really understand or appreciate what the master plan was intended for," Sorvik said. "It's a process homeowners should get involved in. It's the time to hear what's going on, and to voice your ideas as to what might be best for your area."
You should also get to know your local government representative, and find "key people" within municipalities who could talk to you about what's planned for your neighborhood, Sorvik said.
And Ngai Pindell, a land-use law professor at UNLV's Boyd School of Law, advised homeowners to watch city council agendas for discussions of zoning changes.
Builders, for their part, should think more about the land they chase. Rather than trying to flip rural-estates properties to high-density suburban uses, stick to rezoning properties from commercial to residential use, Kaempfer said.
That's an especially good strategy now. With office and industrial vacancy rates well above 20 percent, and three-plus years of oversupply in some submarkets, builders aren't likely to face competition from commercial developers for those parcels. And you might actually have happy neighbors, because most people would prefer that a housing development go in next door rather than a strip mall or industrial park, Kaempfer said. So builders might face less resistance.
"The key for homebuilders is to make sure they choose a spot and a piece of land where they would be almost welcomed," Kaempfer said. "And there are pieces out there like that."
It also behooves builders to explain early on what they intend to do. Executives with Lewis Homes, who are scheduled to seek their zoning change in September, have had meetings with Sorvik, Hein and their neighbors to talk about their plans.
"You don't ever want to get something approved without people in the neighborhood knowing exactly what you're doing, because if you do that kind of 'hide the ball,' you don't get the respect of anybody, and eventually people won't even listen to you," Kaempfer said.
Finally, all parties agree that cities and the county should take care with comprehensive master plans for development.
The county revisits master plans every five years or so, and it's about time to review those plans because so much has changed in the past half-decade, Kaempfer said. The county is gearing up to review plans for Enterprise, where Sorvik lives, and for Spring Valley.
While county officials re-evaluate plans, they should be careful about any major changes until they finish the process, Kaempfer said.
Added Pindell: "While the time may be right for builders to propose zoning changes or new uses for old projects, it is equally important that local governments remain attentive to planning considerations, and local communities remain attentive to intermediate and long-term planning goals."
Sorvik said he and his neighbors plan to be "heavily engaged" in any master planning.
He said they'll fight "spot rezoning" of small land patches until a broader plan emerges.
"If we want changes, we need to do this as a community, and with thought given to development and growth, and where those new pockets might be," he said.
Contact reporter Jennifer Robison at jrobison@reviewjournal.com or 702-380-4512. Follow @J_Robison1 on Twitter.