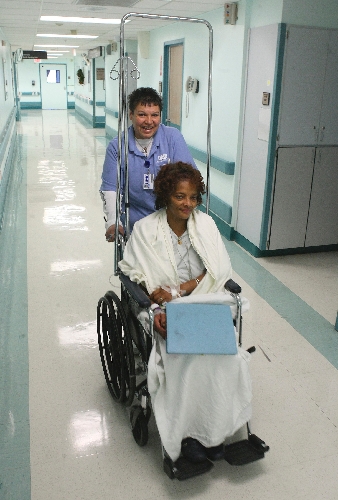 When her medical imaging procedure was through Thursday at University Medical Center, Antoinette Moore looked sad. Her shoulders slumped, her eyelids drooped, she inhaled and exhaled deeply.
No, the woman with the sickle cell anemia blood disorder wasn't worried about what the scans might show.
"They'll show what they show," she said.
What really ailed the 48-year-old Moore couldn't be found through a sophisticated X-ray.
"This is my first Christmas by myself," she said. "I don't have any family in town this year. It's hard."
And then, as Moore was wheeled back to her room, her demeanor changed.
A smile replaced her frown. She sat up straight. Her eyes opened wide. No longer did she appear to want to escape the day through sleep.
Eleanor "Paris" Papp, the woman pushing her wheelchair, was singing "Have Yourself a Merry Little Christmas," the song introduced by Judy Garland in the 1944 MGM musical "Meet Me in St. Louis."
And then Papp effortlessly segued into Brenda Lee's "Rockin' Around the Christmas Tree," her voice a strong and pure instrument that has people who didn't see her wondering where the sound is being piped in from.
The patients and nurses who do see her began to sing the song, too.
Elevator music takes on a whole new meaning when Papp is around.
"Oh, that was wonderful," Moore said when she returned to her room on the fourth floor. "That was so nice. It took my mind off my troubles for awhile. I wish they could do that for everybody here. It makes you feel warm. She can really sing."
At UMC, the 54-year-old Papp has become known as the "Singing Transporter," the woman who takes patients back and throughout the hospital with a song.
"Any opportunity I get to sing, I just go for it," she said as she waved goodbye to Moore.
Papp left Buffalo, N.Y., in 1996 with a friend and all of her possessions in a 5 by 7 foot trailer towed behind their car.
She also had a dream.
"I dreamed I get a big singing career going in Las Vegas," she said. "But the audiences I thought I'd find at the nightspots didn't materialize."
It hasn't stopped her from winning fans at UMC and elsewhere in Las Vegas.
After then University of Nevada Las Vegas boxing coach Frank Slaughter heard Papp sing at a hospital employee function, he asked her if she would sing "The Star-Spangled Banner" at the Palms when UNLV held a boxing tournament there.
That performance of a couple of years ago still sticks in Slaughter's mind.
"She was powerful, very traditional," he said. "The only reason she hasn't made it is she doesn't come across as sexy. That's what you have to be today to get a chance. But she's like Susan Boyle, the English singer who made it last year after people really listened to her" on the reality TV program "Britain's Got Talent."
The head chaplain at UMC, Shelley Anderson, remembers how a family asked if Papp would sing at a family wedding at UMC.
The father of the groom was so ill, the only way he could attend his son's wedding if it was held at the hospital.
"The son wanted him at the wedding, so we had it at UMC," Anderson recalled.
Papp sang Shania Twain's "From this Moment On."
"It was so incredibly beautiful," Anderson said. "The family was so moved by it."
Cindy Roehr, UMC's associate administrator of professional services, said patients often call the hospital after they have been discharged to thank the hospital for having Papp on staff.
"Whole families have called to say how much their days have been brightened by her," she said. "We've had some really good feedback."
Papp, who is of European and Chippewa Indian descent, said her birth certificate lists her name as Eleanor Gabriella Papp, but she likes to go by "Paris."
"My mother wanted to include Paris after Gabriella in my name, but at the last minute she decided that was too long," she said. "I use the name now because it sounds more like an entertainer."
Papp said she can often sense when a patient needs a song. "I can just tell how nervous they are," she said.
If she's not sure that a patient needs a song, she'll ask if they want one.
"Most of them do, " she said.
When they find out she knows at least a hundred songs from different repertoires, she'll sing everything from Barbra Streisand to Patsy Cline.
"People who love country just love me to do Patsy's 'Crazy,' " she said.
Papp's immediate supervisor, Steve Kirsch, is always amazed at Papp's effect on patients.
"She just lifts their spirits," he said.
Making people happy through her singing is a dream come true for Papp.
"It really lifts my spirits," she said.
Contact reporter Paul Harasim at pharasim@reviewjournal.com or 702-387-2908.