HOSTEL MAKEOVER: Smaller hotels seek creative ways to fill rooms and stay afloat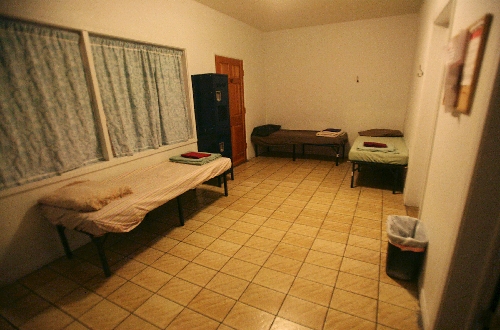 The nightly rate can be as low as $9, but your roommates are strangers and no bellhop will tote your luggage.
Oh, and that luggage is a nylon-and-metal sack, not a suitcase.
As traditional tourists become scarcer in Las Vegas, a growing number of local hotels and motel chains are seeking salvation in a most unlikely business model: hostels.
The niche hospitality segment caters mostly to backpackers, typically young international travelers. Hostels offer cheap dorm-style rooms. The bare-bones decor can conjure up images of jail cells, but the vibe is warmed by a community of newfound friends and adventurers.
Hostelers, once disdained by high-rolling hotels, are now coveted customers. Even the glamorous, newly opened Cosmopolitan of Las Vegas is advertising on a hostel website. A search of hostelworld.com produces other surprising names: Station Casinos' Wild Wild West and Palace Station hotel-casinos, and the Howard Johnson hotel chain.
"It is something that we thought of because the economy is really, really bad, and we are trying to bring in more people," said John Fay, the general manager of the Howard Johnson on Las Vegas Boulevard, near the Fremont Street Experience.
The recession has hammered local room rates. The average daily room rate in Las Vegas dropped from a high of $132 in 2007 to about $95.60 in 2010, Las Vegas Convention and Visitors Authority data show.
The steep discounting by high-end Strip properties on down is prompting hotel and motel operators to look for creative ways to fill rooms, said Grant Govertsen, a partner and analyst with Union Gaming Group.
"Maybe at $20 or $30 a room it is not worth it to keep the hotel open," Govertsen said, pointing to recent closures of the hotels at the Plaza and Binion's downtown. "But if you can jam so many people into a room, if it is not profitable, at least you can break even."
The Econolodge on Las Vegas Boulevard in downtown Las Vegas converted about 30 of 100 rooms into hostel dorm rooms a month ago, said Ran Tadmor, manager of the motel's West Coast Hostel brand.
The trend doesn't surprise Tadmor, who also converted the Tod Motor Hotel down the street into a hostel a few years ago.
"Now, they see an untapped market," Tadmor said. "You'll see a lot more coming."
For about $15 a night per bed, travelers can bunk in a dorm room yet enjoy amenities such as a private bathroom, phone and swimming pool.
"(Other hotels) used to laugh at me," Tadmor said. "They are not laughing now."
Including dining and shopping, the average backpacking traveler spends $80 to $100 a day in the city where they stay, reports Hostelling International, a global organization with thousands of owned and affiliated hostels.
Billie Marshall, who manages the now-renamed HI Tod Hostel and Motel, said hotel-casinos can afford to steeply discount rooms because they can turn a profit on hostelers elsewhere.
"The big hotels are dropping their rooms so low because they think they'll make it up when these people eat at the restaurants or go to the casinos," she said. "At $6 a night, you can't cover the cost of the linen service."
The Wild Wild West, an older property on West Tropicana Avenue near Interstate 15, calls itself a hostel on hostelworld.com and hostels.com and promotes a rate of as low as $9 per bed. Palace Station doesn't call itself a hostel but advertises dormitory accommodations for about $22 a night. But here's the catch: Both properties require multiple occupants in the room to get that rate.
Station spokeswoman Lori Nelson said in an e-mail that the local gaming company doesn't market the Wild Wild West's hostel accommodations, as the property is affiliated with the premium Days Inn brand. Instead, a travel agent and booker — listed on the websites as AAE — handles hostel accommodations for the property.
"We have (one) travel agent wholesale partner that caters to the European hostel community that sells our hotel through a wholesale partnership rate," she said. "We are in no way trying to market the hotel in that direction."
AAE and its operator, Scott McDonald, did not respond to requests for comment.
Not everyone benefits from the sudden courtship of backpackers. Long-standing Sin City Hostel is right next door to the newly converted Econolodge/West Coast Hostel. Deirdre Felgar, who has owned Sin City Hostel since 1987, recently had to drop her prices to $15 a night to keep pace with the upstarts. Felgar also counts the Tod and the just-opened Hostel Cat about a block up Las Vegas Boulevard as rivals.
Felgar is confident that hostelers will be able to discern between the offerings.
"You can't run a motel and a hostel," she said. "In a motel, you have a mommy and a daddy and kids that want to go in their room. Hostelers want the sense of community. They might meet someone and go to Grand Canyon with them. You'd never do that with someone you'd meet in a hotel or motel."
Felgar tries to create the home-away-from-home atmosphere. She offers free weekly spaghetti dinners and buffet-style Thanksgiving dinner for about 50 "kids" residing there.
As many as 70 or 80 guests can stay at Sin City Hostel during its busiest periods, such as the summer and New Year's Eve. Felgar said average guests are in their 20s, although some are older than 65.
Even the veteran Sin City Hostel is not immune to recession economics. As larger properties discounted their rates, squeezing the downtown hotels and budget motels, Felgar's margins shrank, too.
"In 2009, I lost money. But this year (2010), I will make $20,000 or $30,000 in profit," she said. "In 2005, I might have made $100,000 in profit."
Tadmor said the Econolodge couldn't have survived strictly as a motel anymore.
"The hostel is keeping the motel from closing," he said.
Likewise, the Tod was also able to stay afloat by converting one of its three motel buildings into a hostel. Small bunks replaced queen-size beds in the rooms. Hostel guests have a common area for watching television and playing games, plus a kitchen for cooking. The Tod charges $15 a bed for dorm rooms and can accommodate about 80 hostelers.
"I'd like to see a 'hostel row' here where we all got together and put on events, like they do on the Strip," Marshall said.
Hostel Cat opened on Las Vegas Boulevard in January. Owner Chandler Stewart also operated a hostel in San Diego, but said the competition was less fierce there.
"In San Diego, backpackers would splurge once in a while on a hotel room, but here it isn't even splurging," he said. "Once you have two or three people together, it's the same cost as a hostel."
While the U.S. economy has discouraged traditional tourists from traveling, hostel owners observe that the international backpackers' love of adventure seems recession-proof.
"The international kids don't care," Marshall mused. "They'll do their travel thing anyway."
Contact reporter Valerie Miller at vmiller
@lvbusinesspress.com or 702-387-5286.