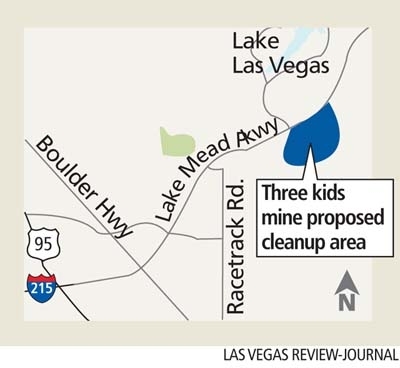 WASHINGTON — A House panel stamped its approval Wednesday on a strategy to clean up an abandoned manganese mine that the city of Henderson is eyeing for major redevelopment.
A bill to turn over 948 acres of federal land to the Henderson Redevelopment Agency as part of the reclamation plan was approved by the House Natural Resources Committee. The bill was sent to the House for a floor vote.
The Three Kids Mine bustled during Henderson's formative years, but its main features nowadays are sheer-cliff open pits and waste ponds filled with poisonous tailings.
The federal property and 314 acres of private land has been designated a redevelopment area called Lakemoor Canyon.
Henderson has entered an agreement with a developer to perform the cleanup and convert the area into a business district and neighborhoods.
The bill's sponsor, Rep. Joe Heck, R-Nev., said it will help create jobs while clearing the way for productive use of the scarred property.
Contact Stephens Washington Bureau Chief Steve Tetreault at stetreault@stephensmedia.com or 202-783-1760. Follow him on Twitter @STetreaultDC.