Housing authority board votes to end director's tenure early
November 19, 2015 - 8:11 pm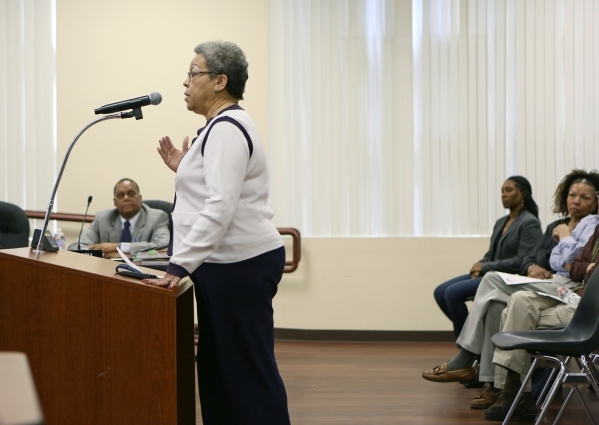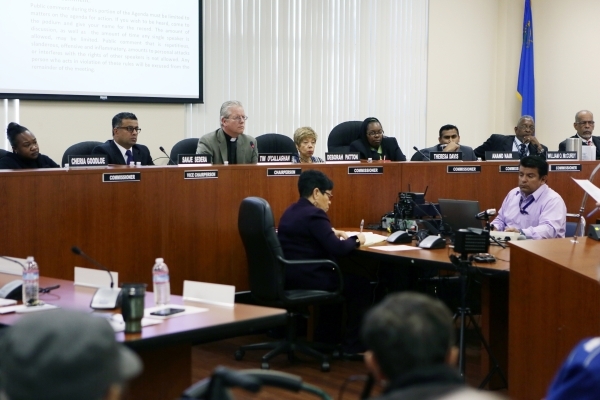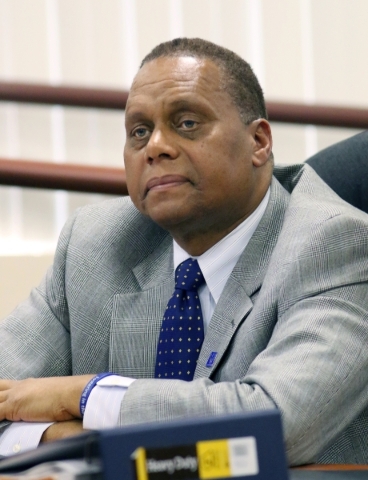 The board overseeing the troubled Southern Nevada Regional Housing Authority on Thursday voted to modify John Hill's contract to end his tenure as executive director.
With the 9-to-4 vote to approve a mediation resolution, Hill's employment with the agency will end on April 1, 2016. Hill will receive two months of severance pay.
He declined comment after the meeting.
Many people spoke in favor of ending Hill's tenure early in the wake of a number of questionable leadership actions. Few people spoke in his defense.
Several people brought up articles written in the Review-Journal exposing issues at the agency. They said they didn't want to see more wrongdoing by the agency in the newspaper. There was also an outcry over two employees fired by Hill Friday, including his second in command at the agency.
"I feel that this board has not held Hill to the integrity and accountability that this agency deserves," said Mildred Lockhart, an agency employee, said during the meeting. "You have allowed this. I want to know if you have the accountability and integrity today to do your job."
Hill was picked to lead the agency in 2010. In 2013, he signed a five-year contract that was supposed to expire on Sept. 26, 2018.
The authority provides housing to thousands of low-income families in Southern Nevada. It receives most of its funding from the U.S. Department of Housing and Urban Development.
Hill's base salary in 2014 was $122,304, and his total pay with benefits was $200,030, according to Transparent Nevada, a service provided by the Nevada Policy Research Institute to promote public government transparency.
Andrew Rempfer, attorney representing Hill, said no one should question Hill's dedication to serving the community.
"He's trying hard," he said via phone during the meeting. "No one is trying harder than Hill to make this … work."
Hill has come under scrutiny in recent months for several federal lawsuits, the questionable hiring of a human resources consultant and a $47,000 fine for six serious safety violations identified by the state's Occupational Safety and Health Administration. Several complaints by female employees were also filed with the U.S. Equal Employment Opportunity Commission earlier this year, following a 2014 investigation of gender discrimination.
Hill was the focus of that investigation, which concluded that he was "unknowingly engaging in subtle forms of gender discrimination."
Tim O'Callaghan, chairman of the board of commissioners for the housing authority, appointed an ad hoc committee on Thursday to launch a national search for a new leader for the agency. Commissioner Dora LaGrande will head up the committee.
Commissioner Cheria Goodloe promised changes in the agency in the coming months.
"We need to fix what's going on here," she said.
LaGrande said she wasn't satisfied with the severance agreement, which will keep Hill employed for a few more months at an agency beset by financial problems, unhappy residents and other issues.
"The agreement does not go far enough," she said.
Commissioner Patrick Smith he's going to consult with the housing authority's attorney to see if it's possible to go back to mediation and get Hill out sooner.
"He's a liability," Smith said.
Contact Yesenia Amaro at yamaro@reviewjournal.com or 702-477-3843. Find her on Twitter: @YeseniaAmaro.