Housing authority leader may be out of a job soon
November 13, 2015 - 6:35 pm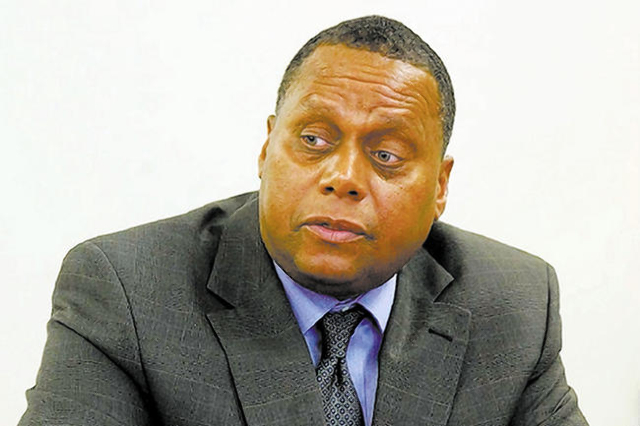 The board that directs the Southern Nevada Regional Housing Authority plans next week to consider cutting short the contract for its embattled executive director after several questionable leadership actions.
In the midst of this looming shake-up, the leader himself fired two executive staff members late Friday.
The 13-member board during its Thursday meeting will decide whether to approve a proposed mediation resolution to modify John Hill's contract to end his duties as executive director on April 1, 2016, according to the mediation document. Hill would receive two months of severance pay.
Hill declined to comment Friday when contacted by the Las Vegas Review-Journal.
"I'm hoping we vote to accept the agreement," said Commissioner and the Rev. Dave Casaleggio on Friday.
Casaleggio, who is one of six housing authority commissioners on Hill's mediation committee, said the contract modifications were reached mutually by both parties.
Hill's contract began Sept. 27, 2013, and ends Sept. 26, 2018, according to a copy of the contract. If the board approves the agreement, his employment will end three years early.
Hill's base salary in 2014 was $122,304, and his total pay with benefits was $200,030, according to Transparent Nevada, which is a service provided by the Nevada Policy Research Institute to promote public government transparency. His severance pay could be over $20,000, according to Casaleggio's calculations.
Hill began leading the agency in 2010.
The housing authority provides housing to thousands of low-income families in Southern Nevada. It receives most of its funding from the U.S. Department of Housing and Urban Development.
Under scrutiny
Hill has come under scrutiny in recent months for the questionable hiring of a human resources consultant, several federal lawsuits and a $47,000 fine for six serious safety violations identified by the state's Occupational Safety and Health Administration.
In September, Hill also submitted proof that he had completed training as recommended by a 2014 gender discrimination investigation, but the proof included a 2013 training that predated the investigation. The investigation, which commissioners received in June 2014, recommended that Hill take "an intensive course on the prevention of harassment and discrimination as well as a cultural sensitivity course." It also recommended that he take "intensive executive training and leadership class(es)."
Part of his proof that he had completed training as recommended by the 2014 investigation also included training on CDs.
Several complaints by female employees were filed with the U.S. Equal Employment Opportunity Commission earlier this year.
The housing authority is also struggling financially.
The parties reached a resolution at a mediation session on Oct. 21. Hill has agreed to pick up half of the mediation costs, but he declined to disclose the amount the agency will have to pay, in addition to attorney fees.
Hill's mediation with authority commissioners was overseen by former Clark County District Judge Jackie Glass at a cost of $550 per hour, with a minimum of 10 hours, according to documents from May. Several mediation sessions were held.
Casaleggio said other information related to the mediation is confidential. But documents from June show that allegations used by the committee in mediation included misuse of agency resources and failure to follow agency policies.
National search expected
If the board approves the agreement, the next steps would be for the personnel committee to began a process to launch a national search for a new executive director to lead the agency, Casaleggio said.
A national search wouldn't exclude local candidates, including current staff, he said.
Speaking for himself and not the entire board, Casaleggio said that in looking for a new leader, he would like someone with "the ability to lead," and someone who would ensure there's a good executive team in leadership.
"My belief is that someone who is in charge is only as good as the people they have under (them)," he said.
The situation at the housing authority took a strange turn late Friday with members of the executive team — those under Hill.
Housing Authority Human Resources Acting Director Anthony Tyler confirmed that Dwayne Alexander, deputy executive director and acting director of operations for the housing authority, as well as Ted Otokiti, deputy director of operations, were fired by Hill on Friday.
Alexander said Hill is making them the fall guys because he's under so much scrutiny. He said the timing is interesting because Friday is when everyone found out about Hill's contract being on the agenda for Thursday's meeting.
"Anybody he can put on the line of fire to take the scrutiny for him, he will do it," Alexander said late Friday.
When Otokiti was reached for comment, he said no one had notified him of his termination.
Commissioner DiShonne Muhammad said she called Hill to question him on Alexander's firing and got no clear answer.
"It's going from bad to worse," she said. "This has to stop."
Contact Yesenia Amaro at yamaro@reviewjournal.com or 702-477-3843. Find her on Twitter: @YeseniaAmaro.