Hsieh gives $1 million to bring young talent to downtown Las Vegas
December 3, 2012 - 1:59 am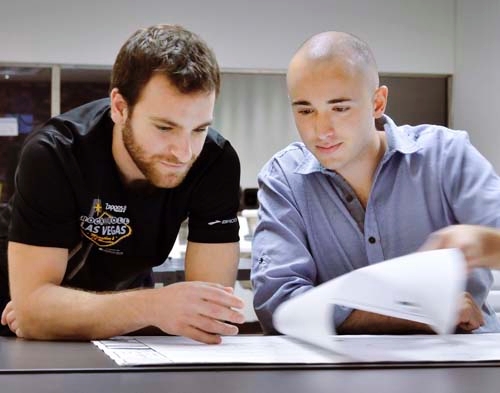 Downtown Las Vegas is about to get another infusion of young talent.
Venture for America, a nonprofit organization that places top graduates in startups and small businesses, is poised to announce a $1 million contribution by Zappos CEO Tony Hsieh.
Under the deal Hsieh, who is seeking to revive downtown Las Vegas through $350 million in investment in small business, tech startups, education and community programs, will contribute the money, and about 100 of the programs' Fellows will come to Las Vegas in the next five years.
"That basically funds their recruitment process and training process before they get to Vegas," Hsieh said.
Founded in 2011, Venture for America already has about 40 Fellows in place in five cities, including seven in Las Vegas with the Downtown Project.
The Fellows are college graduates who apply for acceptance to Venture and, if they're chosen, are matched with businesses.
"A lot of the jobs I was looking at were in consulting and banking. I realized pretty soon those weren't things I was passionate about doing," said Barry Conrad, 23, a University of Oklahoma graduate who majored in finance and was placed in Las Vegas in August. "I wanted to work for a small business, a small company. I wanted to really interact with entrepreneurs on a daily basis."
The program is a natural match with Downtown Project, the brainchild of Hsieh who provides much of the investment with his own money.
The goal of the Downtown Project is to make Las Vegas "the most community focused large city in the world" by bringing together technology and other businesses downtown where they can build a critical, self-sustaining community.
In addition to funding the Downtown Project, Hsieh made the decision to move Zappos from its headquarters in Henderson to the former City Hall building in Las Vegas. That move, which is expected to occur by the end of next year, will bring about 1,200 Zappos workers downtown.
The decision by Hsieh and Venture for America to invest further in Las Vegas is the second infusion of new downtown jobs announced in recent weeks.
In early November, Take-Two Interactive announced it would open a branch office on Carson Avenue with about 150 entry-level jobs in the video game industry.
Take-Two's move is supported with more than $300,000 in potential incentives from the city's redevelopment agency.
Venture Fellows are already contributing downtown by taking jobs that include doing everything from checking guests in to events to helping prepare reports on Downtown Project businesses for investors.
"They have made a pretty big impact on the Downtown Project," said Jeanne Markel, who helps coordinate the program and calls herself the "den mother" for the group.
"They roll up their sleeves, they are young, they are excited, everything I'm not," Markel joked.
Contact reporter Benjamin Spillman at
bspillman@reviewjournal.com or 702-383-0285 .