Hsieh makes $45 million in property deals downtown
December 19, 2012 - 6:28 pm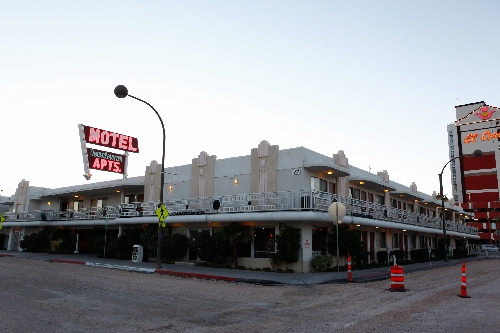 With new deals in place for about $45 million in downtown Las Vegas property, the real estate buying phase of Zappos chief Tony Hsieh's Downtown Project is nearly complete.
Subsidiaries of The Downtown Project, Hsieh's vehicle for reviving downtown Las Vegas, closed deals this week for 14 properties just east of Las Vegas Boulevard.
The deals, which include about 65,000 square feet of office space at 701 Bridger Ave., with property Downtown Project already controls, give Hsieh control over several enclaves of land between Bridger and Mesquite Avenue to the north and south and Las Vegas Boulevard and 14th Street to the east and west.
"We believe at this juncture we have bought the critical pieces that we need," said Andrew Donner of Resort Gaming Group, the developer who bought the former City Hall at 300 Stewart Ave. as a future headquarters for Zappos and acts as Hsieh's chief real estate deal-maker. "The idea is to start activating the parcels that we have."
The plan is to form bustling pods of activity throughout downtown with the hope increased foot traffic and spending drives other owners to improve their properties.
Existing pods downtown include the Fremont Street Experience resort corridor, Third Street between Ogden Avenue and the Mob Museum on Stewart and the bars, restaurants and lounges on the 500 block of Fremont Street.
Emerging pods include the shopping and nightlife center constructed from shipping containers at Fremont and Seventh streets, a school and community center in a former church building at 310 S. Ninth St. and, thanks to the latest spate of deals, the office building on Bridger.
Also on the way late next year is the arrival of as many as 2,000 Zappos workers at the former City Hall, who will put life into the currently dark property near the intersection of Stewart Avenue and Las Vegas Boulevard.
Zappos also has the option to expand eastward between Las Vegas Boulevard and Seventh Streets.
Although plans are still in the works, Donner said the office building on Bridger could be a good home to startup companies such as those supported by Hsieh's Vegas Tech Fund.
"It is important for us to be programming in some of these specific areas to start to generate activity in different areas," Donner said.
"The only way you can change an area is by bringing in new ideas and development and creativity and the creative class."
In addition to the office building on Bridger, other properties added this week to the Downtown Project portfolio include residential hotels such as the Downtowner at 110 Eighth St.; Eden at 120 Sixth St.; Beverly Palms at 218 Sixth St.; and Shangri La at 230 Eighth St.
Donner also said some of Downtown Project's property on the south side of Fremont near the shuttered Western Hotel could be set aside for parking.
Unlike urban renewal efforts elsewhere, Downtown Project isn't seeking to assemble large tracts of land for an arena or other major project, opting instead to buy at strategic locations throughout the target area.
"We don't believe that one project defines this area," Donner said. "It is a series of blocks that gets improved together."
The Downtown Project is a $350 million vision funded mostly by Hsieh. It's an attempt to breathe life into downtown Las Vegas by following a set of principles that include attracting smart residents, encouraging entrepreneurial activity and supporting community amenities such as schools, dog parks, nightlife, art and intellectual development.
It has been mostly concentrated along the 500 block of Fremont and in the Ogden, a large residential tower at Ogden Avenue and Las Vegas Boulevard where Hsieh lives and serves as host to prospective residents, visiting venture fund capitalists and aspiring startup owners.
In an email, Hsieh said he wasn't involved in the specifics of the land purchases, other than to tell Donner to acquire properties that could be redeveloped within five years.
He also discussed the Downtown Project's vision for the area.
"We are not focused on residential and for the most part are leaving that to other developers," Hsieh wrote. "Instead, we are focused on office space for entrepreneurs, retail, small businesses, and in general helping make Fremont East a place of entrepreneurial energy and a safe, walkable neighborhood.
"We don't have specific plans yet for the different properties as I haven't even seen the completed list of properties that were acquired."
The land acquisition phase of the Downtown Project had been making waves in the real estate community in recent months.
There was grumbling in some corners that Hsieh's high-profile buying spree was causing property owners in the previously moribund area to form unrealistic expectations of their land values.
Others complained that by paying too much for land, Hsieh was raising the barrier to entry for others looking to capitalize on the new activity.
Donner said the Downtown Project is, in large part, done buying land, which could stabilize the market and prompt other buyers to move on property that owners had hoped to sell to Hsieh.
"There certainly has been an impact on prices, but the upward impact on actual value will more likely occur over time as the Downtown Project developments and others get under way," said Terry Murphy, a downtown property owner and lobbyist.
"It's quite possible that prices may stabilize some, but I think interest in downtown properties will remain very strong for people wanting to develop services, future housing and offices."
Contact reporter Benjamin Spillman at bspillman@ reviewjournal.com or 702-383-0285 .