Hsieh talks the talk in Santa Fe
September 5, 2014 - 8:10 am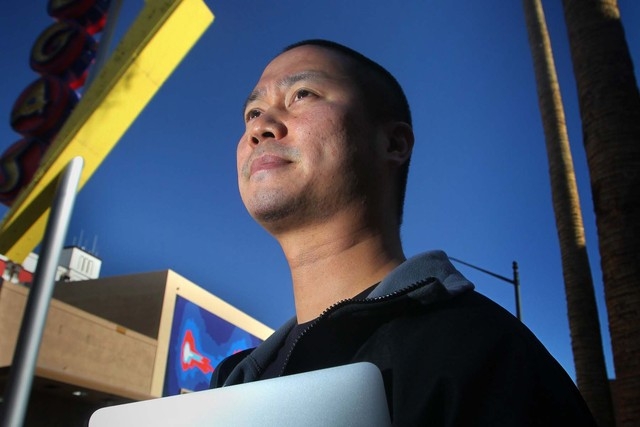 His heart and headquarters might be anchored in downtown Las Vegas, but Tony Hsieh took his show on the road to Santa Fe, N.M., this week and shared his vision for urban redevelopment with locals there.
Hsieh is being courted in the prosperous New Mexico community in part, I hear, to potentially redevelop an area of downtown near the train station.
The Zappos CEO was hosted by Creative Santa Fe, St. John's College and the Santa Fe Institute. He gave a PowerPoint presentation and held forth in some detail about the progress of the $350 million Downtown Project in Las Vegas. He also talked about the power of "collisions," development that generates foot traffic for work, play and commerce.
Albuquerque Business First reported several developers from New Mexico's largest city attended the Santa Fe talk and came away enthused about the potential for Hsieh to work a little redevelopment "magic" in their community.
That's a lot of interest generated in a short time.
STILL KICKING: Cordish Cos. dodged another self-inflicted bullet Wednesday when the Las Vegas City Council voted to delay its decision on granting its nonbinding go-ahead for a stadium that will enable the developer to pursue a Major League Soccer expansion franchise. Trouble is, its stadium plans are far from polished.
The soccer stadium project potentially puts taxpayers on the hook for more than $150 million when Southern Nevada is still recovering from the recession. The company disputes that figure.
After several years of holding exclusive rights to develop valuable city property at Symphony Park, Cordish and new partner Findlay Sports &Entertainment had the audacity to walk into Wednesday's meeting knowing they hadn't put together something as basic as a parking and traffic study for their evolving project.
Almost any other developer would have scoffed and laughed them out of the room. But Cordish, as we've seen, is special.
And so it received another 30 days to, once again, get its act together.
More on this when my blood stops boiling.
GOLDBERG'S LATEST: Las Vegas denizen and author Tod Goldberg's latest novel, "Gangsterland" — your basic rabbi/hitman-in-Vegas tale — is fresh off the press. He will sign books Sept. 20 at the Mob Museum.
WORK IN PROGRESS: Oscar Williams III is finishing a biography of notorious Northern Nevada brothel boss Joe Conforte. I hear it will include plenty of political intrigue.
SPEAKING OUT: Elizabeth Smart, the brave young woman who survived kidnapping and sexual abuse in 2002, is scheduled to speak at the Rape Crisis Center's "Signs of Hope" dinner fundraiser Oct. 20 at the Rio. It's the center's 40th anniversary.
The night's honorees include Rep. Dina Titus, Marcy Humm and Nina Radetich.
For information and tickets, go to rcclv.org or call 702-385-2153.
ON THE BOULEVARD: Rumors of substantial changes at KSNV News 3 are swirling in the wake of the announced purchase of the station by conservative Sinclair Broadcast Group for $120 million. Hard-right conservative political pundit Chuck Muth is already predicting a rout. … Poet Lee Mallory, who could teach a master's class on self-marketing, will read from his work and perhaps conjure the spirit of Robin Williams at 8 p.m. Sunday at the always entertaining Double Down … Services for gifted teacher, coach, mentor and family man Leon Doss are set for 11 a.m. Saturday at True Love Baptist Church at 1941 H St. The lifelong resident, a popular and respected teacher, coach and mentor, died recently after a courageous battle with cancer. He was 52. … Get your motors running: The 10th annual Las Vegas Ride for Kids to benefit the Pediatric Brain Tumor Foundation is set for Sept. 28. For information: lvrideforkids.org or 702-795-2000.
Have an item for the Bard of the Boulevard? Email comments and contributions to Smith@reviewjournal.com or call 702-383-0295. Follow him on Twitter @jlnevadasmith.