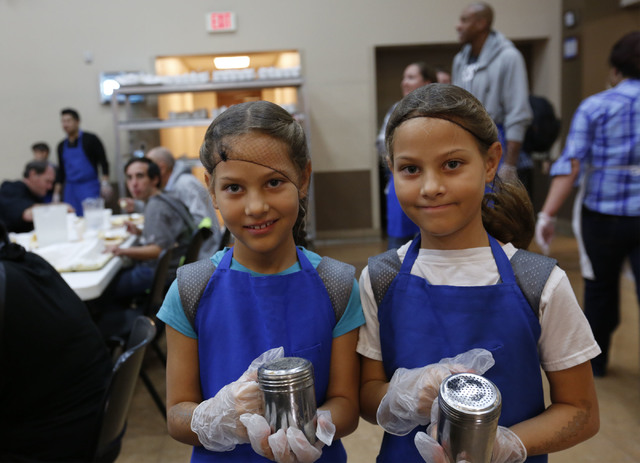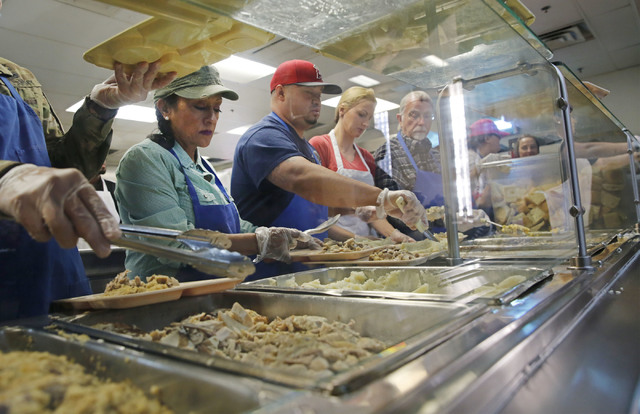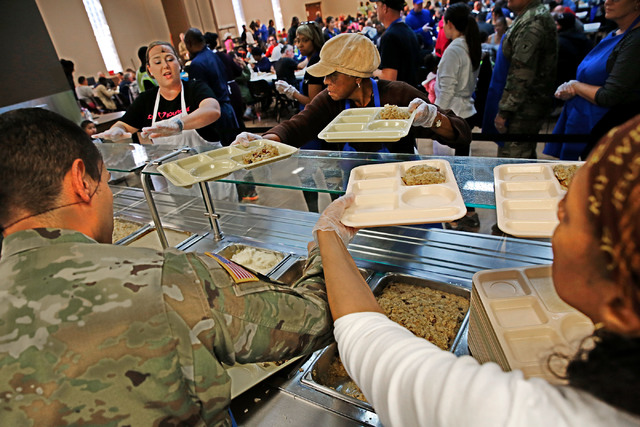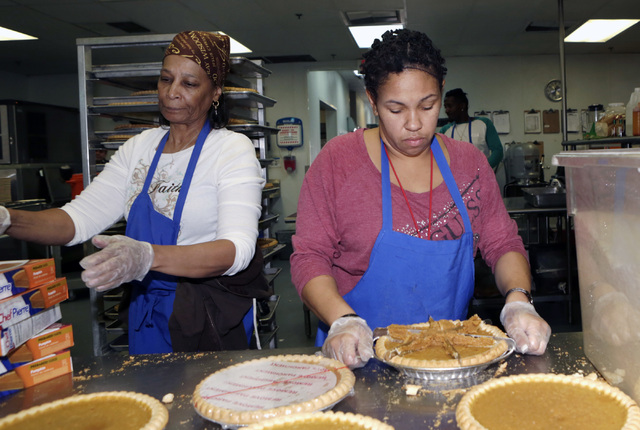 A line snaked around the Las Vegas Rescue Mission before the organization opened its doors to serve a Thanksgiving eve dinner to the homeless and the hungry.
"We want to spread some love during this time of year," said Kevin Ellsworth, the mission's volunteer coordinator.
The mission expects to serve dinner to nearly 2,000 people with food donated from drives throughout the community, said Bob David, donor relations manager for the organization.
"It's amazing in the sense that we have businesses, local churches and people — volunteers. It's an absolute melting pot of people that come out here," he said.
Essential to the endeavor is the work of the Three Square food bank. As southern Nevada's only food bank, Three Square efficiently sources and distributes food to more than 1,300 community partners, said Alexis Merz, public relations specialist at Three Square.
"Our all-year-round partnership with Three Square is crucial to what we do," said John Fogal, the mission's director of community relations.
Providing the meal would not be possible without the help of the mission's many volunteers — 18,000 devote time to the mission yearly, David said. On Wednesday, about 40 volunteers kept the food coming for hungry diners, who each received traditional Thanksgiving fare with all the fixings and a card wishing them well with prayers and encouraging words.
"It is truly a miracle from God on how it all comes together," David said. "Every day I thank people, I thank them for their services."
Volunteers from all walks of life served food, including one man dressed in army fatigues who handed people their trays with a polite greeting and a warm smile. He was thanked by guests for his military and volunteer services.
A pair of friends sitting side-by-side expressed deep appreciation for the rescue mission as they ate their meals.
"It's wonderful that they do this for homeless and residents," said Las Vegas resident Danielle Wall, 24.
The meal was just what she had hoped for, she said.
"I'm blessed to be able to have this meal and (be) with my family," Wall said.
Her friend, Terrie Devito, added, "I'm thankful to have Danielle in my life and this Thanksgiving meal."
Devito, 55, said the rescue mission saved her from a previous life of substance abuse.
Community partners also gave out blankets, socks and hugs. They included 13-year-old Blaze Trumble and some of his baseball buddies, who distributed blankets and jackets at the mission.
"I just thought of the idea of bringing blankets and jackets down here. I know it gets really cold in the winter, and I just wanted to do something to help out," the Boulder City resident said, explaining how he first became involved nine years ago.
When Blaze was 5, his mother asked him what he wanted to do for his birthday. He told his mom he wanted give out hot chocolate, but in the end they decided blankets and jackets was a better idea. Every year since, Blaze has raised money for the cause and returned to the mission to give out blankets and jackets.
"It makes me feel happy to see how happy people are when they get a jacket or blanket because I know how much they'll benefit from it," he said.
It's a fitting reminder of what the event is ultimately all about, said David, the mission's donor relations manager.
"What says love better than a warm blanket, a warm belly and a hug?"
Contact Raven Jackson at rjackson@reviewjournal.com or 702-383-0283. Follow @ravenmjackson on Twitter.