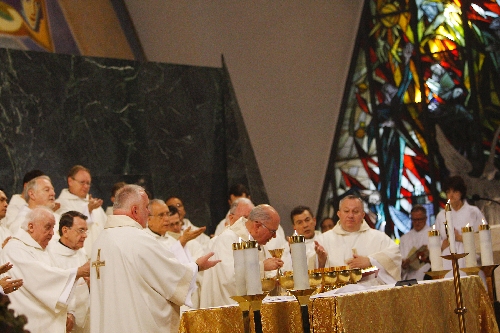 His favorite band was the Grateful Dead. His favorite singer, Carrie Underwood. His favorite destination, the island of Maui. His favorite dish to prepare, leg of lamb.
And if he wanted to, he could order that lamb in Cantonese, for he was fluent in the language.
In fact, there wasn't much Monsignor Patrick R. Leary couldn't do – except eulogize himself at his own funeral.
That honorable task was left to Leary's brother-in-law, Willy George, who said before hundreds of friends Saturday morning that it was truly a shame that Leary couldn't say his own goodbye. The monsignor was great at giving eulogies.
"He would have said, 'Believe me, Willy, I wish I could be there,' " George said at Guardian Angel Cathedral on Cathedral Way, in the shadows of the Encore and Wynn casinos. "And if he was here, he'd be so appreciative of all of you, and so very humbled.
"He'd make it a tribute to you."
That's the kind of man Leary was, George said.
Leary's life ended unexpectedly Dec. 7 at age 63.
But his good work will live on at Catholic Charities of Southern Nevada, where he had served as chief executive officer since 2003 and helped pull it out of debt.
Friends said Leary was more than just a great administrator; he also was a great priest. He was a greater friend to many, which was apparent in the number of people who filled the pews and the elaborate Mass itself.
Mayors of Las Vegas, past and present, were on hand along with other community leaders and dignitaries.
Members of the Knights of Columbus, with their colorful costumes, took the back pews. Up front and to the right sat Vietnamese families Leary had helped over the years in San Francisco and in Las Vegas.
In front were grieving family members.
"While our family is small in number and we're spread out across the country, Pat never missed family gatherings and events," they wrote on the funeral program. "Our mother's motto was, 'You're only a plane ride away,' and Pat adopted her motto as his own."
The Mass unfolded to music from a seven-member orchestra called the "GAC," for Guardian Angel Cathedral. The instruments included four strings, two trumpets, one percussion and an organ. Singers included Bert Anderson and Michelle Thelen, who performed "Ave Maria" and "Time to Say Goodbye."
One doesn't come easily to the monsignor title. One has to work hard to earn it. It's a title granted by the pope himself – in Leary's case by John Paul II in 1998.
It came after years of service, starting in 1976 when Leary became a priest.
His service included helping Vietnamese in refugee camps in Hong Kong, then bringing his fluency in Cantonese back to San Francisco, where he ran the St. Mary's Chinese School for well over a decade. He moved to Las Vegas in 1989 to become a chaplain for the Newman Center at the University of Nevada, Las Vegas.
Friends say it was there that he set an example of what it takes to have great faith.
But not without a lot of "pizza and Coca-Cola," joked the Most Reverend Daniel F. Walsh, former bishop of the Diocese of Las Vegas and bishop emeritus of the Diocese of Santa Rosa in California.
"A Hindu was once asked what a Christian was," Walsh said during the homily, the point at Mass where a moral is taught. "And the Hindu answered that a Christian is one who gives of himself. I think that describes Father Pat and his ministry to a tee."
Leary's ministry will live on. The homeless will continue to be fed daily meals, including turkeys for that special Thanksgiving dinner.
The poor children in the city of Las Vegas will be clothed.
Catholic Charities of Southern Nevada will persevere without Leary, but his friends say he will be missed.
As Bob Brown, publisher of the Review-Journal and a friend of Leary's, wrote in Saturday's newspaper: "Last weekend, God called him home. We can only imagine the celebration in heaven at that hour. But we who knew him are saddened and shocked. Our friend is gone, and so much remains – work done by so few which helps so many."
Contact reporter Tom Ragan at tragan@reviewjournal.com or 702-224-5512.