Hundreds remember Henderson teen who died in floodwaters
August 25, 2012 - 7:00 pm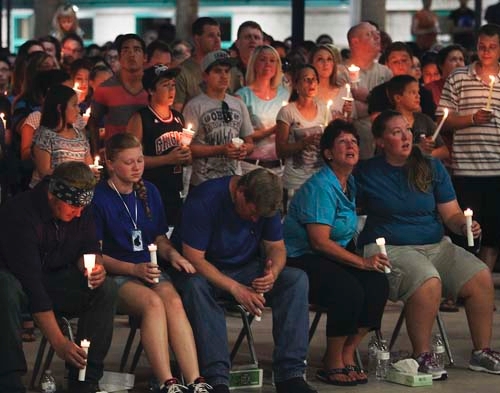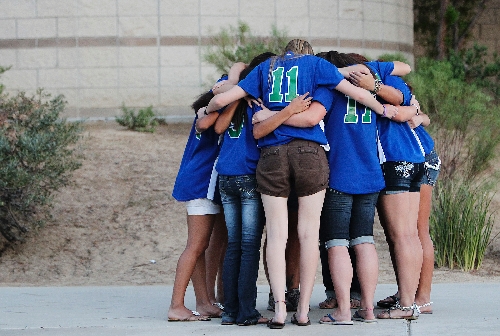 Hundreds of students and close friends filed into the courtyard at Green Valley High School on Saturday to honor the memory of William Mootz, a senior who was thinking about opening an auto mechanic shop some day but whose life was cut short by one of the heaviest rainfalls on record in Clark County.
Swept into the vortex of a fast-moving current in Pittman Wash behind a Hender­son shopping center on Wednesday, Mootz, called Will by his friends, was carried two miles downstream before his body was found Friday morning.
The grim discovery capped two days of intense and agonizing searching by family and volunteers.
Those who attended the evening vigil carried flowers and candles as they entered the school courtyard to the plaintive notes of Sarah McLachlan's song "Angel." A choir later sang "Amazing Grace."
Principal Jeff Horn gave the teen's parents, Charlie and Dolores Mootz, a diploma for their son, announcing him as a graduate of 2013.
"As a parent, I can't imagine anything more horrible happening," said Horn, before he handed over the diploma to the emotional mother and father.
William Mootz went missing after he and a couple of friends were near the wash during Wednesday's rainstorm and all three decided to climb a wall, said Christina Mootz, 21, his older sister.
She said her brother climbed the wall first, then "somehow fell in."
But she hasn't been to the site where it occurred, near Stephanie Street and Sunset Road.
She can't bear to visit the wash, which subsided to a trickle over the weekend with nary a hint that only a few days earlier it had been raging with floodwaters.
She wants to remember her brother the way he was, not where he was last seen alive.
She said he was the kind of guy who could fix just about anything. He even built his own bike from an assortment of parts he found or bought or collected around town. That sort of stuff was his passion.
And if he wasn't creating things from scratch, you would be sure to find him wrestling or lifting weights or biking around town.
Christina Mootz said her brother had just turned 17 in June and he had great plans in store.
"He wanted to get a degree in automotive," she said. "He wanted to open his own automotive repair shop."
He loved life, she said.
And his family loved him.
"He was the 'go-to,' " she said in a telephone interview before the vigil. "If you ever wanted anything done, he'd figure out how to get it done."
She was thankful her last words to her brother were "I love you" and that he had the opportunity to yell it back as she was walking out the door last week on a trip away from Henderson for a few days.
Contact reporter Tom Ragan at tragan@reviewjournal.com or 702-224-5512.