Hundreds turn out for 'We Stand with Orlando' march on Strip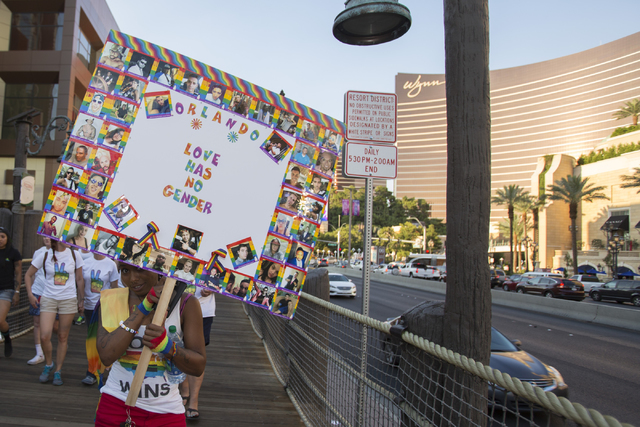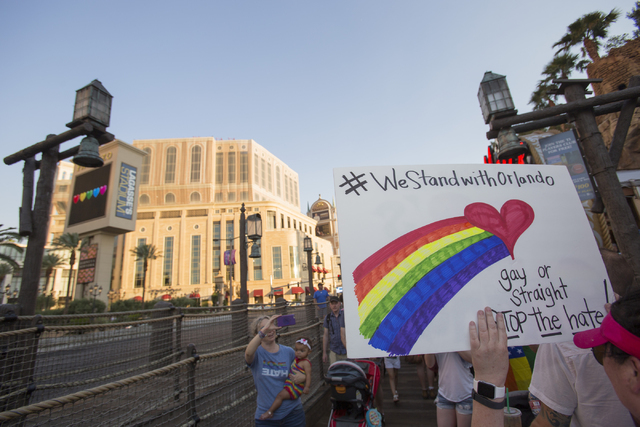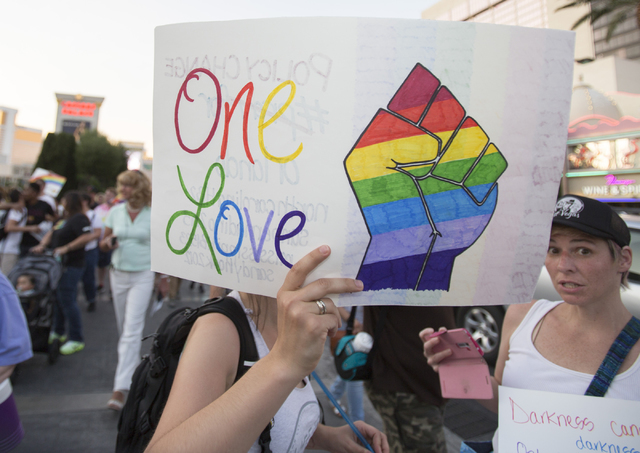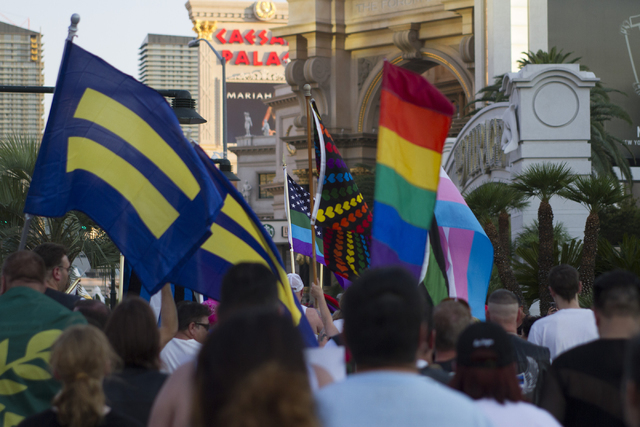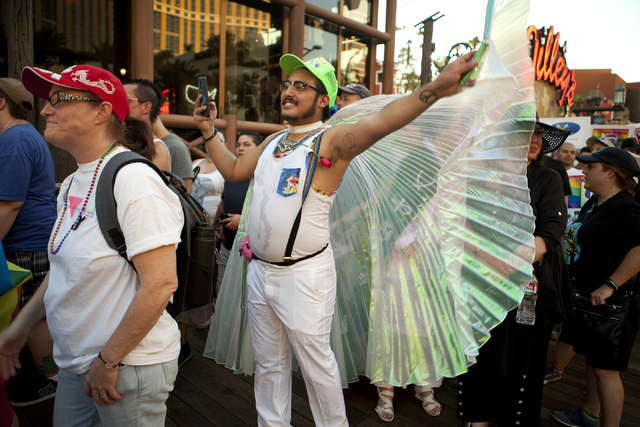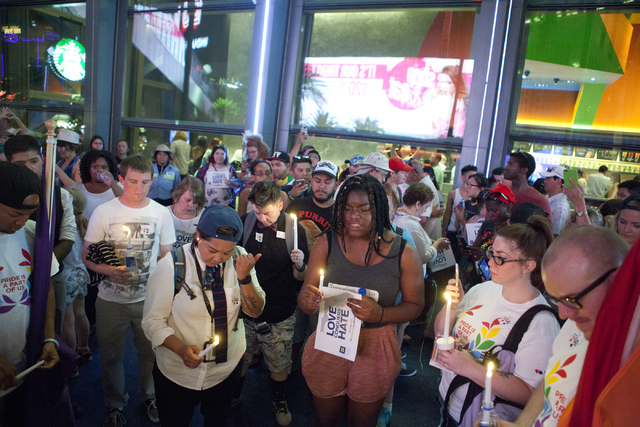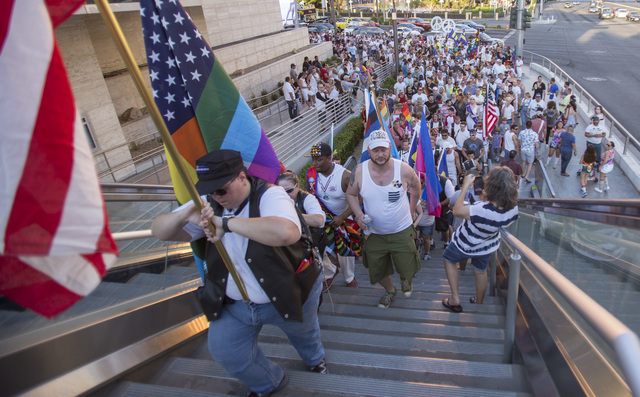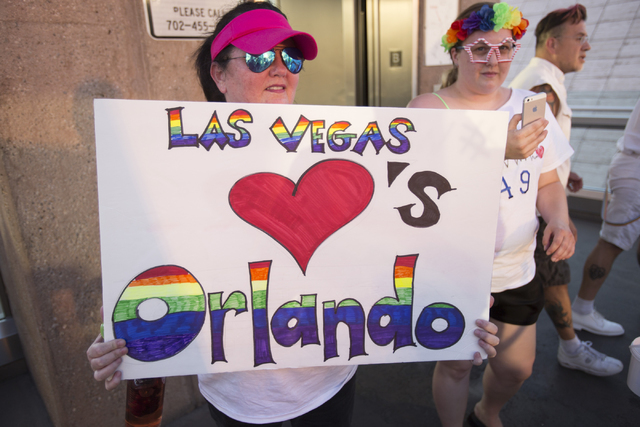 Roughly 2,000 people crowded onto the busy sidewalks of Las Vegas Boulevard in a show of solidarity for the Orlando, Florida, shooting victims.
In block-length packs, the crowds marched south from the Fashion Show mall, on the boulevard at Spring Mountain Road, to The Cosmopolitan of Las Vegas off Harmon Avenue.
They carried rainbow flags, large peace symbols, and handmade signs. They exchanged high fives with pedestrians who crossed their path and threw up peace signs. Most attendees wore white clothes, and some wore colorful balloon headdresses.
The We Stand with Orlando community event was organized on Facebook late last week, and word spread quickly. By Friday night, more than 1,000 people said they would attend, and more than that showed up Monday in remembrance of the 49 people who were gunned down June 12 at an Orlando gay nightclub.
The hotel-casinos showed their support. At the Palazzo, a series of rainbow hearts glowed on a large video screen. Caesars Palace put out a large table of cold water bottles.
Carolyn Cannon, 34, of Las Vegas came with her husband, 35-year-old Aaron Cannon, to show support for the LGBT community and the victims in Orlando.
She said the gay community has always been welcoming to her since she moved here from Michigan 11 years ago.
"It's an important issue," she said, adding that the large turnout at the event gave her goosebumps. "We wanted to make sure people know love wins."
Her husband chimed in: "I just think it's kind of ridiculous there's still so much hate."
Not far from the front of the procession, Las Vegan Kimberly Robertson marched in head-to-toe rainbows, brandishing a large sign featuring the faces of each of the 49 victims.
She said she was at a gay nightclub here in Vegas when the shooting was happening in Orlando.
"That could have been any of us," she said.
Robertson, 32, said she's passionate about the community and wants to get more into "more stuff" now.
"I thought it was beautiful," she said of the march.
The Las Vegas Valley has held several vigils and memorials for the victims killed inside Orlando's Pulse nightclub, most of whom were Hispanic. Vigils were held at the local LGBT center and at UNLV, and a handful of gay bars held fundraising events for the victims' families.
But march organizer Jennifer McHugh said last week that she wanted to put something together on the Strip to maximize visibility.
The support isn't ending with Monday night's march, either: Another large benefit is being thrown at 9 p.m. Thursday at Charlie's Las Vegas, the country-western-themed gay bar at 5012 Arville St.
AJ Makibbin, who performs under the drag queen name Visa D'kline, told the Las Vegas Review-Journal that he knew one of the performers at Pulse during the shooting. Another local drag queen involved in the benefit had friends who died in the Orlando nightclub.
That's why Makibbin's working on getting the best items for auctions and looking to make the benefit annual.
"It's an entire community event, not just an LGBT event," he said.
Contact Wesley Juhl at wjuhl@reviewjournal.com and 702-383-0391. Find @WesJuhl on Twitter.