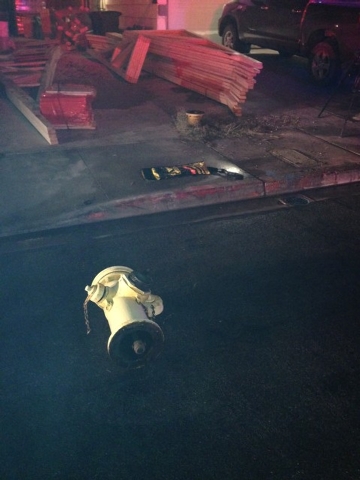 A fire hydrant broke from the water pipe and a firefighter suffered a knee injury during a fire in an abandoned house in the west valley early Thursday morning, the Las Vegas Fire Department said.
The house in the 1000 block of Sproul Court, near West Charleston and Rainbow boulevards, was heavily damaged by the blaze at about 2 a.m., fire department spokesman Tim Szymanski said. Investigators said the fire may have been caused by homeless people who appear to have been living in the boarded-up house.
Flame-engulfed trees were spotted in the backyard by a neighbor who woke up to banging noises and saw the fire spreading into his yard. He used a garden hose to put out the flames in one of his trees, Szymanski said.
The fire hydrant across the street from the fire, estimated to weigh several hundred pounds, flew into the air when a firefighter was attaching a hose. It landed about 10 feet away, Szymanski said, without injuring anyone.
Firefighters were able to spray the flames with some water from on-board tanks while hoses were attached to another hydrant "several hundred feet away," Szymanski said. The delay allowed the blaze to gain strength and burn freely for a few more minutes, he said, but the fire was quickly under control. Charleston was closed to traffic for about 90 minutes.
A firefighter was taken to University Medical Center a minor knee injury, Szymanski said.
A neighbor told investigators police had been called in the past after a homeless man was seen living in a makeshift hut and cooking in the back yard of the vacant house, Szymanski said. Some belongings were found in the yard, and it appeared that people had been staying inside the house, he said.
Damage to the structure was estimated at $75,000.
Contact Ricardo Torres at rtorres@reviewjournal.com and 702-383-0381. Find him on Twitter: @rickytwrites.