I-15 traffic smooths overnight
September 13, 2014 - 6:32 am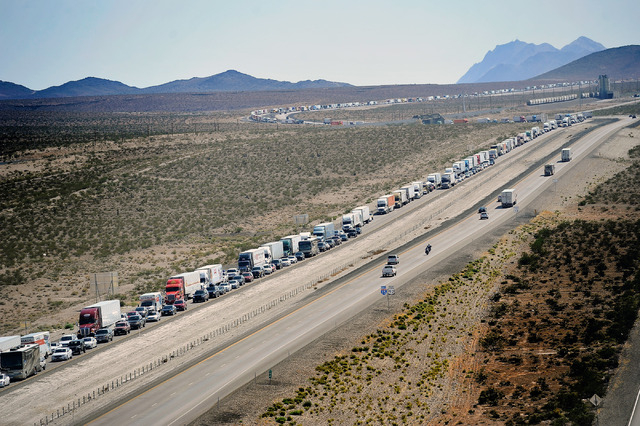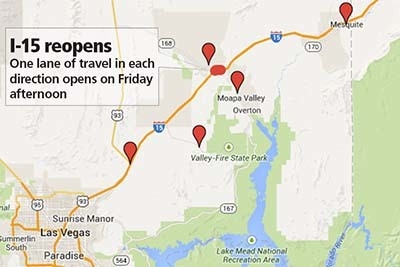 Traffic on Interstate 15, north of Las Vegas, flowed smoothly after reopening, Nevada Highway Patrol said on Saturday morning.
This might have been due to drivers anticipating it to be closed and choosing different routes, NHP trooper Loy Hixson said.
Lanes opened Friday shortly before 5 p.m. with one lane in each direction, Nevada transportation officials said.
Flooding closed part of the normally busy highway Monday.
A 2-mile stretch along the median of I-15 swelled with floodwater Monday, destroying parts of the north- and southbound lanes about 50 miles northeast of Las Vegas. The hardest hit area was between Moapa and Glendale, where about 4 inches of rain fell in a two-hour period.
Road crews started working Tuesday to reopen the road. Las Vegas Paving crews removed flood debris and rebuilt the base of the highway damaged from the flood, the Nevada Department of Transportation said.
Crews started the paving work on Thursday night.
"Our top priority is the mobility and safety of motorists," Transportation Department Director Rudy Malfabon said in a statement. "Rebuilding and repaving 2 miles of interstate in just four days has been nothing short of amazing."
Traffic in both directions will be rerouted onto the northbound interstate while crews make repairs on the southbound side of the highway. The southbound side is expected to open Sept. 22.
It's a different dynamic for commercial trucks.
Big rigs heading north from Las Vegas between 5 a.m. and 10 p.m. will need to take a detour on U.S Highway 93. The detour is north through Alamo and Caliente to state Route 319 through Panaca, then Utah Route 56 to hook up to 1-15 at Cedar City. Travel on the interstate by northbound big rigs is allowed between 10 p.m. and 5 a.m.
Southbound trucks can take the interstate without needing a detour.
The speed limit on the interstate is 55 mph in the impacted areas.
The cost of the repairs is estimated at $5 million. Gov. Brian Sandoval has issued a state declaration of emergency to seek federal reimbursement of the costs.
Monday's flood also damaged 91 homes in Moapa, including some on the Moapa Band of Paiutes reservation. Clark County also has assessed another 48 homes in Overton and Logandale for damage.
Clark County officials estimate the storm caused more than $1 million in damage to county roads.
Entrance fees will be back in place on Sunday at the Lake Mead National Recreation Area.
The National Park Service had waived the fees this week due to motorist detours from the flooding.
Vehicle passes are $10 for one to seven days or $30 for the rest of the calender year.
Contact Ben Botkin at bbotkin@reviewjournal.com or 702-387-2904. Find him on Twitter: @BenBotkin1.
Stories, maps:
More information on the Interstate 15 story as it develops.