Immigration case against undocumented Las Vegas woman dismissed
Updated May 29, 2018 - 6:21 pm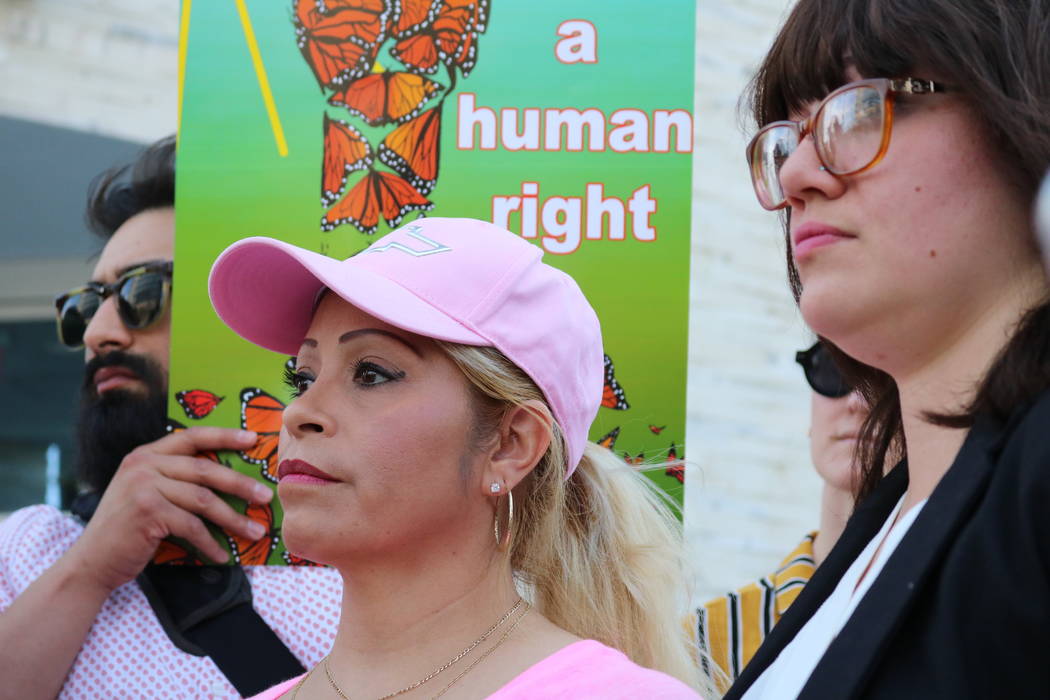 A judge on Tuesday dismissed the immigration case against an undocumented Las Vegas mother of three who was detained and nearly deported in late March, her attorney said.
Laura Barrera, an attorney for Cecilia Gomez, 46, said a Las Vegas Immigration Court judge and Department of Homeland Security counsel agreed at a hearing that she was eligible for permanent residency through a petition filed by her 21-year-old son. They also stipulated that the 20-year-old deportation order notifying her to appear at proceedings wasn't properly served, Barrera said.
Gomez was apprehended at the U.S. Citizenship and Immigration Services office in Las Vegas in March during what she believed was a routine interview that would bring her one step closer to obtaining a green card.
Gomez had applied for legal permanent residency through her son, Yonathan, last year after living in the United States as an undocumented immigrant for more than two decades.
At her March interview, Gomez learned that the 20-year-old deportation order was sent to an address for a doughnutshop in Los Angeles — an address that she had no connection to, Barrera said.
After taking Gomez into custody at the meeting, immigration officers sent her to several detention centers. Intervention by Barrera and the Gomez family halted her deportation just miles from the U.S.-Mexico border. Since then, Gomez has worked with Barrera and immigration advocates to have the case dropped.
Barrera said the dismissal of the case is typical when someone is nearing the end of the process to gain legal status.
"They usually will terminate a case when someone … is eligible for an immediately available visa," Barrera said. She said it will likely take several months before Gomez is granted legal permanent residence.
Gomez could not be reached for comment.
The U.S. Executive Office for Immigration Review, which oversees the immigration court system, said Tuesday it did not have the necessary information to confirm Barrera's account of the hearing.
Barrera and other advocates celebrated Gomez's release on Twitter on Tuesday morning.
"So thankful to (the Las Vegas Worker's Center) and the Las Vegas community for supporting this case," she wrote.
Cecilia's case was terminated this morning in immigration court so that uscis can resume processing her application for permanent residence. So thankful to @ArribaLasVegas and the Las Vegas community for supporting this case 🙏🏻 https://t.co/ctQZt3f4rd

— Laura Barrera, Esq. (@abogada_laura) May 29, 2018
Cecilia's deportation proceedings have been terminated! #FreeCecilia #Not1More #Ni1Mas @abogada_laura @KarlCatarata pic.twitter.com/tunscdzXMo

— Arriba Las Vegas Worker Center (@ArribaLasVegas) May 29, 2018
Contact Jessie Bekker at jbekker@reviewjournal.com or 702-380-4563. Follow @jessiebekks on Twitter.