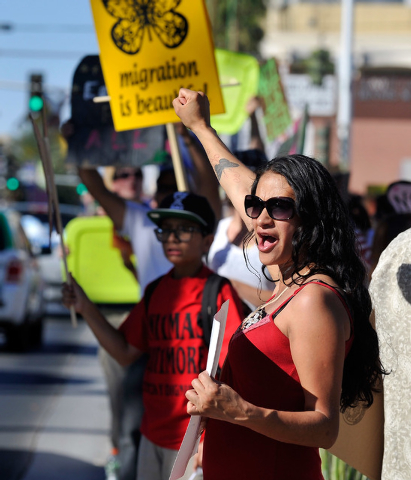 An immigration rights march took place Thursday afternoon in front of the Lloyd George U.S. Courthouse near Las Vegas Boulevard and Clark Avenue.
The march, a yearly event, focused on specific issues relating to immigration policy including a push for immigration reform.
Prior to the march several people gave speeches focused on the increased number of deportations of people without a criminal background.
"We marched because we are still fighting for immigration reform," said Luz Maria Espinosa, 49. Espinosa, her husband and two older children have deportation orders but don't have a criminal record.
The march, organized by the May 1 Coalition, had the phrase Ni1+, which means "not one more," as its theme this year.
"That is in direct reference to there not being one more person who was deported unjustly, not one more child separated from his or her parents, not one more family broken up due to an unfair deportation," Espinosa said.
Espinosa said many people attended the event and participated in the march as a way to push Congress to pass immigration reform.
"Immigration reform is necessary and we will keep fighting, without fear, until it passes," she said.
Contact reporter Maria Agreda at magreda@reviewjournal.com or 702-383-0391. Find her on Twitter: @mjfagre.