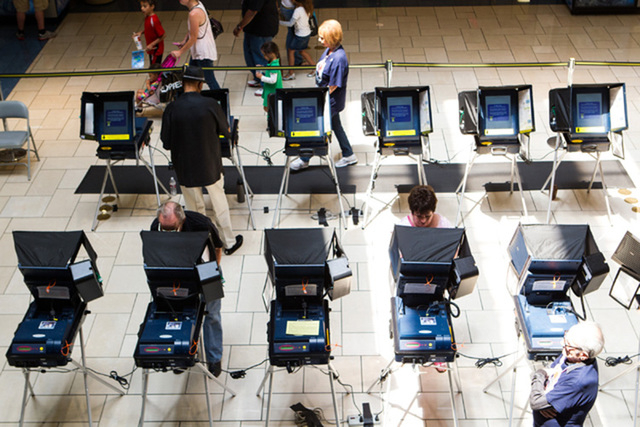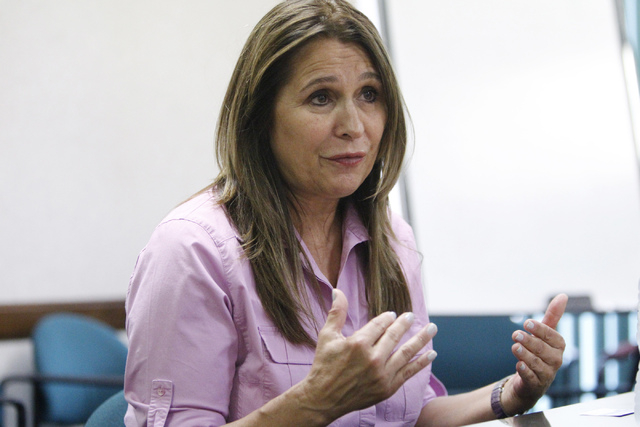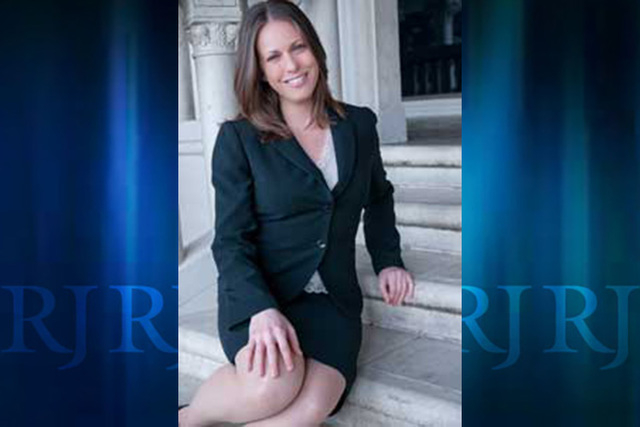 In two Assembly races, separate court rulings that found the Democratic candidates ineligible because they failed to meet residency requirements have left voters with two choices: Vote for the eligible candidate, or vote for an ineligible candidate and leave the decision in the Assembly's hands.
Republicans Victoria Seaman, who is running for Assembly District 34, and Shelly Shelton, who is running for Assembly District 10, held a Monday press conference reminding voters that they are the only eligible candidates in those races on the ballot. Robert Frank, head of the Citizen Task Force for Voter Rights, a non-partisan group, said he plans to file a complaint asking for the Nevada Secretary of State's Office not to certify ballots that are cast for the ineligible candidates.
The Secretary of State's Office didn't immediately respond to a request for comment from the Review-Journal.
Clark County District Court judges have declared that Meghan Smith, the Democrat for the Assembly District 34 seat, and Jesse "Jake" Holder, the Democrat for the Assembly District 10 seat, are ineligible. Because of the late timing of the rulings — both in October — the names of both candidates remain on the ballot despite their ineligibility. Signs will be up at polling places reminding voters they are ineligible.
Both Democrats are fighting the court decisions and continuing to campaign. Smith has appealed to the Nevada Supreme Court. Holder's attorney is planning to file a motion seeking another hearing at the district court level.
If Smith or Holder were to be the top vote-getters in the election, the Democrat-controlled Assembly would appoint someone. And that could theoretically be either ineligible candidate.
Both Republican candidates said the system needs to be fixed and urged voters not to let the Assembly appoint someone.
"My opponent continues to campaign and deceive the voters of Assembly District 34," Seaman said of Smith. "She has not admitted to constituents that she has been disqualified and declared ineligible but rather states I am lying."
Smith didn't return a call for comment Monday. Her voicemail message tells callers that she's on the ballot.
Shelton said: "Every vote that's cast for a disqualified candidate tells carpetbaggers, 'Hey, we know that you're lying, but we'll trust you with our lives anyway.'"
She said that votes cast for a disqualified candidate tells lawmakers they can put whoever they want in office.
"This isn't the Soviet Union and this isn't a third-world country where under the table deals determine who represents us," Shelton said. "This is Nevada and this is our election."
Their concerns were based in part on recent history.
In 2012, Democrat candidate Andrew Martin was declared ineligible in a District 9 race because of a lack of residency. After he picked up 53 percent of the vote, the Assembly chose him for the seat.
Holder said: "People can vote for whoever they want. Whoever wins the popular vote will most likely be the representative of the people as it should be."
Contact Ben Botkin at bbotkin@reviewjournal.com or 702-405-9781. Find him on Twitter: @BenBotkin1
See our online voter guide for candidate profiles and more