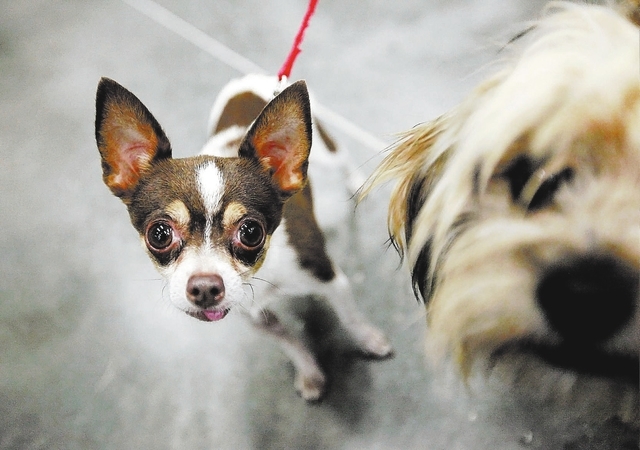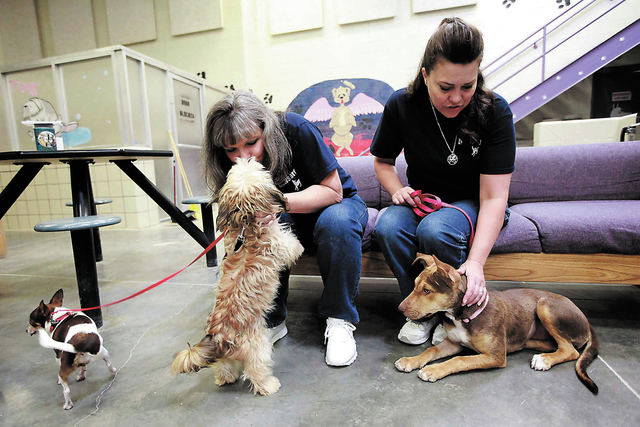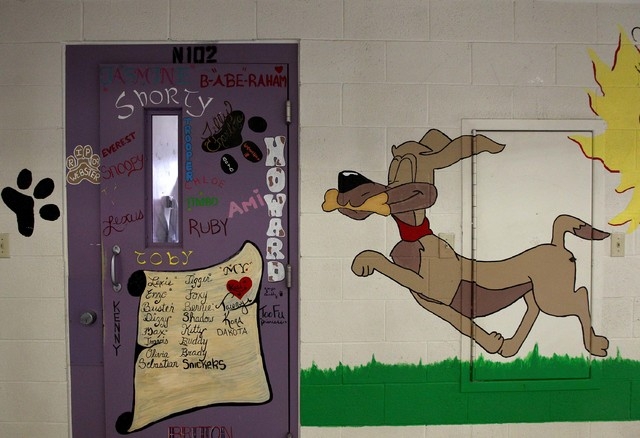 Bugsy, a large tan Mastiff-mix, lives behind bars— not at an animal shelter, but in prison.
So does his trainer, Cecele Linton. She is serving time at Florence McClure Women's Correctional Center in Las Vegas.
While these bars are meant to keep Linton in, Bugsy is there to get out. He is one of 22 dogs enrolled in Pups on Parole, a program sponsored by the Heaven Can Wait animal shelter.
Inmates teach and train dogs who may have abusive backgrounds. The goal is to prepare them for adoption. In turn, the dogs help prisoners learn new skills in animal care. Program coordinators say this makes inmates more equipped for employment upon their release and less likely to reoffend.
"Bugsy, sit," Linton instructs.
After a little coaxing and some positive reinforcement, Bugsy obeys.
After starting at the Jean camp in 2004, Pups on Parole moved to Florence McClure a year later. Linton was among the first inmates to sign up.
Now, she not only trains dogs — to date, around 70 dogs have been under her care — but also mentors newer inmates joining the program.
"It's helped me realize that life is very important," says Linton, who wants to one day open a rescue shelter for dogs. "We're ready for out there."
Susanne Carno, sentenced to 40 years to life in prison, avoided the program for eight years but decided she wanted a change.
"It's one of the few ways that lets us have a reach back into society," Carno says. "I get to complete homes now."
Twenty-six inmates of the 800 incarcerated at Florence McClure are in the program.
To qualify, inmates must have been in prison for a minimum of six months. They must also be free of write-ups for bad conduct, and be ready for a one-year commitment. A calm personality is a plus.
"It's not about rewarding people who have offenses. It's hard work," says Mary Ellen Sachs, a volunteer with Heaven Can Wait.
And Pups on Parole is of no cost to the state.
All the pet supplies — including food, cages, toys and medical expenses — are provided by Heaven Can Wait. On average, each dog costs around $100 per month.
Sachs says the trainers have more responsibilities than the average inmate since the dogs live in the cells with them. This includes a strict daily schedule that begins at 5 a.m. to ensure the dogs are trained properly. There are times throughout the day specified for walks and bathroom breaks.
And like any dog owner, inmates have to quickly address their dogs' middle-of-the-night bathroom emergencies. Exceptions are made only for puppies.
According to an article in "The American Behavioral Scientist," which studied the history of prison inmate-animal interaction programs, a Wisconsin facility saw none of its 68 dog training inmates reoffend after being released.
Heaven Can Wait doesn't keep track of its program's recidivism rates, but most of the organization's coordinators couldn't recall any of their trainers returning to prison.
Tanya Hill, associate warden of programs, says the prison staff is supportive and many have taken dogs into their own homes.
"It really runs itself, very self-sustaining," Hill says.
Nearly 1,000 inmates have participated in Pups on Parole in the last decade. And through their training, more than 2,000 dogs have found homes.
The dogs stay with their trainers until they are deemed ready for adoption.
Every Saturday, Heaven Can Wait volunteers take successfully trained dogs to Bogart's Bone Appetit at Fort Apache and Tropicana avenues, where potential owners can come and meet the dogs.
Page-long bios written by the inmates hang on each cage, detailing the dogs' likes and dislikes, their habits and ideal owners.
Toni Ziccardi has adopted six dogs through Pups on Parole since moving to Las Vegas with her partner, Ronda, in 2006. Her latest addition to the family is Chester, a Labrador mix.
"I think it's awesome because the dogs have structure. When I bring them to my house, they're so much easier to deal with," Ziccardi said.
She added, "I think it's a great release for the prisoners. I would want to own something, take care of it and take part in training a dog that would eventually be a part of a home."
During a recent adoption session, Bugsy saw three other dogs find new homes. Restless, he dug at his blanket and rattled his cage.
While most dogs stay in the program for two to six weeks, Bugsy had been at Florence McClure for over three months. But Linton has trained him well and according to a program dog coordinator, a potential owner is coming to see Bugsy at the shelter this weekend.
Bugsy will put his best paw forward, and hopefully an adoption will follow.
Reporter Annalise Porter contributed to this story.