Investigation found no proof of sex in Las Vegas firehouse, union says
December 26, 2017 - 2:16 pm
Updated December 26, 2017 - 4:40 pm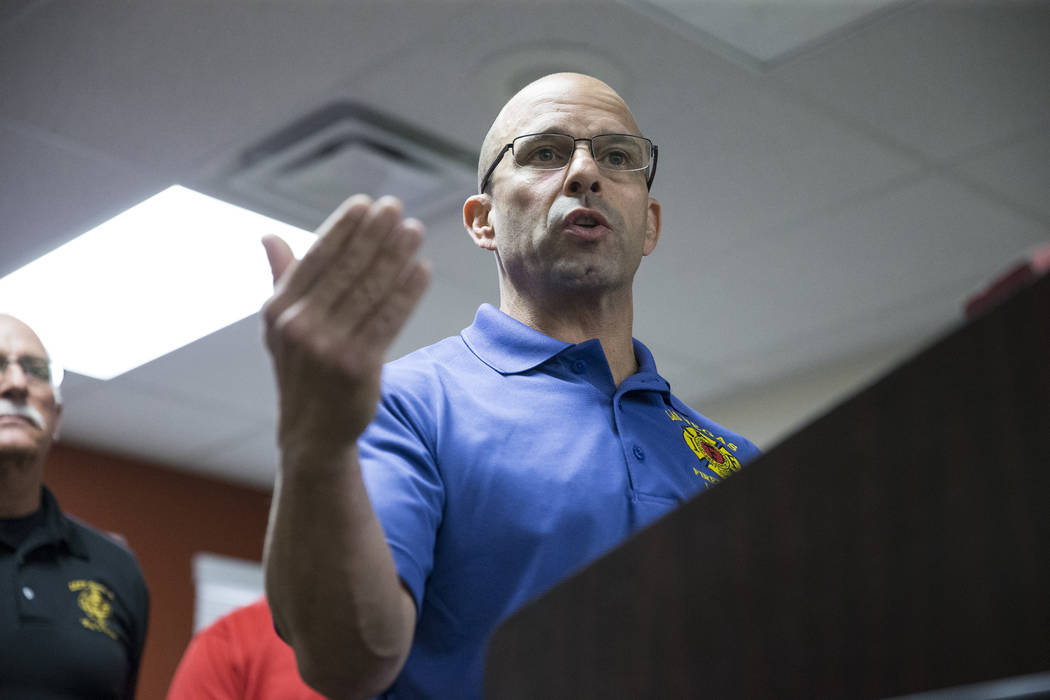 An investigation into alleged on-duty sexual activity by Las Vegas Fire Department personnel revealed the claims were unfounded and a broader culture of promiscuity in city firehouses doesn't exist, Las Vegas Firefighters Local 1285 President Eric Littmann said Tuesday.
"A full investigation was conducted in regards to this matter revealing that there was a minor violation of our conduct policy involving one of our members," Littmann said in a statement he issued Tuesday. "The investigation further revealed that there was no sexual activity on duty whatsoever or that a culture of sexual promiscuity exists. The minor policy violation was handled in accordance with our recognized discipline process with details that are bound by confidentiality."
Littmann's statement marked the first time a union representative has publicly addressed allegations made in a document obtained by the Las Vegas Review-Journal in September, where a firefighter claimed one of his colleagues had sex inside a city firehouse in August. The firefighter who reported the alleged rendezvous also alleged in the document supervisors intimidated him when he approached them with the claims.
Las Vegas city Communications Director David Riggleman told the Review-Journal last week that multiple employees had been disciplined in relation to the investigation into the claims. The city has not divulged the names or exact number of people disciplined, saying only that "more than one" faced some sort of repercussion.
The Review-Journal has not reported what specific alleged transgression any employees were disciplined for because the city has not released that information. The allegations made in the document ranged from sexual activity to intimidation by supervisors for reporting the alleged tryst.
No employees named in the document making the allegations were fired or demoted since the investigation wrapped, according to employment information the city supplied last week.
The firefighters' union contract allows employees to challenge disciplinary action by filing a grievance or going to arbitration.
An unauthorized visit to the fire department is a violation of Fire Department policy, whether or not sex is involved.
The Las Vegas Fire Department, the city's human resources department and the city manager's office investigated the allegations.
In response to a Review-Journal records request, the city reported receiving three complaints or reports of sexual activity in fire houses from the beginning of 2012 through this September. The August allegations were under investigation at the time.
Fire Chief William McDonald announced in May plans to install cameras at each Las Vegas fire station. All but one of the city's firehouses have been outfitted with entrance cameras to monitor activities and visitors. The remaining station is slated to undergo renovations before cameras are installed there.
Contact Jamie Munks at jmunks@reviewjournal.com or 702-383-0340. Follow @JamieMunksRJ on Twitter.