Investor purchases in Las Vegas office market on the rise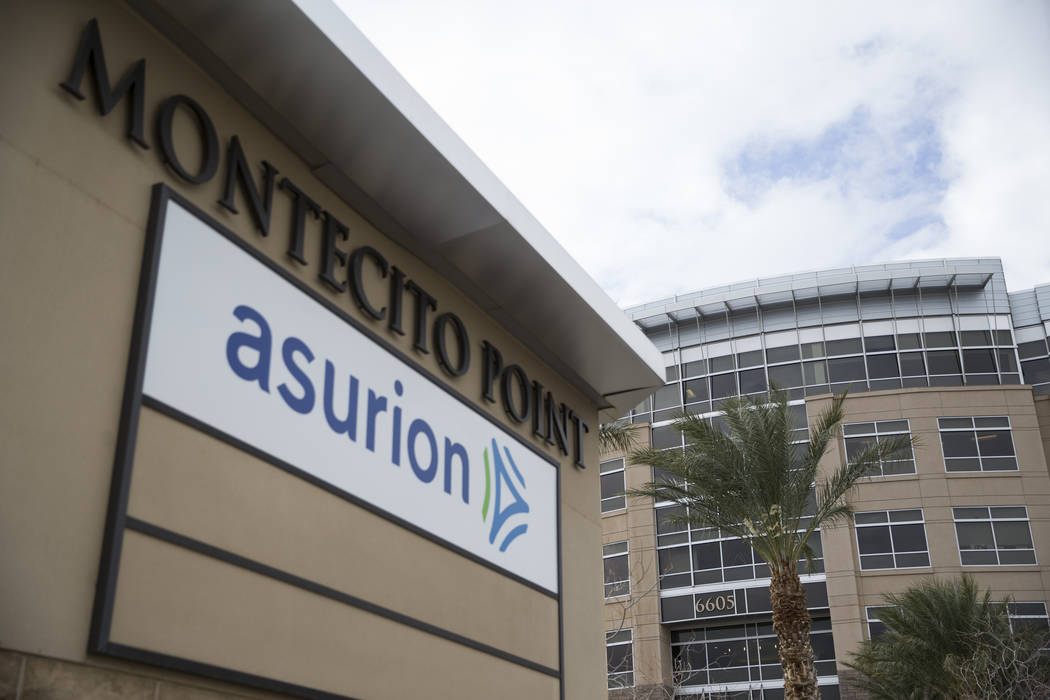 Las Vegas' office market was left for dead during the recession as job losses soared and buildings emptied.
But in a sign that things could finally be turning the corner, investor purchases are climbing fast – and they're not just buying ghost-town buildings at discounts anymore.
There were 94 office-property sales in Southern Nevada last year, more than double 2016's tally. The sales total and average price of $187 per square foot were the highest in years, according to brokerage Colliers International.
Las Vegas' office market is smaller than other cities', and its vacancy rate remains well above pre-recession levels. Southern Nevada also has a track record of getting slap-happy for real estate, so there's always a chance that investors can pile in too quickly on market trends and inflate property values.
But for now, employment is growing and vacancies are shrinking, making the once-battered office business a safer investment.
In a number of cases, executives said, sellers bought their buildings at steep discounts after the economy crashed and spent the last several years pulling in renters.
"You finally have buildings that actually have tenants," CBRE Group broker Marlene Fujita said.
Deal makers
Properties that traded hands in 2017 include the Centra Point office park in the southwest valley for $78 million, a four-building complex in Summerlin for $48 million, and Red Rock Business Center in the southwest for $17 million.
So far this year, the deals include a four-story building and nearby parking lot at Rainbow Boulevard and Post Road in the southwest that sold for $33 million, and a six-story building near the 215 Beltway-U.S. Highway 95 interchange in the northwest that traded for $33.25 million.
One buyer, Odyssey Real Estate Capital, acquired two local buildings last year. But the firm has "chased every large office offering that has come to market," partner Dave Sundaram said.
Moonwater Capital founder Ofir Hagay bought two buildings out of bankruptcy last year and, more recently, the northwest valley building, which he's dubbed Montecito Tower. Hagay said he is under contract for another property and is working on three or four other deals.
Buyers aren't limited to typical real estate investors, either.
OneRepublic frontman Ryan Tedder, known for such hits as "Apologize" and "Stop and Stare," acquired the building at Rainbow and Post, while Andrew and Peggy Cherng, billionaire founders of fast-food chain Panda Express, bought the Summerlin complex.
'Formula for disaster'
Compared to other types of commercial real estate in town, the office market has been slowest to recover from the financial crash, industry pros say. But the market seems "pretty healthy now," said John Stater, Colliers' Las Vegas research manager.
Quarterly vacancy rates were as low as 7.3 percent in 2006, during the bubble, but shot past 22 percent in 2011. It was down to 15.4 percent in the fourth quarter last year, Stater's figures show.
Southern Nevada grew at a wild pace during the boom years and crashed hard, and its office sector was no different. Construction dried up, and as the valley became flooded with underwater or foreclosed properties, distressed buildings comprised "almost 100 percent of the market," Sun Commercial Real Estate owner Cathy Jones said.
The market has recovered at such a sluggish pace because developers overbuilt during the boom years, unemployment remained stubbornly high, and companies became used to doing more with fewer workers, RCG Economics founder John Restrepo said.
It also doesn't help that Las Vegas lacks a big roster of big office users.
The main employers here, casino operators, don't occupy sprawling office parks like tech companies do in Silicon Valley, for instance. Instead, casino companies' employees are largely in hotels, Restrepo noted.
During the boom years, Odyssey's Sundaram said, perhaps 35 percent to 40 percent of office tenants were connected to real estate, an industry that crashed harder here than in most cities.
Troubled office buildings haven't vanished from Las Vegas, and just because sales are climbing doesn't mean construction is booming. Office development has picked up but remains a fraction of apartment and warehouse construction.
Still, Moonwater's Hagay said, it's good that the market has recovered slowly.
"We all remember what happened when things went up and down sharply," he said. "It's a formula for disaster."
Contact Eli Segall at esegall@reviewjournal.com or 702-383-0342. Follow @eli_segall on Twitter.