Jewish leaders in Las Vegas reassure community after shooting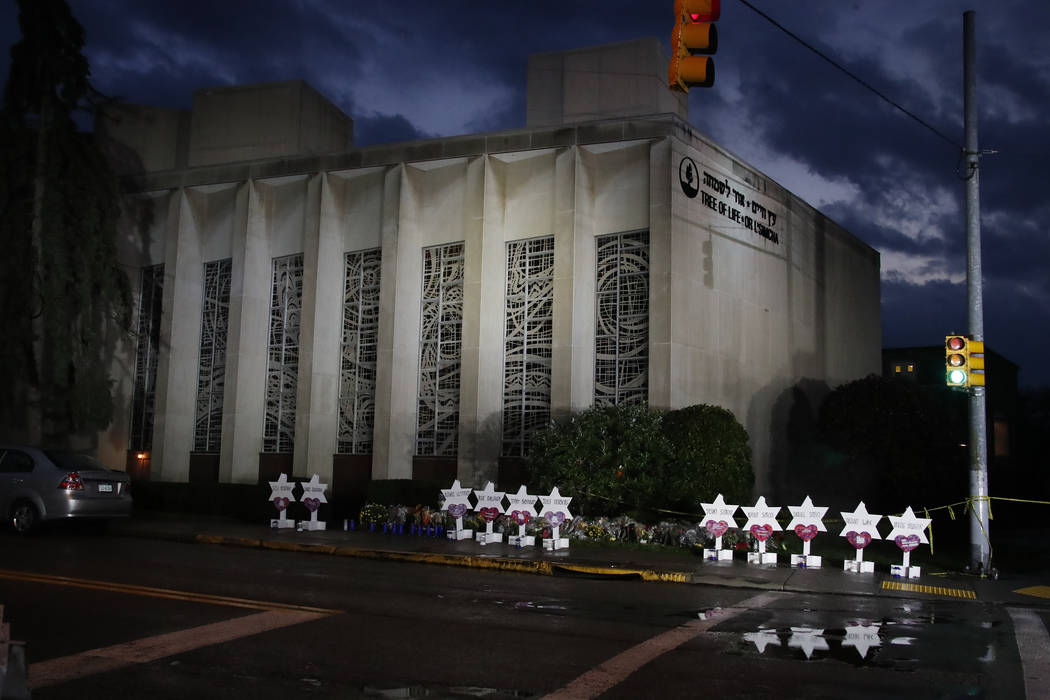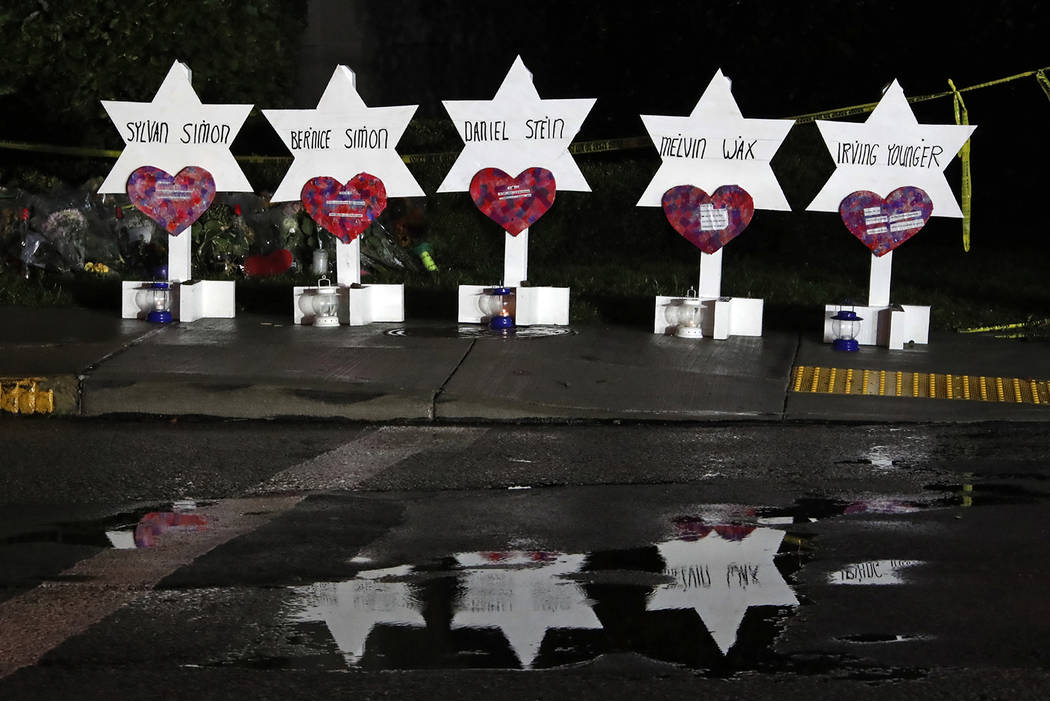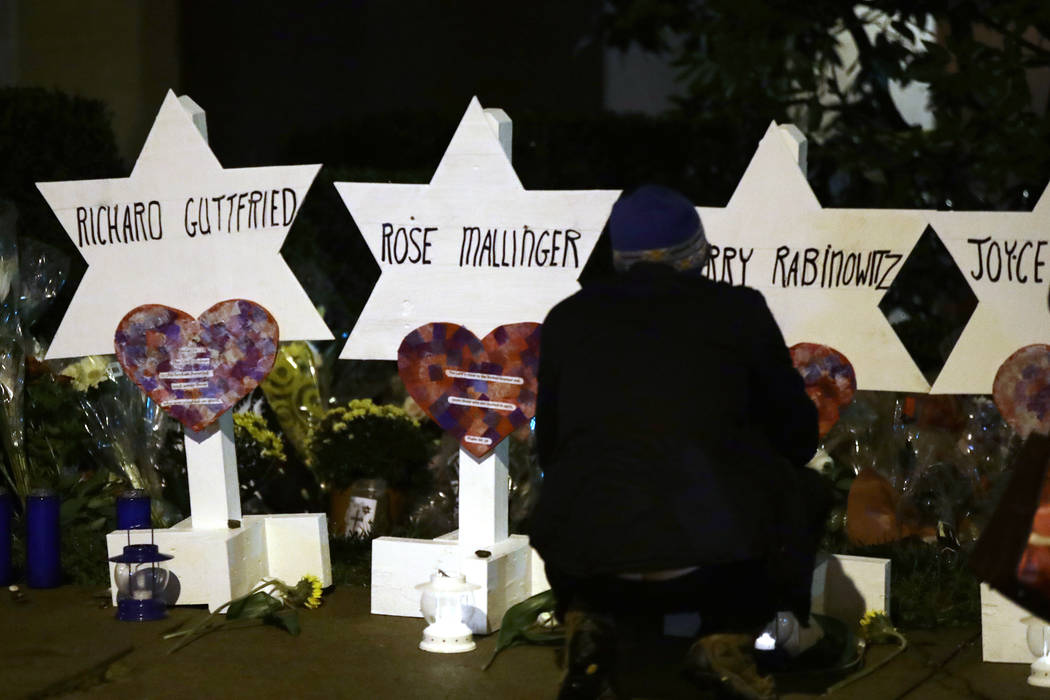 Local Jewish leaders expressed sympathy Sunday, a day after a deadly shooting at a Pennsylvania synagogue, and said members of the Jewish community must stand strong and remain proud of their faith.
Rabbi Mendy Harlig, executive director of Henderson-based Chabad of Green Valley, said he was shocked and saddened to hear the news of the shooting inside of a house of worship.
"The Jewish people are strong," Harlig said. "They have prevailed, and they will prevail."
Harlig's wife went to high school in Pittsburgh, and his daughter has spent the last year attending high school there. The Jewish community there is tight, he said.
A gunman whom authorities said made anti-Semitic statements walked into a synagogue in Pittsburgh's Squirrel Hill neighborhood Saturday morning and opened fire, killing 11 and injuring another six, including four police officers.
Despite a rise in displays of anti-Semitism — the Anti-Defamation League found that anti-Semitic "incidents" in the U.S. jumped nearly 57 percent from 2016 to 2017 — now is the time for Jews to be steadfast in their faith and continue proudly attending their synagogues, Harlig said.
"When there's a darkness, you have to add light," Harlig said. "You cannot let hate win."
Harlig said Chabad already has security in place, but security practices at Chabad of Green Valley were under review in light of the shooting.
He said he visited a synagogue in Germany a few years ago where there were metal detectors, armed guards and poles to prevent a vehicular attack.
It was upsetting to see, but such measures could help ensure safety, he said.
"Unfortunately, we're not that far behind," Harlig said.
Todd Polikoff, president and CEO of nonprofit Jewish Nevada, was not as shocked about the news of the shooting as he should have been, he said.
"We shouldn't be surprised about this anymore, and for some reason people still act surprised," he said.
Polikoff expressed frustration that the gunman apparently wasn't on authorities' radar despite his social media posts, he said. The gunman expressed strongly anti-Semitic views on social media prior to the attack and later told police "all these Jews need to die," The Associated Press reported.
Polikoff urged people to look out for hate speech and call it out whenever possible. Combating hatred and violence isn't an issue unique to the Jewish people, he said, pointing to the 2015 shooting at a black church in South Carolina that left nine dead.
"This happened at a synagogue, but this is an American issue," he said. "This (affects) all of us, and we need to realize that."
The people of Squirrel Hill will likely experience a "cycle of processing" similar to what the people of Las Vegas did after the Oct. 1, 2017, mass shooting on the Strip, Polikoff said.
"I know what we dealt with here in October last year," he said. "You don't get over this."
His organization has been telling people to continue living their lives and to continue being proud in their Jewish faith. The history of the Jewish people is one of resiliency, he said.
"By no means do we circle the wagons and become an insular people," he said.
Rabbi Malcolm Cohen was to lead a service Sunday evening at Temple Sinai in the northwest valley. The synagogue already has armed security, he said, and is considering other security measures in light of the shooting.
Reached by phone Sunday, Cohen said he would remind the congregation to mourn the lives lost and then "see how we'll stand and fight against extremism in all its forms," he said.
He would preach a message of tolerance and openness.
"Unfortunately, we have encountered tragedy in the past," Cohen said. "We know with the strength of our tradition that we can outlast any groups that are out to (harm) us.
"We're not gonna hide under any rocks. We're gonna be proudly Jewish."
Contact Mike Shoro at mshoro@reviewjournal.com or 702-387-5290. Follow @mike_shoro on Twitter.
Vigil scheduled
A vigil to honor those killed Saturday in Pittsburgh will be held at 6:30 p.m. Thursday at Temple Beth Sholom, 10700 Havenwood Lane, said Jolie Brislin, regional director of the Anti-Defamation League. All are welcome to attend.