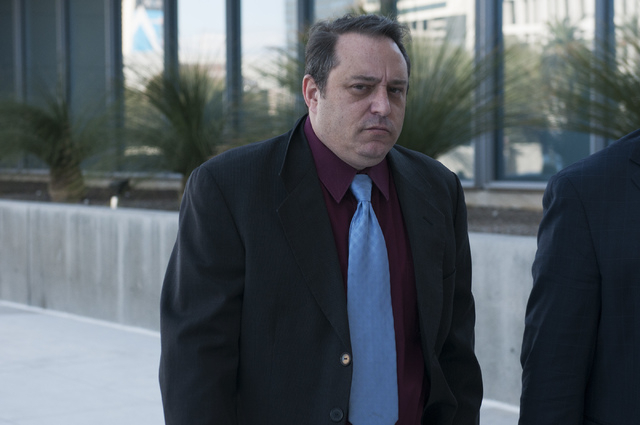 The life-threatening health and custody status of disbarred Las Vegas attorney Barry Levinson remained uncertain Thursday after a judge refused to reconsider his harsh prison sentence.
Levinson's lawyer, Brent Bryson, argued in court that Levinson should have been able to withdraw his guilty plea after District Judge Michael Villani indicated he would not follow an agreement struck with prosecutors. Levinson had pleaded guilty to stealing money from clients.
But in his ruling from the bench, Villani said he gave the 48-year-old Levinson plenty of notice that he wasn't bound by the plea agreement.
Villani remanded Levinson to the state on Aug. 13, but two weeks later U.S. marshals took custody so he could serve a 6½-year federal prison sentence for his conviction in the high-profile scheme to take over and defraud homeowners associations.
Two weeks after that, federal authorities changed their mind and indicated Levinson should first serve the state prison time, Bryson said.
That has left Levinson, who remains in federal custody, in a state of "flux" and harmed his health, Bryson said.
Levinson had heart failure while in federal custody and needs either a special heart valve operation in Southern California or a heart transplant to survive, Bryson said.
Bryson also argued that Levinson hasn't received proper medication and treatment since being taken into custody. He is currently hospitalized.
Villani suggested Thursday that Bryson should file a civil rights suit against authorities to get relief, and Bryson said afterward he is considering it.
Last month Villani ignored the plea agreement with the state and sentenced Levinson to at least eight years in prison on the theft charges to run consecutively to the federal term.
The plea agreement had called for a minimum of only two years in prison concurrent with the federal sentence.
Levinson agreed to permanent disbarment as part of his federal plea deal, and the Nevada Supreme Court made it official earlier this month.
Contact Jeff German at jgerman@reviewjournal.com or 702-380-8135. Find him on Twitter @JGermanRJ