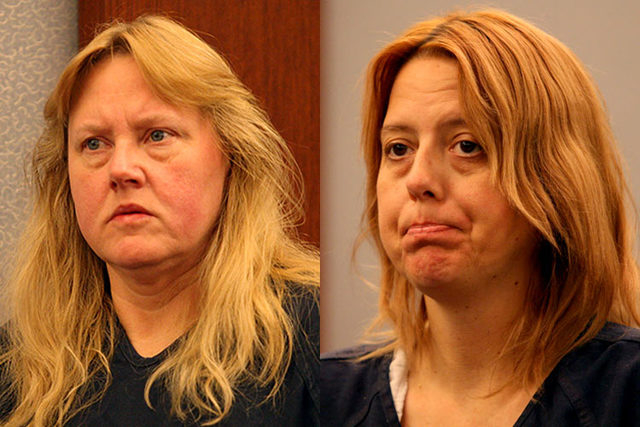 A judge set bail at $1 million Monday for one of three people charged with videotaping sexual attacks on several children in Las Vegas, while prosecutors added new charges against another woman, saying they've learned of yet another victim in the case.
Christopher Sena along with his wife, Deborah Sena, and ex-wife, Terrie Sena, face sexual assault charges involving at least eight children over the span of 13 years.
Las Vegas Justice of the Peace Melissa Saragosa set bail for Terrie Sena. And while prosecutors added six new charges against Deborah Sena, including sexual assault with a minor, her lawyer asked the Clark County district attorney's office to be removed from the case.
Defense attorney Kristina Wildeveld said Deborah Sena was a victim of "prolonged, controlling manipulation and abuse by her husband." He has not been charged with any form of domestic violence.
Christopher Sena often told Deborah Sena, 50, and one female teen that if they loved him, they would do what he told them, according to police reports.
Wildeveld said, however, that he forced his wife into the sex acts with the children and threatened her with physical violence.
Some of the victims were the Senas' children, and the abuse took place at multiple locations, according to police.
Wildeveld said Christopher Sena punched and slapped Deborah Sena and hit her in the shins with a hammer.
"No matter what she is guilty of, she is a victim of domestic violence," Wildeveld said. "They lived like hostages. (Prosecutors) cannot say she's not a victim of domestic violence."
Terrie Sena, 43, told police she was attracted to young male and female teens, according to one police report.
The three Senas and their children lived in a trailer home on the 6000 block of Yellowstone Avenue, near Lake Mead and Hollywood boulevards.
Christopher Sena "knew where everyone was at any time of day," Wildeveld said.
With at least six surveillance cameras scattered throughout the home, Deborah Sena snuck out with two others, fleeing to a shelter, Wildeveld said.
"Christopher Sena continued to threaten them by email and phone messages," Wildeveld wrote in court papers.
Deborah Sena, a woman and another child then told a family law attorney about the abuse. That attorney contacted police.
On Sept. 18, police arrested Christopher Sena and seized recording equipment from the home.
Images and videos depicting the adults engaged in sex acts with children were also found, leading to the arrests of Deborah Sena and Terrie Sena last month, according to police.
Wildeveld wrote that the children were "deterred by prosecutors from acknowledging the domestic violence victimization of Mrs. Deborah Sena and (prosecutors) disclosed facts not otherwise known to the victims in an attempt to manipulate the victims and encourage their absolute cooperation."
Prosecutor Mary Kay Holthus said Christopher Sena was "for sure" the leader of the three, but she also argued that the women did not feel threatened by him.
"He's got arguably some more charges, but I don't think at the end of the day it's all that different," she said. "They both engaged in a pattern of sexual abuse and emotional abuse beyond compare. Portraying them as victims on some level is just not borne out."
Saragosa said she would hear Wildeveld's motion to disqualify prosecutors next week.
Contact reporter David Ferrara at dferrara@reviewjournal.com or 702-380-1039. Find him on Twitter: @randpoker