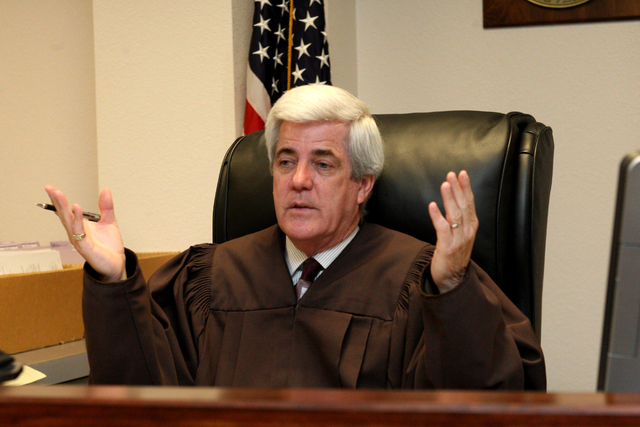 A mentally ill mother, her abusive husband and their infant.
Child Protective Services was contacted the day the baby was born.
The mother insisted the newborn wasn't hers. Authorities placed her on a Legal 2000 , a hold of up to 72 hours that's issued when a person is considered a danger to themselves or others.
Three months later, the mother appeared at a local hospital claiming her baby was speaking in full sentences and told her that he had an earache. The mother was again placed on a Legal 2000 and the baby was removed from her custody.
A few months later, the father violently attacked the mother.
"Doors were kicked in. Blood was everywhere. The mother's thumb was cut. Hair was pulled out of the mother's head. Her head had to be stapled closed," said Clark County Family Court Judge Frank Sullivan on April 28 during a trial for termination of parental rights. It was the third day of the hearing.
In testimony, the father blamed the mother for the child being removed from his care.
His attack on the mother wasn't his first violent act. He is now serving time in a state correctional facility for battery with use of a deadly weapon.
On April 28, Sullivan terminated the father's parental rights, finding clear and convincing evidence that it would be in the best interest of the child. To protect case confidentiality, the names of those involved were withheld.
Cases involving the termination of parental rights — an issue that's drawn legislative attention in the form of a bill that calls for judges in such cases to consider the length of time a child has been in foster care — are piling up in Clark County Family Court. At any given time, the court averages about 300 open cases involving termination of parental rights.
Child welfare cases are coming in faster than Family Court can handle and are creating a backlog, according to a March report from a blue ribbon committee appointed by Nevada Supreme Court Justice Nancy Saitta to examine shortcomings in Clark County's child welfare system and court. The Clark County Department of Family Services concurred with that finding.
In fiscal year 2014, Family Services took 2,531 children into protective custody, according to Clark County spokesman Erik Pappa. That equates to five children removed from their families per every 1,000 children in the county.
Under state law, if a child has been in foster care for 14 of 20 consecutive months, the agency should include termination of parental rights in the child's permanent placement plan. The exceptions for that are when the child is in the care of a relative; Family Services hasn't made the required reasonable efforts to reunify the family, or compelling reasons exist that show termination of parental right would not be in the best interest of the child.
A hearing for permanent placement has to take place within 12 months of a child's removal from the home, according to state law.
FIGHTING FOR RIGHTS
Sullivan agreed that the caseload is increasing. But it's not really a backlog, he said. Delays are caused by a rising number of parents challenging the termination of their rights. Only judges are able to hear contested cases because hearing masters don't have that authority.
On average, each of the three Family Court dependency judges carries about 100 termination of parental rights cases, Sullivan said.
Family Court started seeing more contested cases a few years ago. Sullivan believes it's due to a 2010 policy he implemented that calls for appointing an attorney for parents fighting to retain their rights.
The court's goal is to try to resolve termination of parental rights cases in 90 days. But there can be complications. About 90 percent of the time, Family Court can't find the parents involved.
The court must then file a notice in the newspaper for four consecutive weekends. The attempt to make parents aware of the pending case means it takes about three months to schedule a court date.
If parents appear in court, judges can decide that same day whether to terminate parental rights. If the move to terminate rights is challenged, the court will appoint an attorney for the parents and set a trial date, Sullivan explained. That takes another 90 days.
From January to April, it took an average of 6.3 months, or 191 days, to resolve such cases.
In some cases, parents choose to relinquish their rights and agree to an open adoption.
The court pays close attention to cases where the child is adopted by a family member and whether terminating parental rights is the best way to go about it.
"If they are with grandma, why terminate the mother's parental rights?" Sullivan asked. "Why not have grandma get a guardianship? Because you know what's going to happen, grandma is going to let mom see the kid. I don't care if mom sees the kid, grandma can protect the kid."
The guardianship can be set aside if the parent improves. Family Services would investigate the parent and provide a report to the judge within 45 days.
"That might be a better way to go, and of course, would take the load off those (termination of parental rights cases)," he said.
But that's rare because financial assistance is only available for adoptions, not guardianship cases.
Funding guardianship subsidies is something Sullivan is looking at with the blue ribbon committee. The idea would need legislative approval.
A best practice under the National Council of Juvenile and Family Court Judges is not to terminate parental rights when a child is placed with a family member, Sullivan added.
LEGISLATIVE SPOTLIGHT
Senate Bill 303, sponsored by Scott Hammond, R-Las Vegas, spotlights the issue of parental rights termination from a different perspective. The bill calls for judges to consider the length of time a child has been out of the home and away from the parents.
It was spurred by the story of a 5-year-old foster child who spent most of her life in the care of foster parents who wanted to adopt her. But in February, the Nevada Supreme Court ordered that the child be returned to the biological family.
"This isn't the only story, but there were numerous other stories just like that," Hammond recently said. "I think (the bill is) good for the longevity of a child's welfare."
The bill is strongly supported by foster parents and the Clark County Department of Family Services.
But Sullivan said judges already consider those factors. He said foster parents don't often understand that there also has to be clear and convincing evidence of parental fault in addition to what's in the best interest of a child.
In the case Sullivan heard on April 28, a key element of parental fault was the father's domestic violence history.
But not all cases are as clear cut when it comes to demonstrating parental fault. On May 1, the Nevada Supreme Court reversed a Family Court ruling to terminate the parental rights of a young Clark County couple by saying that substantial evidence didn't support parental fault, according to court documents.
The child, identified as "V.H.W.," was taken from her teenage parents after suffering two skull fractures. The parents, who appealed, insisted one of the mother's relatives caused the injuries.
The parents had successfully completed their case plan, but Family Court relied on the parents' failure to complete additional counseling — that was never included in their case plan by Family Services — as well as the parents' inability to explain the child's injuries. Family Services also failed to interview all of the relatives the parents were living with when the child was injured. The Supreme Court also found that Family Court had abused its discretion in this case.
Family Court is doing a better job at getting children out of the system, Sullivan said. Additional judicial officers, which the blue ribbon committee is considering, would help.
"I think the real problem is the number of kids coming in," Sullivan said. "Are we unnecessarily removing children?"
Family Services has a $3 million, three-year contract with Action for Child Protection, a North Carolina-based nonprofit, to help the agency implement a safety intervention model that's supposed to lead to fewer children being removed from their homes.
The agency hasn't fully implemented the safety model yet, Pappa said. But it's not about reaching a number, he added.
"The actual removal rate will ebb and flow based upon the specifics of the cases we are handling," he said.
On May 4, Family Court started implementing the safety model in preliminary protective hearings, which are held 72 hours after a child is removed from a home.
"Are we ready to do it? No, but the fact is, I'm not going to wait until it's perfect," Sullivan said. "I'm not going to wait until we get it perfect because that never happens."
Contact Yesenia Amaro at yamaro@reviewjournal.com or 702-383-0440. Find her on Twitter: @YeseniaAmaro.
Related Stories:
Sandoval signs parental rights bill
Nevada Supreme Court orders hearing in parental rights case involving couple charged with murder
Surrogate mother can argue for parental rights, Nevada Supreme Court rules
Assembly questions parental rights bill