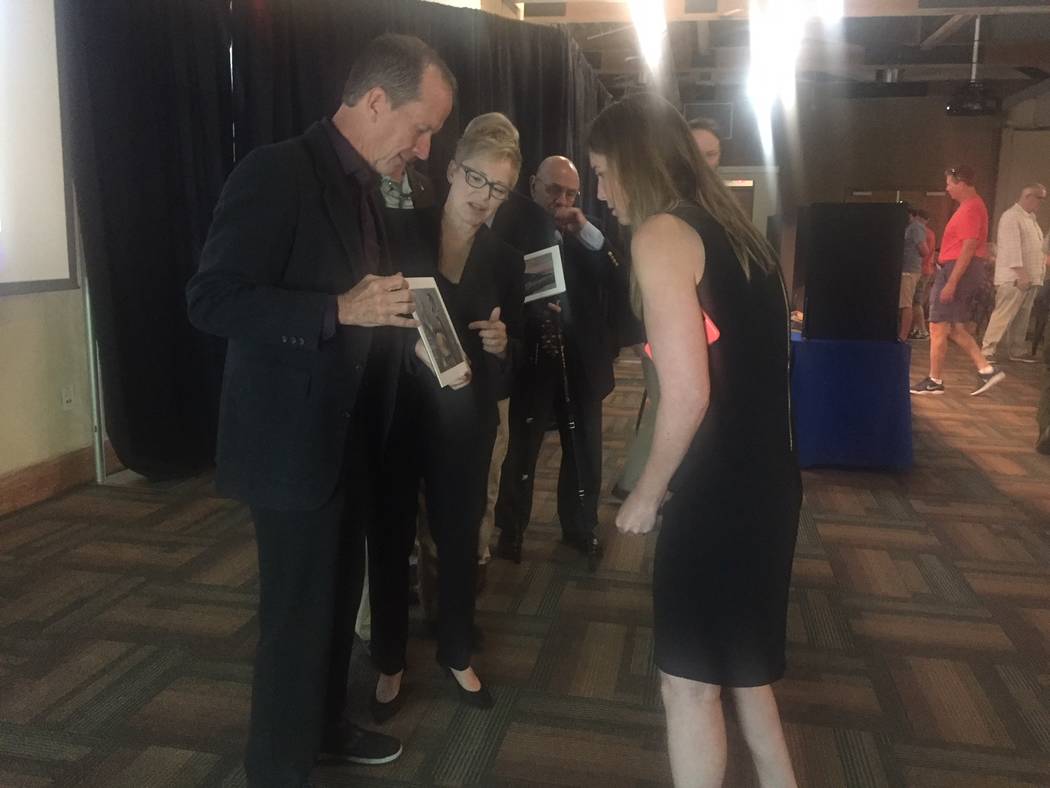 A festival-like atmosphere prevailed Saturday around a Springs Preserve amphitheater where adults and children explored booths showcasing outdoor recreational opportunities, art displays and nature souvenirs.
But it was all business inside a building at the preserve set aside for final judging of the Federal Duck Stamp Art Contest, held for the first time in Las Vegas.
Five judges pored over more than 160 entries Friday and Saturday before selecting the winning entry: an acrylic painting by Freeport, Minnesota, artist Scot Storm of a wood duck and a decoy.
"Clearly the judges had a lot of work in front of them; it was just so many amazing artists that had submitted their talents," said Andrea Travnicek, the Department of Interior's acting assistant secretary for fish, wildlife and parks.
Contest judge Lowell E. Baier, a Washington, D.C., conservation attorney, said it was hard to whittle the strong field of entries to just one. "They've never had so many finalists as they did today and so there were a lot of very good qualified entries," he said. "It's just that margin, that select margin" that lifts one above the others.
Jay N. "Ding" Darling, then director of the Bureau of Biological Survey — forerunner of the U.S. Fish and Wildlife Service, designed the first Federal Duck Stamp in 1934, according to the Fish and Wildlife Service. In later years, noted wildlife artists were asked to submit designs to be considered for the stamp. The first art contest, open to any U.S. artist, took place in 1949, and today the contest remains open to any U.S. citizen age 18 or older.
This year's contest required artists to include a hunting-related accessory or portray the theme "Celebrating Our Waterfowl Hunting Heritage."
Judges, Baier said, paid a lot of attention to ensuring that aspect was addressed. "We really took this seriously and worked very hard to try to make the right judgment," he said.
Contest judge Chris Maynard, an artist from Washington state, praised the quality and "range of art" in this year's contest submissions.
"In the last round, any one of them could have won," he said.
The wood duck painting had a special draw, Maynard said, noting its detail, such as small shotgun holes in the decoy."When I first looked at it, I had to take a double take several times, and it grew on me," Maynard said.
Baier said it was important to acknowledge that hunting heritage "because it had been overlooked in past years," and that he'd like to see the requirement become permanent.
Funds from Duck Stamp sales go toward purchasing and leasing lands for wildlife conservation. "Over a billion dollars has gone into habitat acquisition and improvement," Baier said.
Contact Marian Green at mgreen@reviewjournal.com or 702-383-0287. Follow @mgreen0708 on Twitter.